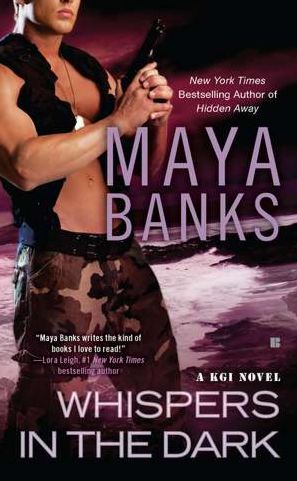 ---
ORDER A COPY: Whispers in the Dark
Publisher: Berkley Sensation
Publishing Date: January 3, 2012
Paperback: 333 pages
Rating: 5 Stars
---
She came to him at his lowest point. The voice of an angel, a whisper in the dark. She's the only thing that gets Nathan Kelly through his captivity, the endless days of torture and the fear that he'll never return to his family. With her help, he's able to escape. But he isn't truly free, because now she's disappeared and he's left with an all-consuming emptiness as he struggles to pick up the pieces of his life. Did he imagine his angel? Or is she out there, needing his help as he'd once needed hers?

Now he rushes to save her before it's too late.

Shea has been on the run from people who will stop at nothing to exploit her unique abilities. She never wanted to drag Nathan, who'd already suffered so much, into danger, but she doesn't have a choice so she reaches out to him for help. Finally face-to-face after having already formed a soul-deep bond in hell, their emotional connection is even more powerful than their telepathic one. Nathan refuses to consider ever letting her go again, but she worries they can never have a life free of the dangers that dog her every step. He'll protect her with his every breath, but can he convince her that they are meant to face these threats together?
---
Nathan Kelly was a soldier fighting in Afghanistan.  He was captured, hidden and tortured by the enemy.  He no longer knows if it was day or night, or how long he had been held captive.  Two of his friends have already been killed and he has lost his will to fight his captors and just wants the release of death.  Then he hears the voice of an angel in his head.  Has he lost his mind at last?  Does it even matter?  She brings him comfort, takes his pain and gives him the strength to fight back and escape. 
Although once he is finally free, she is no longer in his head and it feels like he lost a piece of his soul.  Did he imagine his angel or was she real? 
Halfway around the world, Shea Peterson is on the run.  Shea is a telepath, and she and her sister, Grace, are running from those who want to use them like lab rats.   She doesn't know why she hears the pain and torment of the soldier who has been captured, but when he finally starts to give in to despair, she cannot stop herself from connecting with him.  She gives him her strength and takes away his pain, although taking his pain makes her weak and vulnerable.
When her pursuers finally catch up with Shea, she is drugged and beaten for information about her sister.  She manages to escape, and Nathan is the only person she trusts enough to turn to for help.       
There is no question for Nathan that he would protect the woman who saved him.  When Nathan finally got to where Shea was hiding, I held my breath as nervous as he was for them to finally meet. 
His heart nearly stopped as he pulled onto the shoulder.  His palms went slick on the steering wheel.  His pulse raced so hard he was light-headed.
Just a few feet away was Shea.  The woman—the Angel—who'd invaded his mind.  All his doubts surfaced, but all he had to do was open his door and get out.  He would have his proof and until now he'd had no idea how badly he wanted her to be real.
——————-
He was holding her.  Finally holding her.
"You're real.  You're real."
Now that Nathan has Shea, he will do anything and everything to protect her and shield her as she had done for him.
"It's going to be we from now on," he bit out.  "There is no you.  No me.  Only us."
Can Nathan and his family's KGI special forces team keep Shea safe, when they don't even know the enemy they face? 
Whispers in the Dark is one of the most emotional books I have read in a long time—in such a good way.  Nathan and Shea are connected on such an intimate level both by their telepathic link and their similar experiences of capture and torture.  It is portrayed so strongly in this story you will feel as connected with Nathan and Shea as if you share their bond. 
I can't recommend this book to you strong enough.  This will be one of those books that you tell all your friends about, but there's no way you're loaning them your copy.
The next KGI story will feature Shea's sister, Grace and will be released in 2012.
Received ARC courtesy of Penguin Group.  Thank you!
---
Favorite Scene:
This time the knife slashed across his chest in a measured cut meant to inflict pain, but not mortal damage.
He ground his teeth together and focused on breathing in and out. He could endure this. He'd suffered far worse already.
Then warmth crept through his body and he felt sunshine fill his mind. Instead of welcoming it, he screamed a silent no.
Get out, Shea! Get the hell out of my head. I don't want you here, damn it.
Do or say nothing to further anger them, she said in the voice he'd already associated with everything good in the world.
He felt her flinch, and it took him a moment to realize that he'd been cut again. He stared down in horror as blood trickled down his chest. But he felt nothing.
She wrapped herself completely around him, holding him, offering her warmth and caring and all the while he could smell her blood from the wound given to him.
Never, never had he felt more helpless as he sat there being slowly carved up by a knife that he couldn't even feel. He couldn't even feel her pain. She was working hard to keep it all from him.
Tears ran freely down his cheeks, not because of what was being done to him, but because she suffered in his stead. It was more than he could bear.
His fingers dug into the ropes binding him and he clawed relentlessly, trying to break free so he could kill the sons of bitches who were causing Shea so much pain. He'd die before he allowed her to continue hurting.
Just be still, Nathan, and maybe they'll leave you alone. Don't do anything to anger them. Please. It will all be over soon. It's only temporary for me. You know this.
As much as he wanted to rage, he willed himself to quell the hatred and fury that burned so hotly within him. For her, he would do it because it was she who was hurting. Not him. Not him, goddamn it.
She was slick with blood and it threatened what little control he had left over his sanity.
Get the hell away from me, Shea. I don't want you here. This isn't yours to take for me.
It nearly broke him when she raised her hand to softly touch his cheek. A simple gesture of comfort. She was comforting him when she was taking the brunt of his torture.
Please, Shea. Don't do this. God, don't do this. Not for me. I can take it. They won't break me. I'm not giving up. I swear it. Just please go. Break off.
She merely wrapped her arms around him and pressed her body close. He hugged her back as they both endured hell.