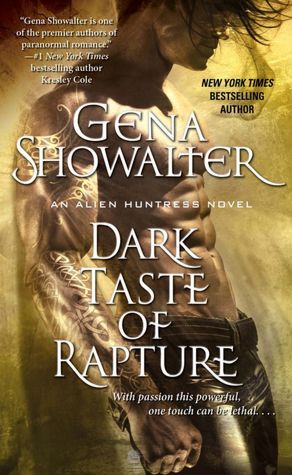 ---
ORDER A COPY: Dark Taste of Rapture (Alien Huntress Novels)
Publisher: Simon & Schuster
Publishing Date: August 23, 2011
Paperback: 464 pages
Rating: 5 stars
---
Hector Dean is shaved, tattooed, and totally ripped—and he has a deadly secret. He is a walking weapon, capable of killing with a single brush of his fingertips. Little wonder he's determined to remain on his own. But Noelle Tremain is a temptation like no other. She is beautiful and rich, with a party girl smile that hides a shocking vulnerability, and from the beginning his sizzling attraction to her is undeniable. For the first time, his stone-cold resistance is tested. But to be with her, he risks destroying her.

When a wealthy businessman is murdered in New Chicago's seediest district, the two are partnered, and there's no escaping what they both want: each other. Yet neither Hector nor Noelle knows what to fear more—the killer case, or their own lethal desires. . . .
---
Hector Dean was born in the poorest corner of New Chicago. His parents, both junkies, made Hector and his brother fight in human cockfights when they were children. Now an AIR agent, everything about Hector from his shaved head, tattoos, and constant scowl screams dangerous and do not touch. Good thing because a touch from Hector could bring death, his heated arms could burn through everything including flesh.
Hector's ripped muscles and back-off attitude is like catnip to rich, party girl Noelle Tremain, and when Hector starts to see the real woman behind the fascade, he hungers to put his hands all over her. If only he could. He's not sure what makes him angrier, the fact that he can't have her or the fact that his closest friend, Dallas, also wants to take a bite out of the beautiful Noelle.
When Hector and Noelle are assigned to work together on a case, he can't avoid her or his growing feelings and desires for her.
I know, I know…took long enough to get to this one. But I had just read one disappointing story and was trying to read a book which was the third in a series and I was lost by page 4, so I was soooo happy to have this one tucked on my Nook shelf since August. I snuggled down and read this one in one day.
A rather quiet character in the first five books, I wasn't really that interested in Hector as a main character, but he certainly glowed when given the spotlight. In a new earth where aliens were accepted but not trusted, Hector feared that if anyone knew of his abilities it would be bring the government down on him thinking he was dangerous and an alien. As I read I couldn't imagine how we were going to get past his burning issue when every time he got close to Noelle, his arms starting heating up, and when he kissed her things literally went up in flames. Gena Showalter handled that quite well. Get it—handled it—burning hands? no? Okay, I'll behave.
Noelle Tremaine was a fabulous character who we met in Ecstasy in Darkess (another awesome story). She grew up in a rich and privileged lifestyle with a family more interested in her behavior than in her, so she acted up in the worst way to disappoint them as they had disappointed her. Spending a lifetime being rejected by her family and most of people who judged her on the façade she presented, she was disappointed when Hector rejected her after their heated kisses, but she was determined to break through his gruff demeanor to the man she saw beneath the gorgeous muscle.
My only disappointment would be that I would have liked to see a little more Noelle/Ava time which was so hysterical in Ecstasy in Darkness. We only get a little Ava and barely any McKell at all. I had hoped to see more of them in Noelle's book since she and Ava were inseparable, but then again, Ava probably would have stabbed Hector for making Noelle sad.
Although this is Book 6, there is no reason you couldn't pick this book up and start the series with this book.
---
Favorite Scene:
"I take my job seriously, you know," he began.
O-kay. Not the direction she'd anticipated. "Why?"
A crackling pause. "Did you really just ask me why?"
"Yes." Not to be facetious or anything, but because she was curious about him.
"I stop predatory aliens from hurting other," he gritted out. "I save lives."
And didn't that just make him even sexier? She thought with a wistful sigh.
"Why do you want to be an agent?" he asked. "And don't give me that bullshit about wanting to shoot people legally."
So Jaxon had told him about that.
Hector went on, "I believed it before, but I've seen the way you push yourself."
He'd seen—and been impressed? She wouldn't get her hopes up on that front. "To be honest, I just want to spend more time with Ava." No reason to lie. If AIR had decided to can her, she would be canned, no matter what she said.
A beat of silence. Most likely her bluntness had stunned him. That happened a lot. With her family, her friends, everyone but Ava. "Well," he finally said, "your reason sucks, and it won't get you anywhere."
"Why would a girl like me want or need to get anywhere?" she asked, only the slightest trace of bitterness escaping.
"Don't do that."
"Do what?"
"That girl like me crap. You've got determination and drive, and you should be proud of it, not masking it with sarcasm."
Hector Dean had just…praised her. She was dreaming. She had to be dreaming. "Are you saying I'd…make a good agent?"
Another beat of silence, as if he had to gather his thoughts. And that was answer enough, wasn't it.
Knew better than to ask. Also good thing she hadn't gotten her hopes up.
"I'm saying you need to think long and hard about whether or not you're right for this," he said. "It's hard and it's dirty."
Even as she fought the urge to punch him in the face for implying she couldn't handle something like that, she force her voice to go low and husky. "Hmm, hard and dirty. Just how I like my sex."
He tripped over nothing and, scowling, hurried to right himself.