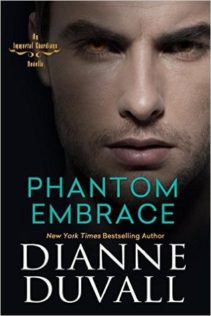 Phantom Embrace (Immortal Guardians #5.5)
by
Dianne Duvall

Series:
Immortal Guardians #5.5
Published by
Zebra
on June 28th 2016
Genres:
Paranormal/Urban Fantasy
Pages:
112
Format:
eBook


I received this book for free from in exchange for an honest review. This does not affect my opinion of the book or the content of my review.
This post contains affiliate links you can use to purchase the book. If you buy the book using that link, I will receive a small commission from the sale.
---



[box style="rounded" border="full"]Phantom Embrace was originally released as part of the On The Hunt anthology.  This review was originally posted last year as part of that anthology review. [/box]
Phantom Embrace by Dianne Duvall – Dianne brings us the story of Yuri Sokolov is an Immortal Guardian who has a gift of seeing and speaking with spirits. Yuri notices a young woman hanging around while he was hunting for vampires. He sees her again later at David's house. In fact, he has been watching this restless spirit for some time now. He can't image why David and Seth allowing this spirit to hang around the Guardians until he finds out she is the sister of Bastien Newcombe. Yuri has learned a long time ago not to encourage the spirits since once they realize you can hear them, they never leave you alone. But something about Catherine (Cat) Seddon draws Yuri. As the days go by, Yuri is spending more and more of his time with Cat and even though he knows the danger, he starts to fall in love with her. What can the future hold for an Immortal Guardian in love with a beautiful spirit?
THOUGHTS:
I love the Immortal Guardians. As lovely as this love story was, it still left me feeling a little sad. There was no good outcome to be had here. We already knew the sad story of Bastien's sister Cat who was pregnant when she was killed by her husband who had turned into a vampire. How can there be a HEA here when one of the main characters is a spirit?   But the story of the budding romance is so enjoyable.  This story is for fans of the series.
If you are a fan of the series, make sure you check out my Fan Casting that I did over at HeroesandHeartbreakers.com. Let me know what you think.
Related Posts