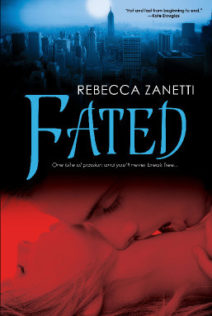 Fated (Dark Protectors, #1)
by
Rebecca Zanetti

Series:
Dark Protectors #1
Published by
Brava
on March 1st 2011
Genres:
Paranormal/Urban Fantasy
Pages:
299
Format:
Paperback



I received this book for free from in exchange for an honest review. This does not affect my opinion of the book or the content of my review.
This post contains affiliate links you can use to purchase the book. If you buy the book using that link, I will receive a small commission from the sale.
---
Marry Me

Cara Paulsen does not give up easily. A scientist and a single mother, she's used to fighting for what she wants, keeping a cool head, and doing whatever it takes to protect her daughter Janie. But "whatever it takes" has never before included a shotgun wedding to a dangerous-looking stranger with an attitude problem. . .

Or Else

Sure, the mysterious Talen says that he's there to protect Cara and Janie. He also says that he's a three-hundred-year-old vampire. Of course, the way he touches her, Cara might actually believe he's had that long to practice. . .
---
This story had me at Page 2!
This story starts off with a bang and had me drawn in right from the beginning. The characters were well written and the plot was enjoyable. I couldn't put it down.
There were enough side plots and well written minor characters that have me panting to see what happens next. Her next book Claimed comes out in November of 2011 which features Emma and Dage, both of whom you get to meet in Fated, and I, for one, can't wait to see how their story plays out.
Other subplots that left me wanting more include her daughter, Janie, the shifters, the other vampire brothers. I am looking forward to more books.
I can see this being one of my next favorite series.
---
Favorite Scene:
He turned toward Janie sitting on the couch and tugged a deck of cards out of his pocket.
"I'm here for my rematch."  Max tossed the deck into the air to catch in his other hand.
"All right," Janie piped up, "but the loser has to paint their fingernails pink this time."
(some time later)
…The door opened to reveal Janie gleefully putting the finishing touches of the bright pink polish on Max's hands.
"Nice timing," the soldier said with a grimace.
Talon snorted.  "You're relieved in case you need to powder your cheeks."
Related Posts