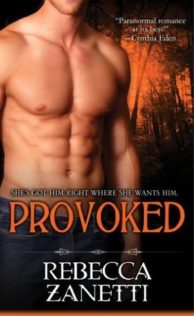 Provoked (Dark Protectors, #5)
by
Rebecca Zanetti

Series:
Dark Protectors #5
Published by
Ekensington Originals
on November 1st 2012
Genres:
Paranormal/Urban Fantasy
Pages:
322
Format:
eBook



I received this book for free from in exchange for an honest review. This does not affect my opinion of the book or the content of my review.
This post contains affiliate links you can use to purchase the book. If you buy the book using that link, I will receive a small commission from the sale.
---
A casualty of the war between the demons and the vampires, Jase Kayrs has been missing for six long years. His older brothers want answers—but they're going to have to get them from an unlikely source. For when Kane Kayrs tracks down Amber Freebird, what he finds is a blonde, vegan pacifist who has no intention of using her skills in his war.

Amber enjoys her life of chaotic freedom and has no intention of falling in line just because a sexy-as-sin vampire insists on order. Unfortunately, he discovers she may be the only hope they have of finding his brother, and there's no way he's going to let her go—even if it means mating her to gain her cooperation. The two are as different as can be, yet when the dominant Kane and the untamed Amber finally unite to rescue Jase, they just may find that opposites really do attract.
---
Dage Kayrs is the King, Talon is the strategist, Conn is the fighter and Kane Kayrs is the smart brother. So there is no one more upset than Kane that he hasn't been able to find a cure for the Virus-27 which is plaguing his people and his allies. And why are the inoculations for the shifters suddenly no longer effective? And why after four long years hasn't he been able to find his brother, Jase, who was captured by the Demons?
Demons have the ability to torture and cause pain in the mind. Even if they find Jase and rescue him, after four years of physical and mental torture, will there be anything left of the fun-loving Jase that they all love? What they need is a Demon Detroyer who can counter the Demon's powers, but no Detroyer has been found in decades. The Demons have hunted them all down.
When a Destroyer is finally located, Kane races to find her only to find out she's a vegan, pacifist who thinks Kane is absolutely crazy with this talk of demons, vampires, shape-shifters and kurjans. Not only does she think he's crazy, but she has no intentions in fighting anyone, ever, even if she had any idea what superpowers he is talking about.
Although Amber is probably the most exasperating woman he has ever met, Kane is convinced that the sensible thing for them to do is mate, then he would share her physic ability and be able to use it as a weapon against the demons. The fact that she can't see the logic behind his offer is astounding. There is no time for poetry, sonnets or ridiculously love in a time of war. Kane can feel that he is running out of time and Kane needs Amber's cooperation or her power soon if he is going to save his brother.
Kane isn't sure what is frustrating him more, his inability to solve all the problems that his people and his allies are facing, his inability to save his brother or the tiny slip of a woman who can't see the logic of doing things his way.
But he is right about one thing…time is running out for Jase and if they don't hurry there may be nothing left of Jase to save…
THOUGHTS:
I think I ran out of fingernails halfway through the book and started chewing on my fingers. Oh my God, poor Jase!! I could never be an author (besides lack of talent) because I could never do that to my beloved characters. Evil author…you kill me… when is the next book? When?? I need to know what happens!! You make me contemplate a B&E. Maybe I can bribe her cat to e-mail a copy of the next draft…hmm…
I love how Amber twists up the stoic and logical Kane. To Kane the logical thing since Amber won't fight and doesn't know how to use her powers, would be to mate with him and he would then share her abilities. He could then go save his brother. Amber wants love, especially when you re talking mating forever…forever forever…since they are nearly immortal. Surprisingly the brilliant Kane is absolutely certain that love doesn't exist, and he can't seem to make the connection between the feelings he has for his family and how he begins to feel for Amber and label it love.
I will say that I was so torn up about getting to Jase, that I was distracted by the romance. "Yeah, yeah, yeah, tell her you love her and let's go!!!!"
With everything going on with Jase, and Kane and Amber, we see little of Janie. But what we do see is that Janie is growing up and already getting very powerful with her abilities, and in the dream realm where they meet, the tensions between Janie, Zane and Kalin are heating up, and Zane saying "…get ready. I'm coming for you, Janie Belle. Soon!" left me giddy. *he,he,he*
This is a seriously raunchy book. My other half isn't normally into this sort of thing, but I got him to read a few pages and he was so turned on, as if he'd just seen Hannah Claydon's pussy! I'm sure he would have preferred that, but this book was a good second best for him. And I found it just as arousing. All I can say is, I need more! Please write faster! What happens to Jase? When do we finally get to Janie, Zane and Kalin? And what about Maggie? Can Maggie get a story too? A short story maybe? 🙂
Received ARC from netgalley.com, courtesy of the publisher. Thank you.
---
Favorite Scene:
He cleared his throat. "Well, I bite you—and, ah, transfer a brand from my palm to you—somewhere. You can choose the place."
Oh, he had to be beyond delusional. "Brand? You brand me like a cow?"
"God, no. The marking is like a tattoo—and you'll gain my abilities and immortality."
How tempting was that? She crossed her legs, curious and oddly aroused. "And when we re finished being mates? Would I still be immortal?"
He stilled. The air seemed to follow suit. "There's no end to a mating. You'd be mine forever."
The matter-of-fact tone did nothing to conceal the strong note of possessiveness underlying the words. Then the vampire sat back, patiently awaiting an answer with confidence on his hard face.
Her breath sped up, and she swallowed to keep from panting. "Not in a million years."
Both eyebrows rose. "Why in the world not? You're aroused right now."
She lifted her chin. "Maybe so. You're unbelievably rude t point that fact out, by the way."
"My apologies. But you need to think this through. Our mating solves all our problems."
"Except romance, fun and happily-ever-after." Three things she'd always strongly believed in. "I won't mate for convenience." Mother Earth. Now she was using the term mate like it belonged in everyday conversation. "Why would you?"
One shoulder lifted. His long, tapered fingers spread out over his legs, his hands broad and oddly graceful. "I've always figured I'd mate out of convenience for business, for strategy, or to create an alliance. This fits."
Talk about unromantic. "A business arrangement is no reason to tie yourself to someone for eternity."
"How about survival? Yours and everyone you care about." The set of his jaw promised the conversation wasn't over.
"What about love?"
He sighed. "Love is a chemical reaction induced into our brain to encourage propagating the species. The sensation is merely a scientific phenomenon, like the northern lights."
On all that was holy. "You can't seriously believe such nonsense."
"Of course I do. And so would you if you stopped to think about the idea logically instead of believing in silly movies and sonnets."
Silly movies? How was this the same guy who'd kissed her in the snow and pretty much knocked her socks off? "The answer is no." She was just silly enough she might've believed some baloney story about fate and destiny. But not logic and planning—not when it came to the heart.
He shrugged. "I'm not giving up on this idea, and I can be very persuasive."
So long as he kept his dangerous lips across the room, she was fine. "I am not going to be your mate." Relief filled her as she said the words slowly.
"Your choice. Are you ready to train again?"
"You mean have you rip into my brain?"
He blanched. "Yes. Believe me, my attack was nothing compared to what the demons have in store for you. The sooner you learn to control your gift from a safe distance, the sooner we can go after Jase."
They'd saved her grandmother, and she'd given her word she'd help save Jase. "Okay. Shoot."
"Close your eyes."
Soft, nearly seductive, his dark voice wandered down he spine as if he traced each vertebra with his lips.
Her eyes fluttered shut.
This time, the attack came in the from of a soft glide against her mind. Smooth, even slightly warm, a caress wandered form her frontal lobe to the center of her brain.
She shifted on the couch, crossing her legs. A tingling set against her rib cage and wandered south to heat her abdomen. Mentally pushing against the caress, the warmth enveloped her entire brain and provided an electric stimulation that caught the breath in her throat.
Desire ripped through her so quickly her knees trembled. Her sex started to ache. Her breasts pebbled. A slow sigh escaped her.
A whisper of sound floated toward her as he moved, and the scent of male and musk wafted her way. Languishingly opening her eyes, she stared at the vampire. On his knees, he settled between her legs. His heated hands dropped to her thighs.
She should be angry. But her gaze dropped to his lips, and she met him halfway. He swallowed her moan in a kiss that started with anything but logic. Fire engulfed her. Leaning forward, she clamped both hands in his thick hair, opening her mouth to take more of him.
Related Posts