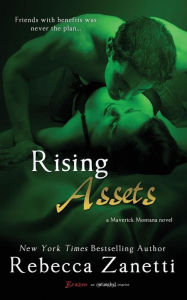 Rising Assets (Maverick Montana, #3)
by
Rebecca Zanetti

Series:
Maverick Montana #3
Published by
Entangled: Brazen
on March 31st 2014
Genres:
Contemporary
,
Small Town
Pages:
250
Format:
eBook



I received this book for free from in exchange for an honest review. This does not affect my opinion of the book or the content of my review.
This post contains affiliate links you can use to purchase the book. If you buy the book using that link, I will receive a small commission from the sale.
---
Melanie Jacoby is in trouble. With three jobs—including running her ranch—and dwindling funds, she's exhausted. Not to mention desperately trying to hide a secret. Unfortunately, her best friend Colton Freeze knows all too well that's something is going on, and he won't give up until he knows exactly what he needs to fix.

Then Colton learns the truth—that Melanie's future happiness rests in the fickle hands of fate, and her chances for having a family are shrinking with every passing day. Her only comfort is Colton, but when a heated argument between them turns into an even hotter kiss, the boundaries of their friendship are erased, leaving only a scorching-hot hunger for more.

Every kiss—every touch—is a stolen pleasure. But will their new friends-with-sexy-benefits arrangement bring them closer together, or destroy everything they once shared?
---
Colton Freeze has just returned to Mineral Lake after obtaining his degree. He is going to take over running the family business. When he get home, he finds that one of his best friends, Melanie Jacoby, has been working herself to death working two jobs in addition to running her ranch. Melanie has been one of his closest friends almost a part of the family, since they were kids. If she was having financial problems, she should have come to him.
Melanie isn't looking for a hand-out from Colton or his family. What Melanie needs money for is a private matter. Melanie body is working against her and is she doesn't hurry, she will never have a child of her own. The cost of freezing her eggs is expensive but would be worth it if she has a chance to have a baby of her own when she gets married. When that doesn't work, Melanie goes for Option 2, a trip to the sperm bank. If she tries to conceive now, she might still be able to have her own child.
Colton is shocked to find out what is happening to Melanie and upset that she didn't turn to him for support. Having a baby is part of Colton's grand plan after falling in love and getting married. You know, far off in the future plans. But the idea of Melanie carrying someone stranger's baby is enough to make Colton rethink his future to-do list.
While Colton and Melanie are unsure about the changes that their friendship face if they become lovers, it seems that the whole town has been betting for quite awhile now on how long it would take for Colton and Melanie to get together.
THOUGHTS:
This was a cute romance. Colton and Melanie were likable characters. There was a strong attachment between the two and they were the only ones concerned about how attempting to have a baby would effect their relationship. But it is Colton who is giving off the appearance of wanting to help Melanie, so you can understand Melanie's concern that at what point, if she doesn't get pregnant, do they walk away before she feels she traps Colton and keeps him from having a future.
The only thing that bothered me and made me want to smack Colton upside the head is when he didn't want Melanie carrying anyone else's baby but his, but then he couldn't image being able to be there for them long term. He can't imagine her having someone else's baby, but for a smart and educated man he doesn't take that thought further that he would be okay with another man taking over his role in Melanie's life and raising his kid? If not being the father made him crazy, he didn't seem the type to walk away and let someone else step in to be the husband and father. That part definitely went against his character.
The town bet added fun to the story. Little old ladies offering up inappropriate dates to push Melanie and Colton together in a timely fashion to meet their bet deadlines. And there is everyone's refusal to admit who is the bet taker in Town.
I am a big fan of Rebecca's Dark Protectors series and her Sin Brothers series, but this story lacks the excitement of the other two series. I haven't had a chance to read the first two of the Maverick Montana series but this one seems more in the category of a sweet romance with a background of strong rancher family. This is a series to enjoy for the strong family bonds.
Received an ARC in exchange for an honest review.
---
Favorite Scene:
"Colton." Mrs. Hudson emerged from the coffee shop, her gray wool coat swallowing her, and a bright pink knit scarf wrapped around her neck several times. "Do you have a minute?"
He hustled toward the elderly lady. "Yes, ma'am. What can I do for you?" Last night he'd already apologized for the mix-up with Melanie.
Mrs. Hudson slipped her bony arm through his. "We can chat while you escort me toward my car." Her worn boots matched her scarf, and he made a mental note to make sure she got some new boots before snow arrived again. From the chill in the air, it wouldn't be long.
"I'd love to escort you." He angled his body to protect her better from the wind. The woman lived at the end of Main Street and had driven three blocks instead of walking. Rain or snow, the woman always walked, probably so she didn't miss anything on the way. "I noticed you drove instead of walked today. Are you feeling all right?"
"Yes, I felt like a drive today. Pus, it's going to sleet, and I didn't want to get caught." She twittered and patted his arm. "You're such a fine young man. My niece, Beatrix, is visiting at the end of the week, and I was hoping you'd take her out and show her the town."
The woman had always been a matchmaker. He smiled. "That's kind of you, and I appreciate your thinking of me, but I have plans."
Mrs. Hudson slowed down. "Well, she'll only be here two weeks, and I have to admit, she's quite easy."
He coughed out air and glanced down at tight, gray curls. "Excuse me?"
She looked up and squinted faded blue eyes. "Beatrix. She gets around, a lot." Mrs. Hudson shrugged. "I thought you two might have some fun for a couple of weeks before she leaves. Just two weeks."
Colton stopped. What in the world? Realization smacked him in the face stronger than the wild wind. "Mrs. Hudson. You wouldn't have entered a bet regarding Melanie Jacoby and me, would you have?"
Mrs. Hudson brushed invisible lint off her coat. "Of course not."
Colton bit back a laugh. "Tell me the truth, or I'll go propose to Mel right now."
Mrs. Hudson gasped, her head shooting up so she could meet his gaze. "You wouldn't."
"Oh, I would."
"Fine." Mrs. Hudson sighed. "I have St. Paddy's day as my date, and I sure could use the money, Colton Freeze. If you'd just declare your love that day, I'd really appreciate it."
He couldn't believe she'd tried to bribe him with a slutty niece. Mrs. Hudson was a pimp. He laughed. "I will certainly keep your date in mind. Who's taking he bets and keeping the money, anyway?"
"Can't tell you," she said sadly. "When you make the bet, you have to swear not to tell, or your forfeit your money."
When he found out the bet taker, he was going to kick some ass.
Related Posts