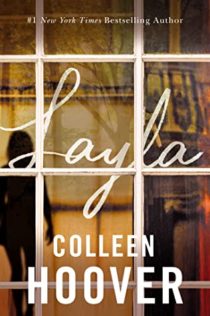 Layla
by
Colleen Hoover

Published by
Montlake
on December 8, 2020
Genres:
Contemporary
,
Suspense
Pages:
301
Format:
eBook



I received this book for free from in exchange for an honest review. This does not affect my opinion of the book or the content of my review.
This post contains affiliate links you can use to purchase the book. If you buy the book using that link, I will receive a small commission from the sale.
From #1 New York Times bestselling author Colleen Hoover comes a novel that explores life after tragedy and the enduring spirit of love.
When Leeds meets Layla, he's convinced he'll spend the rest of his life with her—until an unexpected attack leaves Layla fighting for her life. After weeks in the hospital, Layla recovers physically, but the emotional and mental scarring has altered the woman Leeds fell in love with. In order to put their relationship back on track, Leeds whisks Layla away to the bed-and-breakfast where they first met. Once they arrive, Layla's behavior takes a bizarre turn. And that's just one of many inexplicable occurrences.
Feeling distant from Layla, Leeds soon finds solace in Willow—another guest of the B&B with whom he forms a connection through their shared concerns. As his curiosity for Willow grows, his decision to help her find answers puts him in direct conflict with Layla's well-being. Leeds soon realizes he has to make a choice because he can't help both of them. But if he makes the wrong choice, it could be detrimental for all of them.
---
This is my first Colleen Hoover novel but I really want to shelve it with my Stephen King collection.
Leeds Gabriel was the bass guitarist in a pretty terrible country band when he sees the most horrific dancer ever flailing around the dance floor, but Layla was just trying to make him smile. He never even realized that this was the moment that would change his life. Leeds was pretty much a loner, but after meeting Layla, he knew he wouldn't be able to ever live without her.
Of course, just when they hit their highest high, fate has some other plan entirely, and a head injury leaves Leeds caring for a woman who is no longer such a spark in his life. In an attempt to get back what they lost, Leeds takes Layla back to the first place they met, a little hotel called the Corazón del Pais. But in the few months since they first met, it has closed down and Leeds pretends to be a potential buyer so he and Layla can revisit their first days together.
It doesn't take too long for Leeds to realize why a lucrative and very popular B&B suddenly closed their doors. A spirit? ghost? is now living at the house and has made contact with Leeds. But their conversations are frustrating with just yes and no answers and Leeds has so, so many questions about this ghost, including her name. While he doesn't know why he would ever suggest it, Leeds has the spirit possess Layla's body so they can have a real conversation and he can get some answers to his burning questions.
But the more time he spends with Willow, the more time he wants to spend with her…and the less time he wants to spend with Layla.
Leeds knows that continuing to allow Willow to use Layla is wrong, so very wrong, but he just needs to spend just a little more time with her. And as their vacation time is almost up, Leeds begins to fear how he will be able to leave Willow alone in the house by herself while he leaves with a woman he doesn't think he loves anymore.
This book that starts off with, "I placed two layers of duct tape over Layla's mouth before I came downstairs, but I can still hear her muffled screams as the detective takes a seat at the table." I just looked over at my husband and said, "I don't think this is a romance."   It  isn't and yet, it is.
I liked the way this story unfolds. Leeds brings in an detective (For what? That part slowly unfolds as we go along), and then Leeds proceeds to the story to all of us:  how he met Layla, the accident and coming back to the B&B to recapture their original magic and how he came to determine that there was a ghost already in the house, as well as what he allows the ghost to do.  We also see Leeds beginning to favor his time spent with Willow over his time with Layla and you have to wonder what Leeds is actually trying to accomplish here.   Who is this detective?  Is he the police?  Something else?  Is the problem we trying to get rid of Willow or Layla?   It is written in a way that compels you to keep going with just one more chapter.
Oddly, there was a moment in Layla where the investigator said something that had me going, "Wait! Wait! Wait! Nobody's going to question what he just said? Nobody?  Come on!!"
The whole story kept me very intrigued, even after I started feeling really, really bad for Layla. This type of story was also reminiscent of the kind of short story you would get in a Stephen King Anthology, except in one of his stories the detective would have been a demon and the he and Willow would have walked away with both Leeds and Layla's bodies in an occult ritual or a BBQ.
This was a change of style from Colleen Hoover's normal trope as well my first Colleen Hoover novel, but it is not the first one to catch my attention.  I share my Kindle account and they have several of her books.  I am going to have to share them into my account and check out some of her other stories.
If you think you can handle the tension, definitely give this one a chance.
---
Favorite Scene:
While I'm downstairs, I pop a bag of popcorn in the microwave.
Willow is sitting up in bed, half-covered with the blanket when I bring it to her, along with another glass of water. She looks elated when she sees the popcorn. She sits up straighter and grabs for the bowl before I'm even seated on the bed.
"What are you watching?" I ask.
She shoves three pieces into her mouth. "Ghost." I raise an eyebrow, and it makes her laugh. "I know. I'm a ghost, watching the movie Ghost. Ironic."
"I've never seen it."
Her eyes grow wide. "How have you never seen this movie?"
I shrug and take a handful of the popcorn. "It released before I was born." My comment makes me wonder if that could be a clue. If she's seen this movie before, how long has she been in this house, watching movies when no one's around? "How old do you think you are?"
"I already told you I don't know. Why?"
"You seem young. The way you talk. The fact that you know how to use a computer. But then you act like it's crazy that I've never seen a movie that came out thirty years ago."
Willow laughs. "I don't think that's a clue. This movie is like a rite of passage; pretty much everyone alive has seen it. Everyone but you. Hell, I've seen it, and I don't even really exist."
"Stop saying that."
"What?"
"That you don't exist. You've said it at least three times since we met."
"It's no worse than you calling me dead." She shoves more popcorn in her mouth and leans back, focusing on the movie again. I watch a little bit of it with her, but the irony of our situation is too much.
"This is so weird," I say.
"The movie? Or watching a movie called Ghost with a ghost."
"All of it."
She raises an eyebrow. "You know what would be even weirder?"
"What?"
"If another ghost showed up," said says, grinning. "Then there would be a ghost watching a ghost watching Ghost while in someone else's body."
I study her a moment, then take a few pieces of popcorn and toss them at her face. "You are so strange."
Kernels of popcorn are all over her shirt, in her hair. She pulls a piece from her shirt and then eats it. I sit back and look at the TV, because looking at her is starting to stir something up inside me. Normally when Layla says something I find funny, I'd laugh and then kiss her.
There are moments when I forget that Willow isn't Layla while she's using her body.
I can't react with her how I would react with Layla. But it's instinctual for me to just want to grab her hand, or kiss her. But then I remember she's not the girl I'm in love with, and it's confusing.
Maybe I shouldn't put myself in situations like this. Familiar situations where I'm sitting on a bed in our bedroom. It makes everything dangerously blurred.
Related Posts