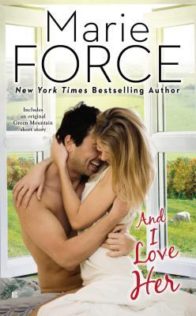 And I Love Her (Green Mountain, #4)
by
Marie Force

Series:
Green Mountain #4
Published by
Berkley
on March 3rd 2015
Genres:
Contemporary
,
Small Town
Pages:
336
Format:
eBook



I received this book for free from in exchange for an honest review. This does not affect my opinion of the book or the content of my review.
This post contains affiliate links you can use to purchase the book. If you buy the book using that link, I will receive a small commission from the sale.
---
[box style="rounded" border="full"]I love when an author can change my mind about a character that I didn't care about.   Hunter was so buttoned up and boring and seemed a little sad that he was mooning over a girl supposedly in love with his brother; and Megan came off as simply bitchy.  Picking it up, I was thinking "meh." It didn't take long for me to be rooting for them.  [/box]
Hunter Abbott is the oldest sibling, even older than his twin sister, Hannah, by minutes. That leaves him feeling responsible for his younger siblings. As the CFO, he also feels responsible for the family business and even thought they live in a small town in Vermont, Hunter is always dressed like he's ready for a Board meeting on Wall Street.
Hunter knows how to focus on what he wants and how to get it. There is only one thing that hasn't fallen into place in his life — his love life. He has wanted Megan Kane for as long as he can remember, but she only has eyes for his brother, Will. Never was that more apparent than when Will started dating Cameron and Megan was more than just rude to Cameron, she was outright hostile.
Megan's life is spinning out of control Her sister and brother-in-law need to move and they will need to sell the diner where Megan works. Megan never planned to make the diner her whole future, but she never thought about what would happen if it wasn't there anymore. Where would she go and what would she do? Now that Will is living with Cameron, she knows that he won't be in her future either.
Hunter's Grandfather decides to play matchmaker and purchase the diner and he wants Hunter and Megan to run it together. No matter how much Hunter would like to get close to Megan, he can't let his Grandfather purchase a business that it losing money, but his Grandfather is determined to keep the diner open.
As Hunter and Megan get closer, it is Megan's sister who points out that Megan has be hiding behind her "love" for Will for years to keep the men away. Megan needs to stop hiding and give the man who desperate wants her a chance.
THOUGHTS:
After losing her parents young, Megan's bitchiness and her attachment to Will become a defense mechanism to keep her safe from people getting too close. Once she loses the attitude, you can see what Hunter sees in her.
I was impressed that Marie Force wrote Hunter's character, the buttoned-up conservative, to be so open with is feelings towards Megan. After standing in his younger brother's shadow as far as Megan was concerned, you would think he would be afraid to risk humiliation by throwing out his feelings for Megan. But he refused to have any misunderstandings between them and was very open about his feelings for Megan and how much he wanted to be with her. This left the phobic Megan to work through her own feelings for Hunter at her own pace and go from "don't look at me for a relationship" to "I love you."
There was a scene where Hunter and Megan drink too much and stay in the free room above the bar which turn out to be better than any weekend getaway with a fireplace and a Jacuzzi tub. If I could find this place, I would become the town drunk. 🙂
I love the Abbott family and am looking for more HEA courtesy of the scheming Dad and Grandpa.
Received an ARC from the publisher in exchange for an honest review.
---
Favorite Scene:
Technically this is from the bonus chapters rather than the novel, but it was too cute to pass up.
"You want to tell him, Megan?"
"Okay," she said, turning to face Hunter.
Whatever she had to tell him, he decided right then and there, he wanted to see her eyes glow with that kind of excitement every day for the rest of their lives.
"A week or so ago, Dude came into the diner and told me that one of the puppies in Homer Junior's litter had been returned because the family had to move to another home, and they weren't allowed to have dogs there. She said she could only think of one person who should have this particular puppy–you."
"You got me a puppy?" He loved dogs and had been thinking about getting one of his won for some time now.
"Not just any puppy," Dude said.
"Homer Junior's twin," Megan said.
Dude removed the squirming body from the lightweight blanket that covered him, revealing Homer Junior's identical twin, right down to the all-brown face with the white circle over his left eye and paws in brown, black white and white with brown spots.
"Oh my God." Hunter took the wiggling little body from Dude. "Are you sure this isn't Homer Junior?"
"Positive." Dude beamed with pleasure at Hunter's reaction to the puppy.
"I can't believe you got me the twin of my twin's dog." With the puppy in his arms, he kissed Megan. "Best surprise ever."
"Really? You're not mad?"
"How could I be made when–" He held the puppy away from him to reveal a huge patch of puppy pee on his T-shirt. Holding the little body up in the air, Hunter looked him in the eye. "Really? We just met!" the puppy seemed to grin at him, making him laugh as he fell madly in love.
Megan shook in silent laughter.
"There goes my nice, clean, orderly house," Hunter said.
"A house that's too clean means a life not being lived to its fullest," Skeeter declared.
"Now you sound like my grandfather," Hunter said.
"We brought him a bed and some food to get you through tonight," Dude said "I've got a crate in the truck if you want it."
Hunter glanced at Megan who shook her head.
"No crate," Hunter said. "Hannah would never forgive me."
"For what?" Hannah asked as she came into the living room holding Homer Junior, with Nolan following behind her.
"If I put him in a crate," Hunter said.
"No crates," Hannah said emphatically, squealing as she caught sight of her puppy's twin.
"You'll regret that when he's tearing up your house," Nolan said.
Hannah rolled her eyes. "Don't listen to him. These are the best-behaved puppies in the universe."
"Right," Nolan said with an eye roll of his own.
"Mine's already peed on me," Hunter said.
Dude scratched the puppy behind his ears. "That's him deciding you're his person."
"Am I your person, little buddy?"
The puppy let out an adorable little yelp that had Homer Junior straining to get free of Hannah so he could say hello to his brother. Hunter put his puppy down on the floor so they could romp. They fell into a gleeful wrestling match that had everyone laughing at their antics.
Hannah waved her hand in front of her face, as if she were trying not to cry. Thanks to pregnancy hormones, she cried at commercial these days, or so Nolan said. "They remember each other."
"I knew they would," Dude said proudly.
"Did you know about this?" Hunter asked his sister.
"Megan clued me in the other day. She wanted me to bring Homer over so you'd believe you had his twin and not him."
"These are the only two from that litter who had this same exact coloring," Dude said.
"Just like us and our litter," Hunter said to Hannah.
"Exactly," she said laughing.
"Good surprise?" Megan asked.
Hunter put his arm around her and drew her in close to him. "Awesome surprise."
Related Posts