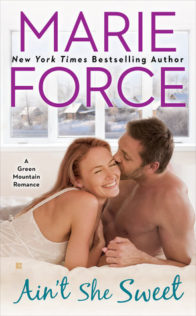 Ain't She Sweet (Green Mountain, #6)
by
Marie Force

Series:
Green Mountain #6
Published by
Berkley
on April 26th 2016
Genres:
Blue Collar
,
Small Town
Pages:
320
Format:
eBook


I received this book for free from in exchange for an honest review. This does not affect my opinion of the book or the content of my review.
This post contains affiliate links you can use to purchase the book. If you buy the book using that link, I will receive a small commission from the sale.
---
[box style="rounded" border="full"]Of course the story Ain't She Sweet is about the one Abbott sibling who is always contrary and competitive.  Unlike her laid back sibs, Charley doesn't want the HEA that her parents have.  Who wouldn't want a Tyler of their very own? [/box]
Charley Abbott is so competitive that she couldn't back down from a challenge to go running up a mountain in a snow storm, especially because the challenge was issued by Tyler Westcott, the bane of her existence. Just when she is about to admit defeat and go home, the snow gives out beneath her feet and she goes tumbling down the mountainside.
With Charley's parents on vacation and all her siblings busy with new spouses or getting ready for Hunter and Megan's wedding, Tyler steps up to take care of Charley while she recovers from her injuries. Tyler not only feels guilty for needling Charley into the run that morning, but Tyler has been falling hard for Charley for years. He was just never able to get her to give him a chance.
Tyler in his pressed shirts and slacks always reminded Charley a little too much of her uptight brother, Hunter. Charley likes her men more down and dirty. But while recovering at Tyler's house, Charley gets to see Tyler in a whole new light and realizes that she has seriously misjudged him.  Once she stops thinking of him as someone she wants to avoid, she realizes just how wrong she has been about Tyler.
When Tyler confesses that his feelings toward Charley go way deeper than friendship, Charley would be on the run if she could, because Charley doesn't do happily ever after. That's a fantasy for other people.
Can Tyler convince Charley that they could find their own HEA before Charley heals enough to truly run away?
THOUGHTS:
Part of me feels that I should be offended by the fact that the only two characters written in this series so far that you have to gradually come to like are both women. Everyone in this town is absolutely maple-syrup sweet and wonderful. It certainly is a Norman Rockwell dream town. The only exceptions to this rule so far have been Megan Kane in And I Love Her and now Charley Abbott in Ain't She Sweet. Now neither one of them are horrible or unlikable characters, but they both have men who are pining for them in the background and both won't give these desperate, gorgeous men a chance until they are forced into close quarters and realize how awesome it is to have a man love them even at their bitchiest. So far there is no stud in town who is too good for an Abbott girl.
Don't get me wrong, all of the stories so far have been sweet, small town romances and no B.S. drama or contrived plot deviation to up the tension. These are all simply enjoyable story about people meeting and falling in love, some just meeting and some finally getting to know a long-time friend or acquaintance better.
Ain't she sweet focuses on Charley Abbott, who we find out was hurt in college and because of it, she keeps her shields up, never getting close to men. This was a little bit contrary at the beginning when she is lamenting that there are no good men, but it is Charley who doesn't let any in since it turned out that her college love was a user and a womanizer who had multiple girlfriends across campus. Note: Any guy who wants to keep your relationship a secret, is definitely hiding something, and that something is YOU! After this disastrous relationship, Charley doesn't seem to believe in HEA even though she is surrounded by them with her parents, and grandparents and now all her siblings. Yes, they can be happily married and devoted to each other, but it's not in the cards for Charley.
We add to this that Charley judges her interest in Tyler by the fact that he dresses well, much like her brother Hunter, and this is a turn off to her. Charley seemed to have dated just about every single man in Town but Tyler and again, just to be more contrary, it comes off like she just slept with the men rather than getting into a relationship, but then it seemed to be more of Charley having a few fuck-buddies on speed dial rather than risking a relationship with a man.
Just like with Megan in the previous story, we do come to like Charley once we get to know that deep down she is sweet, just like all the other siblings, but she lets that one experience rule her future.   We might come to like Charley, mostly because she finally let's Tyler in.  It is Tyler that makes this story.  He is super sweet and a little super desperate but he is there for Charley and opens up his home to her and to all her family to come and go to visit her.  Anything she wants, he provides but mostly he just wants a real relationship with Charley and for her to give him a chance.
This is a good story but not my favorite.  The one problem with a continuing series like this is that once we really get rolling with Charley and Tyler and Charley stops fighting the relationship, we lose some momentum when we deviate for a few chapters to catch up with Hunter and Megan, Will and Cameron, and Max, Chloe and the baby.   We also spend several pages with cousin Grayson and Lucy's sister, Emma, who are being set up as the next story.
---
Favorite Scene:
"I turned down my mother's offer to go home with her without even checking with you. You're probably tired of having me around. I should've let them take over."
"No."
"No?"
"Just no–to all of it. I'm not tired of having you around, and you shouldn't have let them take over. Unless that's what you want."
"It's not."
Two little words had never packed a greater punch or given him more hope. Then she took it a step further by reaching for his hand for the first time. "I like being here with you."
Her words and the shy way in which she said them sent a shock wave of heat through his body. "I'm glad you do," he managed to say.
"Could I ask you something?"
"Anything you want."
"What happened in the bathroom–"
"I'm sorry about that, Charley. It shouldn't have happened. I brought you here to rest and recover, and I didn't mean to take advantage of you."
"Oh. You didn't."
"No, of course I didn't."
"It's just that I, um…I kinda liked it, and I was sort of hoping you might do it again. If you want to, that is."
"If I want to." Shaking his head, he laughed at the ridiculousness of the statement. "You have no idea how badly I've wanted to kiss you–among other things–for a really long time now."
She looked up at him expectantly.
He acted before he could take the time to think, sliding his arms under her and picking her up–carefully.  Judging from the expression on her face, her gasp had nothing to do with pain and everything to do with surprise.
Tyler carried her into his room and put her down on the bed. Then he crawled in next to her. "There," he said. "That's better." He cupped her cheek and turned her to face him. "Much better angle."
"For?" she asked, sounding breathless.
"This." He started slow, with just the slightest brush of his lips over hers, making sure she was with him before he kissed her the way he really wanted to–hard and deep.
The catch of her breath encouraged him to add his tongue in teasing strokes against her lips, which were still tightly closed. Tyler was about to pull back to gauge whether she was enjoying this as much as he was when two things happened at the same time–her hand curled around his neck and her mouth opened to his tongue.
Go time.
He felt like he'd waited forever for the opportunity to kiss her the way he really wanted to, and it more than lived up to his vivid Charley Abbott fantasies. Her tongue twisted with his, making his blood boil. But he had to remember she was hurt and he needed to take it easy. With that in mind, he softened the kiss.
"Mmm, I knew it," he said.
"What did you know?"
"Underneath all that bluster you show the world, there's a ton of sweetness waiting for be found."
"I am not sweet."
He dragged his tongue over her bottom lip. "Yes, you certainly are."
"No, I'm certainly not–"
"Charley?"
"What?"
"Less talking and more kissing." Before she could argue with him, he kissed her, reminder himself once again to go slow, to not let his hands wander, to not push her for too much too soon. But she didn't make it easy to go slow, not when she sucked on his tongue and bit down on his lower lip, making him harder than he'd been for any woman ever.
He was about to say to hell with going slow when a voice called out from the other room. "Hello? Tyler? Charley? Where are you guys?"
Tyler froze. Christ, it was Ella.
Related Posts