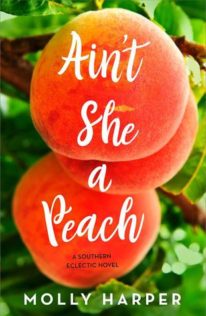 Ain't She a Peach? (Southern Eclectic, #2)
by
Molly Harper

Series:
Southern Eclectic #2
Published by
Gallery Books
on June 12th 2018
Genres:
Small Town
Pages:
304
Format:
eBook



I received this book for free from in exchange for an honest review. This does not affect my opinion of the book or the content of my review.
This post contains affiliate links you can use to purchase the book. If you buy the book using that link, I will receive a small commission from the sale.
An Atlanta ex-cop comes to sleepy Lake Sackett, Georgia, seeking peace and quiet—but he hasn't bargained on falling for Frankie, the cutest coroner he's ever met.

Frankie McCready talks to dead people. Not like a ghost whisperer or anything—but it seems rude to embalm them and not at least say hello.

Fortunately, at the McCready Family Funeral Home & Bait Shop, Frankie's eccentricities fit right in. Lake Sackett's embalmer and county coroner, Frankie's goth styling and passion for nerd culture mean she's not your typical Southern girl, but the McCreadys are hardly your typical Southern family. Led by Great-Aunt Tootie, the gambling, boozing, dog-collecting matriarch of the family, everyone looks out for one another—which usually means getting up in everyone else's business.

Maybe that's why Frankie is so fascinated by new sheriff Eric Linden...a recent transplant from Atlanta, he sees a homicide in every hunting accident or boat crash, which seems a little paranoid for this sleepy tourist town. What's he so worried about? And what kind of cop can get a job with the Atlanta PD but can't stand to look at a dead body?

Frankie has other questions that need answering first—namely, who's behind the recent break-in attempts at the funeral home, and how can she stop them? This one really does seem like a job for the sheriff—and as Frankie and Eric do their best Scooby-Doo impressions to catch their man, they get closer to spilling some secrets they thought were buried forever.
---
I don't know how anyone could read Peachy Flippin' Keen without already having a copy of Ain't She a Peach since it leaves you hanging and thankfully I had review copies of both. 🙂
Molly Harper takes us back to that crazy town by the lake, Lake Sackett, Georgia and the McCready Clan to spend time with Frankie McCready. Frankie was my favorite character of this series, even over Tootie, and I was excited to see that her book was next.
In Peachy Flippin Keen, which is a novella Molly put out back in April, We are introduced to the new Sheriff in Town, Eric Linden, as well as Frankie's nemises, Jared Lewis, a local teen who has been trying to get into Frankie's morgue for a peek at the dead people. Frankie and the new Sheriff aren't seeing eye to eye and that might be because he doesn't like the way Frankie dresses or the odd colors of her hair, or the fact that he is embarrassed because Frankie know that he can't stand the sight of dead bodies. But when someone keeps trying to break in, Frankie just knows it has to be Jared, she just has to get Eric to trust her.
Reading this novella without a copy of the next books, will just make you crazy since it leaves you wanting answers: Is Frankie right? Why does the Sheriff treat her so badly? What is going on in this crazy town? So make sure you have both books before getting started.
In Ain't She Sweet, we get more information about Eric and why he has come to the small town of Lake Sackett. We also get to really know Frankie and while she appears to be full of self-confidence, we see how she allows her parents to baby her almost to make up for all the years they thought she would die young from the Leukemia. She wants to move out and grow up, but her parents make her feel guilty so she is stuck in a little girl's room, living a little girl's life. And we see that her choice of clothes and hair allow her to take control of the stares she always received around town as the little girl who was dying. As the story goes on, we see that Frankie's self-confidence is a fascade. That part disappointed me since I liked Frankie's self-confidence and I-don't-care attitude and to learn it was all fake was a let down.
This is a crazy family and you just don't know what is coming next but since Molly Harper is involved, it will surly give you a laugh.
---
Favorite Scene:
"Could ya tell my dad that Miss Eula's coming up on the elevator?" Frankie asked. "All prettied up and ready for her party."
"Will do," Margot said, the corners of her slick coral lips lifting. "Your mom left your lunch in my office and said to remind you that you have to eat at some point. I believe the exact phrase she used was 'No excuses or I'll give her a whooping, just like when she was little.'"
"She's all talk. I never got whoppin's."
"I'd still eat the freaking sandwich, if I were you," Margo told her. "Your mother is a culinary genius, and bacon is her medium of artistic expression."
"Yeah, yeah," Frankie said, rolling the closed pink casket toward the elevator that led to the west chapel. She called after Margot, who was already halfway up the stairs to the funeral home proper. "Remind Daddy that Miss Eula ordered a full spray of white roses! She wanted them in place for her visitation. And she wanted to make sure Trudy Darnell saw them. She actually wrote it in her preplanned funeral paperwork: 'Make sure Trudy Darnel sees me covered in white roses.' They had a long-standin' feud over some pie-related incident at the 1964 county fair."
"The roses are already here. I'll place them myself," Margot promised from the stairwell. "Also, for the record, I did not expect the old church ladies to be this cutthroat. It's like Game of Thrones with less nudity and more denture cream."
"Just be grateful for the 'less nudity,'" Frankie yelled.
"Trust me when I say that I am."
Related Posts