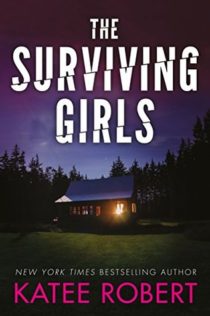 The Surviving Girls
by
Katee Robert

Series:
Hidden Sins #3
Published by
Montlake Romance
on May 29th 2018
Genres:
Crime Drama
,
Mystery
Pages:
286
Format:
eBook



I received this book for free from in exchange for an honest review. This does not affect my opinion of the book or the content of my review.
This post contains affiliate links you can use to purchase the book. If you buy the book using that link, I will receive a small commission from the sale.
A fierce survivor and a fearless FBI agent battle a copycat serial killer in a gripping thriller from New York Times and USA Today bestselling author Katee Robert.

Twelve years ago, Lei Zhang and her friend Emma Nilsson miraculously lived through the notorious Sorority Row Murders that left twenty-one of their sisters dead. Still wrestling with the trauma but finally out of the limelight, Lei and Emma are now devoted to helping other victims find closure. But most disturbing for Lei—beyond the gut-wrenching survivor guilt—is that the killer was her boyfriend. He's behind bars, but she'll never lower her guard again.

When a copycat killer targets Lei and Emma, FBI Agent Dante Young is put in charge of anticipating the sociopath's every move. But what he doesn't expect is his immediate and overpowering attraction to Lei. The closer they get to each other, the more desperate and terrifying the questions become: Who wants to finish what the killer started—and why?

Now Agent Young vows to protect Lei at all costs. If they have any chance of a future together, first they have to stay alive…
Katee Robert was more creative with her serial killer than she was her main characters.
I have to confess to you all — I cheated! This is the first time ever and I feel so guilty…okay not really guilty, but I just couldn't take it anymore and I cheated. I flipped to the end of the book to find out who the killer was. I have never done that before. Sometimes if I am desperate to walk away from a story, I simply go to Goodreads or other blogs to see if someone posted a spoiler. But this time, I simply jumped from 40 percent to 80 percent and received a lot of satisfaction without the painful, drawn out wait.
The premise of the story was interesting: Two survivors of a horrific murder of over 20 women one night at a sorority house are being targeted again by a copycat killer. Survivor meets FBI agent who protects her from the new killer. And while the murder and the killer get an A+ for creativity, the survivors and the FBI characters get an F.
Lei Zhang and her BFF Emma Nilsson are the survivors. Lei feels especially guilty for the murders since it was her boyfriend who committed them and she let him into the sorority house by sneaking him in through her window late one night. Even if she didn't let him in to play patty-cake, he would have gotten in. He is a sociopath and the murders were his ultimate game plan. Travis was rich, privileged and when Lei and Emma first came forward with the story of that night, no one believed that the charismatic, heir to a fortune could be a stone-cold serial killer who raped and butchered more than twenty young women in one night. Finally one FBI agent believed and Travis was convicted.
Lei and Emma have tried to make up for their survivor guilt by helping other lost souls. Lei and her dog, Saul, a trained cadaver dog, assist the police in finding bodies that other killers hope will never be found. Her friend, Emma, has become a computer guru and has created a program to help determine the most likely place for bodies to be dumped and it creates a search grid.
But Lei and Emma are as much prisoners as the killer who will hopefully spend the rest of his life behind bars. Their house has not one but two safe rooms. They have learned martial arts and they have their own shooting range on the property. There are cameras around the house and around the grounds watching all the time. But while Lei will leave the house to assist is searches, Emma never leaves the property, and Lei returns to the house after her searches no matter what time they finish and how far away she would be because neither can sleep without the other in that hosue.
I can't imagine what it would truly do to someone to survive such a trauma, but doomsday preppers have nothing on these two women and until they are confronted with a copycat killer, it seems a bit overmuch and as confining as a prison.
The FBI agents assigned to the new killings, are Agent Dante Young (a large black man) and his partner Clarke Rowan, (a tiny redhead with no social skills). Their drastic differences supposedly throw people of their game but these partners have no chemistry.  Dante goes to Lei and Emma's house to interview them, and although he and Clarke are only there for very short period of time and Dante ask about three questions, he can't stop thinking about Lei and even his partner is scolding him about his sudden obsession. It was way too much, way too soon. And it wasn't just that Dante and Lei had no spark. It was that none of the characters had anything interesting going on. They were all very flat. There was even a local sheriff who had his eye on Emma and kept checking in on her, but she had zero interest in him. So there are two potential love stories and zero romance and zero sexual tension. I did skip a big portion of the story, but I don't think I really missed anything as the meter was still reading zero at the end of the story.
As I said, I was about forty percent through the story and I had zero interest in what was going on except who might have been the copycat. I decided to just flip to the back (which is hard in a digital) but happened to pick up the story about eighty percent in just as the excitement (I use this term loosely) was picking up again and we learned who the killer was.
I only give this story 2 stars and that is completely for the plot twist. I am certain when outlining the story, the author and the publisher were very excited and I too would have ooo'd and ahhh'd, but there is a lot more that goes into writing a book than just having a good idea. In The Surviving Girls, the premises was exciting but the execution fell very, very flat.
Related Posts