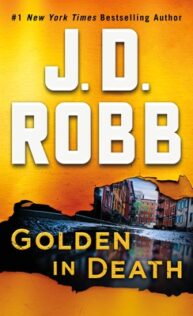 Golden in Death (In Death, #50)
by
J.D. Robb
,
Susan Ericksen

Series:
In Death #50
Published by
Macmillan Audio
on February 4, 2020
Genres:
Crime Drama
Format:
Audiobook
Narrator:
Susan Ericksen
Length:
13 hrs 50 min



This post contains affiliate links you can use to purchase the book. If you buy the book using that link, I will receive a small commission from the sale.
12 hours, 30 minutes

In the latest thriller in the #1 New York Times bestselling series, homicide detective Eve Dallas investigates a murder with a mysterious motive and a terrifying weapon.
---
A perfect example of why we love the In Death series; murder, solid investigation, romance and Lt. Eve Dallas doing what she does best, finding justice for the dead.
It is Spring of 2061 and not everyone is happy to stop and smell the blooming flowers. Someone has decided it is time for revenge. Dr. Kent Abner received a package which held a cheap plastic golden egg and when he pried it open, he had only moments to understand he was going to die.
Through the HazMat team and Dr. Morris's autopsy, Eve and Peabody come to understand that someone developed a fast acting poison which would dissipate quickly. This poison was created to kill their target quickly with no collateral deaths. Everything Eve learns about Dr. Abner indicates he was a well loved and well respected doctor so why has someone specifically targeted him sending him a gift hiding a deadly poison?
When another victim turns up, another well loved individual, it starts to click for Eve that while the targets were specifically chosen, they are not the individuals who are the focus of the vengeance. Even murder cops are horrified to realize that someone is focused on killing the loved ones of those they seek revenge against. For them it isn't enough to kill their enemy, they want them to forever suffer loss of what they loved most.
Eve needs to stop this killer before he can score even more suffering. Once she determines who the true intended target was, her investigation begins to focus on a decade old confrontation. Most people would have moved on with their lives but someone has let resentment fester until they created the perfect weapon for payback.
I was very happy with Book 50.  After the last few have been just so-so.  This is what we have been waiting for from Nora Roberts.  Golden in Death had everything we love about the In Death series.  There was a very engrossing investigation into this disturbing slew of murders.   We first needed to figure out the who and why and then trying to find enough evidence to bring the killer in the box for Eve to squeeze out a confession.  It was all very suspenseful.
While we weeded through the investigation, the devastation caused by these deaths was heart-wrenching.  I mean there is always death and someone's loss but she dragged us throught it this time, even Eve was feeling it.
We also had a nice blend of romantic time with Roarke as well as bringing all our favorite secondary characters in at some point (only absent is Mavis, Leonardo and Bella).
While I missing having my in and getting advanced copies of the books, part of me is quite happy returning to the audiobooks because Susan Ericksen has always brought these characters to life for me.   I recently shared my audiobook collection with a friend and am excited to see her getting her first taste of my favorite characters.  It is so much fun to share your favorites stories with someone and see their smiles knowing your have opened up this great world to someone else.
Book 50 clearly reminded me why I love this series so much.
---
Favorite Scene:
"As the cat is not with you," he said to Somerset, "the Lieutenant must be home."
"She is, and something's troubling her. She looked tired, and…sad. You should deal with it. And she told me, very specifically, not to open any deliveries."
"There was another murder this morning." Roarke glanced up the stairs as he spoke.
"Yes, I heard. I can't see how it would apply to deliveries here…"
"If she's worried about it, she has a reason. I'll find out what it is."
"You look a bit tired yourself," Somerset added as Roarke started up the stairs.
"Bloody rain."
"It hasn't rained today."
"In Maine it has." He continued up and because he couldn't quite shake off the irritation, detoured to the bedroom to strip off the suit and the work day.  Changed into a light sweater and jeans.
When he went into her office, she sat at her command center. Rather than his usual spot on her sleep chair, the cat sat on the leg of her work station staring at her.
"You're starting to wig me, pal. Go take a nap or something." She continued to work. Galahad didn't budge and Roarke could see the headache behind her eyes as clearly as a flashing sign. Likely the result of fatigue and skipping any resemblance to an actual meal through her day.
Annoyed all over again, he pulled a case out of his pocket as he strode to her command center. Both she and the cat turned heads to look at him. The cat's look said, as clearly as Somerset's words, deal with this.
"Take the blocker. You won't work well with that headache."
She started to refuse. He saw that. Just as he saw her change her mind. When she took it without protest or excuse, he decided he did indeed have something to deal with. At least it got his mind off his stalled project. He glanced at her board, saw the stills of the second victim, the crime scene.
"The report said she had two teenage sons."
"Yeah."
"You don't suspect the husband."
She shook her head. "He teaches at Columbia. Dennis Mira know him. He helped with the notification. The guy was shattered. Just broken to pieces. Mr. Mira helped."
"Dennis is made of kindness and compassion."
She often thought if everybody in New York had just a little bit of Dennis Mira in them, she'd be out of a job. View Spoiler »"Before Duran, the spouse, taught at Columbia, he taught at Gold." « Hide Spoiler
"Ah, you have your link."
"Yeah. A woman had to die to give it to me, but I've got the link."
"Eve."
She shook her head again, more vigorously. "It's not on me. I know it's not on me, but she's still dead. Jesus, Roarke, her mother found her."
Saying nothing, he stepped behind her, laid his hands on her shoulders, brushed a kiss over the top of her head. "What can I do?"
She spun in the chair, wrapped her arms around him, pressed her face against him.
"There now." It broke his heart. "Come away from this for awhile."
"I need to–" she paused, gathered herself. "I need to say something about this morning."
Set to comfort, he momentarily blanked. "This morning?"
"You've already let it go. You were pissed but you've already let it go. I was pissed too."
Remembering, he shrugged. "Hardly the first or the last time for either of us."
"No, but–" She let him go. Stood to face him. "I know people get pissed over money. Hell, they bash brains in over it."
"I don't see either of us going that far."
"I know it's stupid for us to get pissed over it. It's supposed to be the lack of it or the carelessness with it, the greed for it, whatever. Not the fact that there's so damn much of it."
He traced a fingertip down the dent in her chin. "I don't plan for that to change."
"Oh, I got that. The thing is, I don't want to get used to you peeling off a bunch of money for me whenever I'm running a little short. I wouldn't have run short if I had gotten by a machine, and God damn it, I forgot to hit one today, which makes your stupid point."
"I still have your IOU."
"I don't want to get used to it," she repeated. "Start depending on it. I've gotten used to so much. Depend on so much. You, this place, the life we have. The clothes in my closet. The damn coffee I drink."
"Why should that worry you?"
"It doesn't, or only a little sometimes, which is my point. It was stupid to get pissed because you lent me some money, but I don't want to start thinking 'Hey, no problem, Roarke will cover it.' I don't want that for either of us. It's important to me."
"I'll understand that if you understand that it is important to me you don't walk out of the house with empty pockets."
"They weren't all the way empty. Anyway that's is just part of what I need to say. Duran. He's shattered and he's trying to remember if he kissed her goodbye that morning. Did he say that he loved her? Did he kiss her goodbye because she's gone. And I thought, I was pissed and I walked out. I didn't kiss you goodbye. I didn't tell you I love you and dammit who knows better than I do that everything can change, can break, and you never get that chance again."
"My darlin' Eve." He kissed her forehead. Her cheeks. Her lips.
"It'll happen again. It may be you who's pissed and walks out. So I want to say, when it does happen, either way, to remember this, right here." She cupped is face in her hands. Kissed him. "Just remember."
"And you." He kissed her back. Then held her.
Related Posts