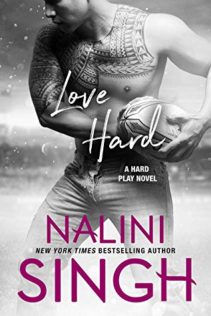 Love Hard (Hard Play, #3)
by
Nalini Singh

Series:
Hard Play #3
Published by
TKA Distribution
on March 10, 2020
Genres:
Contemporary
,
Sports
Pages:
320
Format:
eBook



I received this book for free from in exchange for an honest review. This does not affect my opinion of the book or the content of my review.
This post contains affiliate links you can use to purchase the book. If you buy the book using that link, I will receive a small commission from the sale.
New York Times bestselling author Nalini Singh brings you the next sizzling story in her Hard Play contemporary romance series…

Jacob Esera, star rugby player and young single father, has worked hard to create a joyous life for his six-year-old daughter. After the death of his childhood sweetheart soon after their daughter's birth, all Jake wants is safety and stability. No risks. No wild chances. And especially no Juliet Nelisi, former classmate, scandal magnet, and a woman who is a thorn in his side.

As a lonely teenager, Juliet embraced her bad-girl reputation as a shield against loneliness and rejection. Years later, having kicked a cheating sports-star ex to the curb, she has a prestigious job and loyal friends—and wants nothing to do with sportsmen. The last thing she expects is the fire that ignites between her and the stuffed-shirt golden boy who once loved her best friend.

Straitlaced Jacob Esera versus wild-at-heart Juliet Nelisi? Place your bets.
---
Nalini Singh destroys us with another amazing love story.
This is one of those love stories that punches you square in the heart and you have to sit back and breathe a bit before you can move on.
Jake Esera is celebrating this brother Gabriel's (T-Rex) marriage to his love Charlotte (the Mouse) and is quite surprises when Charlotte's friend and bridesmaid, Jules, turns out to be Juliet Nelisi. The same Juliet who was always in trouble at school but who was also one of the best friends of his Callie. Callie was Jake's teenage sweetheart who he got pregnant but she died shortly after giving birth.  Jake was always a serious person, acting much older than his teenage counterparts, but he needed to be a good father to his baby daughter and with the love and support of his family, he learned to be a good dad.   For Esme, he fights his overprotective nature so she can have all the fun and freedom that a little girl should have growing up.
Jake never understood what his good-girl Callie saw in bad-girl Juliet that made them such tight friends, but Callie never betrayed Juliet's trust even with Jake. We learn that like Esme, Juliet was born out-of-wedlock to her young parents; but unlike Esme, Juliet was not welcomed by her parents' families.  After her parents were killed, Juliet was sent to live with her Aunt, a woman who had no interest in raising a child, so she acted out until she was finally sent away to live with her grandparents. The only person who ever showed her love and affection was her friend, Callie.
I wouldn't say Jake and Juliet were high school enemies, but they never understood what Callie saw in the other but would never do anything to interfere with Callie's love for the other. While opposites themselves, they tolerated each other for Callie's benefit.  And while each were perplexed why Callie loved the other, they both seemed to respect the other for their loyalty and kindness.   So this really isn't a true enemies-to-lovers story, more an annoying- acquaintance-to-lovers story.
Jake is surprised to find himself attracted to the sexy woman standing before him that bares little resemblance to the scrawny troublemaker of his youth. When fate throw her in his path again, he begins to believe that getting closer to Juliet is worth the risk to his sanity.  Juliet is no more surprised than Jake for her own attraction to the Gearhead Jock that her best friend dated.
Jake is very aware of who he introduces to his daughter, but she knows Juliet as a friend of the family and she likes her.   Juliet's biggest concern is that while Jake and his brothers are big rugby stars and are very much in the public eye, they keep their private lives as private as possible, including keeping the children out of the spotlight.   Juliet's ex-husband is a cricket player, whose own stardom is waning as his playing falters.   Reid has decided that dragging his ex-wife into the gossip column is a great way to keep the public's attention on himself.   Juliet doesn't want her troubles reflecting on Jake and his family so she doesn't want to go public with their budding relationship.  Both are trying to protect Esme, but while Juliet is used to protecting herself, it is not in Jake's nature to not protect someone he cares about.
I was surprised that the first 25 percent of this story takes place at Gabe and Charlotte's wedding but since Jake and Juliet already knew each other and had a bit of a history, we didn't lose out on building romance development since they sent that time fighting how bizarrely attracted they were to someone they remembered as annoying, and of course, they kept being forced to spend the day together as they were paired in the wedding party.
Juliet's concern, just like ours, is that Jake is pining for his lost love, Callie, but quite understandably Jake explains that after stepping up to become a good father for Esme, he has become so different from the boy that Callie knew.  That he loved Callie with his whole teenaged heart and there would always be a place for her there, but she is part of his past.  Juliet no longer courts trouble and has long outgrown that need for teenage rebellion but she is more open and free-spirited than the very serious Jake and he wants her to be his wings and teach him to enjoy life. *sob* 
This was such a sweet and moving romance and while I enjoy everything that Nalini writes, I would highly recommend Love Hard.
---
Favorite Scene:
His daughter stared agog at the color and music all around them.
"Where's Jules?" asked asked at one point.
"She had to work." Jake wasn't sure if that was true or if Juliet was using it as a convenient excuse–she'd turned wary after that honest exchange in the lounge. Or maybe she'd caught the hunting glint in his eye and realized he was playing for keeps.
"Ask her if she finished her work," Esme insisted even as he was plotting how to lure Juliet out into the open. "She's gonna miss the fun."
Lips curving in a surely wicked smile, Jake reached into his pocket and grabbed his phone. But, after making the call, he handed the phone to Esme. "Here, you ask." No one had ever said Jacob Esera was stupid.
"It's me, Esme!" Esme cried cheerfully into the phone. "Did you finish your work?" A pause as she listened. Then, "I got my picture with a wizard!" Another pause. "Uh-huh. Are you gonna come out? Please."
Yeah, that please was going to do it, Jake though smugly. Esme wasn't yet aware of how sweet and adorable she sounded when she said it just that way, but Jake was already girding himself for when she got older.
"Daddy, can I borrow the car? Please?"
"Daddy, can my friend"–insert some idiot boy's name–"come study with me in my room? Please?"
"Daddy, can I go to this party? Please?
He was going to have to grow fucking titanium armor to have any hope of resisting her.
"Yeah!" Esme bounced against his arm. "Um, we're by the…" She looked around. "There's a statue. He's all gold. He's actually a person–I saw him move," she whispered into the phone. "But don't tell. It'll hurt his feelings."
Jake bit the inside of his lip and waited.
"Uh-huh. Okay, see you!" Esme handed over the phone.
"Juliet's coming?" he asked as he slipped his phone back into his pocket.
"Yup."
He held out his hand, palm up. Grinning, his daughter gave him a high five.
Related Posts