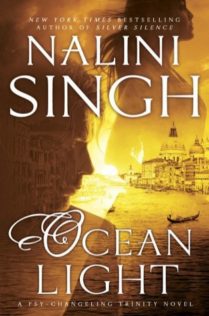 Ocean Light (Psy-Changeling Trinity, #2; Psy-Changeling, #17)
by
Nalini Singh

Published by
Berkley
on June 12th 2018
Genres:
Paranormal/Urban Fantasy
Pages:
464
Format:
eBook



I received this book for free from in exchange for an honest review. This does not affect my opinion of the book or the content of my review.
This post contains affiliate links you can use to purchase the book. If you buy the book using that link, I will receive a small commission from the sale.
New York Times bestselling author Nalini Singh dives beneath the surface of her Psy-Changeling world into a story of passionate devotion and selfless love...

Security specialist Bowen Knight has come back from the dead. But there's a ticking time bomb in his head: a chip implanted to block telepathic interference that could fail at any moment—taking his brain along with it. With no time to waste, he should be back on land helping the Human Alliance. Instead, he's at the bottom of the ocean, consumed with an enigmatic changeling...

Kaia Luna may have traded in science for being a chef, but she won't hide the facts of Bo's condition from him or herself. She's suffered too much loss in her life to fall prey to the dangerous charm of a human who is a dead man walking. And she carries a devastating secret Bo could never imagine…

But when Kaia is taken by those who mean her deadly harm, all bets are off. Bo will do anything to get her back—even if it means striking a devil's bargain and giving up his mind to the enemy…
---
I wasn't a fan of Human Alliance leader Bowen Knight, but as always, Nalini Singh made me love him. We also get an amazing first look at the world of the BlackSea changelings.
Of all the characters in her Psy-changeling series, Bowen Knight was my least favorite. Except for his sacrifice in taking a bullet for his sister,  I didn't think much of him. Of all the leaders in this series, Bowen, as leader of the Human Alliance, was the only one reluctant in his joining of the Trinity. Yes, humans were at a disadvantage among the mentally powerful psy and the physically powerful shifters, but instead of jumping up and down with happiness that the other leadership would be extending a hand a friendship, and taking a hardline against anyone who would work against Trinity, he sat whining that the humans couldn't trust anyone. He bugged me a great deal.
But Bowen does care about his people and when he saw a sniper's red dot on his sister, he didn't hesitate to put himself between her and death.   On the brink of death himself, since he took that bullet to the heart, Bowen now owes a debt to the psy for the experimental artificial heart that they implanted in his chest.   Kaleb Krychek made the offer because he knews Trinity's success may be doomed without Bowen.   Bowen Knight was the most trusted member of the Human Alliance and there is no one else who is as trusted and would be able to fill his shoes and get the humans on board.
When Kaleb approached Bowen with the idea of Trinity, Bowen told him that if the psy want to gain the trust of humans, they need to put their talented scientists into helping develop a safe way to keep the psy out of the minds of humans which would allow the humans a measure of equality and a feeling of safety.  Bowen, and several of his top people, had an implant put into their brains several years ago to prevent the psy from "mentally raping" them.  These implants are starting to degrade and if they don't find a way to remove them, Bowen, his sister Lily and the others will die when the implants finally fail.
The salvation for Bowen and his people might just be found at the bottom of the ocean.  A scientist with the BlackSea changelings has been experimenting and just might have found a way to safely shut down the implant and contain it without further degradation.  Bowen volunteers to be the guinea pig for the risky procedure in hopes that even if it fails to save him, continued tests on his brain dead body  could save the rest of his people.   Bowen, a man who doesn't trust easily, puts his future and that of the Human Alliance into the hands of the BlackSea changelings.
In previous stories, Bowen comes off as cold and standoffish.  In his story, we learn why Bowen is so hesitant to trust the other races, especially the psy.  We also see inside the mind of the stoic leader of the Human Alliance who is facing his worst fear, being trapped inside his own body while his mind is controlled by others.  The loyalty and love Bowen has for his people gives him the strength to face those fears and in working with BlackSea, he comes to love and trust those members of the BlackSea changelings as if he is clan.
While Bowen undergoes this treatment, which is just as likely to make him brain dead as to heal him, he is drawn to Kaia Luna because of her kindness and thoughfulness.  Kaia and her kitchen are the heart of the city.  Kaia is a caregiver and even when she is angry with Bowen, she still does little things for him, like make his favorite pie.   Bowen is known for keeping his distance in his relationships with women.  His attraction to Kaia is immediate and as he gets to know her, he becomes attentive in his desire to give back to her for all her thoughtfulness.  Bowen knows it is not fair to Kaia to deepen their relationship since his own future is doubtful, but he knows that if these are his last days, he could not be happier.
As Bowen needs to remain in one of the undersea cities for the duration of his treatment, we get our first real look at the world of the Blacksea changelings, and even though we are there for more than a month, Nalini Singh makes sure not to give up all their secrets.   It is rude to ask a changeling what they change into, so you would actually have to catch a changeling as they change.  Because of this we still don't know the true nature of Malachai Rhys or all of the Blacksea people.  Even Kaia keeps her true nature a secret as long as possible.   We do get a chance to meet some whales, sharks, a sea turtle and an octopus.  Actually all the boys try to convince you they are a shark.  Sharks are cool and scary no matter who you are.
But not everyone is happy to have a stranger and the leader of the Human Alliance living among them.  Especially since someone has been kidnapping lone ocean changelings.  Usually solitary in nature, these changelings have worked harder than the wolves or cats to become a Clan and the sudden disappearance of their people are making them very wary of this new trust among the groups.
The Consortium is working hard to stop the Trinity Alliance. They don't care who they hurt or how many humans, psy or changelings must die for their campaign to succeed.   Nalini Singh is both brilliant and frustrating with her plotting (maybe she's the mastermind behind the Consortium?)…View Spoiler »We learn in this story that several of the problems being caused by the Consortium aren't being done by zealot members of the group. They have figured out how to get innocent people to do things for them through coersion or simply manipulating the facts (such as convincing someone that Bowen is dangerous to BlackSea). So each time we find out who is responsible for an attack, it is someone who made an innocent mistake not someone who is actively part of the Consortium.  So Trinity is constantly under attack but no one is punished since the perpetrator is also a victim of the Consortium.  Everyone is looking for a bad guy, but there really isn't one they can punish.  Frustrating! And brilliant! « Hide Spoiler
I enjoyed this trip under the sea and our first look into the world of the BlackSea changelings.  I even changed my mind about the indomintable Bowen Knight and wish him well with this HEA.
---
Favorite Scene:
"So, you're the experimental subject Atalina's brought down from the surface."
"That's me." Bowen ate a bite of peanut butter toast, his mind filling once more with images of Kaia provoking him, then giving him cookies. It eased the knot, softened the piercing sense of loss that speared through him. If this was to be the last place he ever saw before he ended, at least it had her in it.
"You should be proud," Carlotta said. "Atalina wouldn't accept just any subject."
The skin on the back of his neck prickled, the tiny hairs there rising. Even as he turned, he knew what he'd see: Kaia walking toward them.
His mechanical heart kicked. Hard.
She wore a sleeveless dress that flirted around her ankles and hugged her curves each time the fabric settled against her before moving again. The color was stoplight red and the top part a halter cinched below her breasts by a wide band of fabric, and tied at the back of her neck.
Her hair, she'd brushed into a sheet of gleaming dark filled with myriad shades from black to brown to strands of copper. It went all the way to the flaring curve of her rear.
A wolf whistle pierced the air.
Bo didn't realize he was the one who'd done it until Kaia gave him a narrowed-eyed look that could strip paint off a wall. Around him, a number of others whooped and clapped. Carlotta, however, was staring at him with a distinctly assessing expression on her face.
"She's the best cook across four oceans." It was a mild rebuke. "I hope you enjoy gruel."
Sauntering over, Kaia leaned down to kiss the older woman on the cheek. "Good Morning, Carlotta." The bloom tucked over her right ear was a creamy white and wafted an intoxicating wave of scent. "Would you like a piece of blackberry pie? I made it this morning."
"Blackberry pie?" Homesickness crashed over him again in a breaking wave. "My mom makes blackberry pie every summer." He tried to get back to his parents' farm at least once each summer, often ended up with scratched arms and juice-stained lips from his hunt for the lush, juicy berries that grew wild around their home.
Kaia was caught by the haunting poignancy of Bowen's voice, the sense of loss in the air so heavy that it made her want to rub the heel of her palm over her heart. "Don't expect to get a piece," she said, but it came out husky.
His lips curved at the edges, the hard-eyed security chief returning with a vengeance. "What if I say 'please'?"
Snorting, she fought the violent urge to go to him, touch him, give him the comfort of clan.
He's not clan, he's the enemy, cried the echo of Hugo's voice.
"You know I'd never turn down a piece of your pie." Carlotta's voice entered the moment without breaking it, as if Kaia and Bowen existed out of time.
Turning on her heel before she could surrender to the urge to touch him, Kaia sauntered into the kitchen as if she had not a care in the world. As if she hadn't spent the night tossing and turning, tormented alternately by dreams of tender caresses and kisses full of primal need, and the chilling screams of their vanished.
She still didn't have an answer to the question of whether Bowen Knight was the enemy, but what she did know was that there was more to him than ruthless leader of the Alliance. "Thank you for holding the fort," she said to Naz, who often took a shift so she could have time off.
Today, her clanmate–an experienced cook who now made his living as a mystery novelist but who continued to love food and the kitchen–had taken the midmorning-to-midafternoon shift.
"Any problems?"
"Aside from Scott's bottomless pit of a stomach? No, we're humming. Shoo, enjoy your break."
"I'm just grabbing some pie." She sliced out Carlotta's piece. After placing it on the plate, she picked up a bottle of raspberry syrup and did a bit of decoration on the second plate before heading back out.
"Here you go."   She put a huge slice in front of Carlotta, then put Botwen's empty plate in front of him.
He took one look at the message she'd written on the plate and threw back his head, laughing so hard that several clanmate rushed over to see what was happening. They snickered at reading: Wolf whistle the cook = no pie for you.
And somehow in the melee, Kaia ended up beside him with her hand on the back of his chair. Her fingers brushed through the silken thickness of his hair to touch his skin. He went motionless…then leaned deeper into the contact.
Related Posts