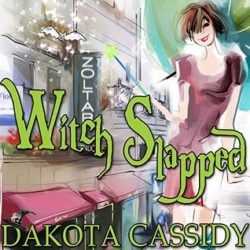 Witch Slapped
by
Dakota Cassidy
,
Hollie Jackson

Series:
Witchless in Seattle #1
Published by
Tantor Audio
on June 21st 2016
Genres:
Paranormal/Urban Fantasy
Format:
Audiobook
Narrator:
Hollie Jackson
Length:
6 hrs 36 min



I received this book for free from in exchange for an honest review. This does not affect my opinion of the book or the content of my review.
This post contains affiliate links you can use to purchase the book. If you buy the book using that link, I will receive a small commission from the sale.
---



[box style="rounded" border="full"]For those of you who like your paranormal with a side of fun, these are just that fun and witty and a overall quick read (or listen). Witchless in Seattle is a spin-off series but you don't have to know the Paris, Texas series to start here. [/box]
A rib-tickling cozy mystery complete with an ex-witch, a dead British spy, a cotton ball bat and a cast of suspects that will keep you guessing right up to the end! Witch Slapped from USA Today bestselling author Dakota Cassidy is book one in her new cozy mystery series Witchless In Seattle. Join the hunt for a murderer with Stevie, Winterbottom, and Belfry in a race against time as the local police prepare an eight by ten cell for our intrepid ex-witch.

What's a girl to do when she's a broke, shunned ex-witch with a very tiny, very hungry bat familiar named Belfry to feed?

Hello. My name is Stevie Cartwright, and I've been witchless for thirty days.

If only there was a support group for down-on-their-luck ex-witches who've had their powers slapped right out of them (literally). Just as I was licking my wounds after returning to my hometown of Ebenezer Falls, WA, and navigating my suddenly non-magical existence with the help of my familiar, the only friend I have left in the world–things got sticky.

Enter an ex-spy and newly departed spirit named Winterbottom, who's infiltrated my life with his sexy British accent and a couple of requests…

Thanks to Belfry's successful attempt to use me as a human antenna to the afterlife, I can somehow hear Win. I should be ecstatic; helping departed souls used to be my witch specialty. It's like I got the teensiest piece of my old life back. Except Win's dropped me right at a dead woman's feet.

Madam Zoltar, the town's beloved fake medium, has been murdered, and Win wants me to catch the killer.

My old life won't be worth much if it gets me whacked before my new life has barely begun–and that seems to be exactly what the killer has planned!

Content Notes: This cozy mysteries women sleuths series has a complete cast of oddball characters from witches to ghosts and bats to psychics. Witchless In Seattle Mysteries is a spin-off of Dakota Cassidy's popular A Paris, Texas Romance Series.
THOUGHTS:
Since it is a quick read with a bit of mystery, I don't want to give too much information. If you a looking for a compelling mystery or a dark dangerous Urban Fantasy, this is not the book you are looking for. Witch Slapped would in league with books by Molly Harper and Kerrelyn Sparks. This is a lighthearted paranormal series, and not even so heavy on the paranormal. The only paranormal we have is a powerless witch and the voice of a ghost.
It is sort of a blend of The Ghost and Mrs. Muir and Scarecrow and Mrs. King (and if you don't know what I am talking about, we can't be friends).  We have a spy ghost teaching Stevie the ropes on how to be a spy and the delightfully sweet Stevie who is trying real hard to sleuth but usually ends up in trouble or being accused of the murder herself.
On the dearly departed's recommendations, Crispin Alistair Winterbottom (also affectionately called "Winter-butt") has turned to Stevie with help investigating a murder.  He has also managed to leave her all his worldly possessions including a dilapidated old Victorian and all his money, as long as she agrees to fix up the house to his specifications.   Listening to Stevie try to agree on color schemes and furniture arrangement with the recently deceased is funny.
The fourth book in the series has just been released and I am up to the third audiobook. I am compelled to continue because I am having fun with it and I am also getting a little ghost boyfriend vibe. In this first book, ghost Win declares that he thinks he knows of a way back out of the ghostly waiting room and I am intrigued to see if he pulls it off, if we do get a romance between Stevie and Win and if he can, how will that change the series?
I'm hooked on this silly series. The mysteries aren't that intriguing but I really like Stevie, Win and little Belfry. The narrator is doing a great job bringing the story to life. While I received a review copy of Witch Slapped, I couldn't wait and picked up and finished the second audiobook. The third audiobook just came out yesterday and I had it pre-order so I started it last night. We will see if I can wait for the fourth to come out or if I give in and make time to read it.
---
Favorite Scene:
I forgot to mark down a spot for a favorite scene and they are not easy to go back and find on audiobook.  I will just give you this quick scene instead.
"Crispin Alistair Winterbottom."
"You're using my full name. As I recollect from my childhood, this is a parental tactic used to show one means business."
"Shut. Up.  Shut up now. Stop reciting your spy DIY tips. I don't know if it escaped you, but I don't have a bungee cord I can repel down the back of the building with."
"Oh, Stop. Don't exaggerate. I didn't tell you to use a bungee cord to do anything. That's only for the skilled and while the time will come when all my secrets will be revealed, you haven't earned your wings just yet. I said, dig a hairpin out of your purse to pick the lock, and make sure you use a tissue so you don't leave behind fingerprints on the doorknob."
I rolled my eyes, keeping them peeled on the alleyway behind Madame Z's. "And then you went on and on about types of locks and cylinders and torque or something. What's next? Lipstick machine guns?"
"Don't be ridiculous, Stevie. I never used a lipstick gun for anything. It's a pen. Ballpoint to be precise. And if you're not ready for bungee cords, not a chance in all of my mother country would I allow you a pen gun at this stage of the game."
"That's not my point. My point is — shut up! All your gibberish about locks is making me nervous and confusing me. Now be a good look out and cover me."
I knelt down again and looked at the lock, forgetting Win's advice and remembering what JoJo Svenson taught me in the sixth grade about breaking into locker because I could never remember the combination. I jammed my hairpin into the lock and lifted, saying a small prayer. The tension eased on the locks pins and my hand twisted the doorknob with ease.
"Hah." I yelped triumphantly before covering my mouth and taking another furtive glance around.
Related Posts