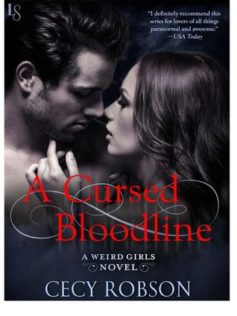 A Cursed Bloodline (Weird Girls #4)
by
Cecy Robson

Series:
Weird Girls #4
Published by
Loveswept
on November 18th 2014
Genres:
Paranormal/Urban Fantasy
Pages:
370
Format:
eBook



I received this book for free from in exchange for an honest review. This does not affect my opinion of the book or the content of my review.
This post contains affiliate links you can use to purchase the book. If you buy the book using that link, I will receive a small commission from the sale.
---
[box style="rounded" border="full"]The excitement never ends for Celia Wird, and by excitement I mean attempts to kill her. In this story, even friends become enemies. With no one at her back, she will still risk everything to get back the one friend she still has in the world and to protect the man she loves but can't have.[/box]
---
I originally made the mistake of classifying this series in my brain as paranormal romance. The first book was lighthearted and funny. But make no mistake, this is an Urban Fantasy series. The difference (I feel) between the Urban Fantasy and the paranormal romance is how dark the story gets and how deadly it gets to the characters. In an Urban Fantasy it is not unusual for major characters to be killed and the main characters to get mauled. Although Celia transforms into a tiger, she is not a were and does not have a were's healing ability. If it was not for her sister's ability to heal, Celia would have been long dead.
The prior book, Cursed by Destiny, got very dark with demon rapes and trying to create a demon spawn army. The Tribe wanted to get their hands on the Wird sisters, especially Celia, feeling the demon spawn they produced off of them would be very powerful. On the personal side, the werewolf Elders wanted Aric to spread his pureblood seed amongst his own kind and made him give up Celia even thought they were mated. So whenever someone wasn't trying to chew on Celia or rape her, she was heartbroken about Aric and his upcoming wedding.
This will contain some spoilers from prior books.
We start this story with a repeating of the last chapter of Cursed by Destiny, where the were Elder Anara is beating the crap out of Celia and threatening to kill Aric if Celia ever attempts to see him again. He also lets her know that if she tells anyone about him and his threat, he will kill her sisters. This leaves Celia alone and desperate. The worst part is that every action she does to protect everyone she loves makes her comes off heartless or crazy.
At this point in the story, Aric and some of his wolves were badly burned and are now deformed from the epic battle at the end of Cursed by Destiny. We know that Celia is pregnant after sneaking away with Aric at the ball for a quickie in the bushes. On top of everything, Celia spends much of the story mentally exhausted, emotionally draining, vomiting and of course, constantly having the crap beat out of her.
Celia is trying to push Aric away to protect him from Anara. Her sister and their mates (Aric's Warriors) feel that Celia is pushing Aric away because of his scarring and deformity, and they can't understand why she would be so awful.
When pushing Aric away and trying not to speak to him isn't enough for Anara, he forces her to figure a way to break her unbreakable mate bond with Aric. He makes his point by showing her just how happy killing those she loves makes him. Celia turns to the only person who might have that kind of knowledge, her brainiac friend, Danny. Danny, who is now one of Aric's werewolves, helps her break the unbreakable bond, and as you can imagine, Aric loses his mind because he thought Celia must have died when the bond breaks and then he goes after Danny with a vengeance that only a werewolf can have when he finds out Danny was involved.
One side effect of breaking the bond is that now Aric's Warriors are no longer bonded to protect Celia, and Anara uses the pack bonds to control them. Celia is used to attacks from the outside but how bad is it when your very strong and powerful friends are trying to rip you apart. Celia fights for her life against them and they don't remember that they were the ones causing her damage. This is all part of why they all think that Celia is losing her mind. They wake up thinking she started attacking them and hurting herself in the process.
And as if being mentally, emotionally and physically destroyed and branded as an unstable, heartless lunatic by her friends and family isn't enough, once she's down she gets a new kick when the Tribe decides to renew their attempts to get Celia. After another struggle for her life, instead of getting Celia, the Tribe gets away with the only friend Celia still has standing by her side, Vampire Master Misha.
Celia is declared in charge of Misha's family which leaves her vulnerable to a new attack — all the vampire masters who want Misha powers and possessions only need to kill Celia to obtain them. With nothing left to lose and no one left who is willing to help her, she and the schoolgirl vamps, take off to try to rescue Misha from the Tribe.
Celia has lost Aric, lost Misha, lost her family and friends, and with no one left to protect her from a Tribe army and the closer attack by the wolves and Anara, Celia is definitely at her lowest point.
Is a cursed human strong enough to survive in a supernatural world if the only thing she has left in the world is her unborn child?
THOUGHTS:
This story was emotionally draining for an Urban Fantasy. It is one of those stories where you want to jump in an help. Anara's attacks leave Celia beaten physically and emotionally. She has to push Aric away hard and he hates her. Her sister thinks she is either losing her mind, sick (since she keep throwing up) or an awful bitch for her treatment of Aric or all of the above and they hate her.
Just reading what Celia was going through hurt so much. This was more than just the usually people beating her bloody, although I think she was healthy and unblemished for about 25 pages total of the 300 plus page story. Anara was beating her up, the wolves were beating her up, the Tribe was beating her up, and with no healing ability without her sister Emme's assistance, she was a mess for most of the story.
There was about one day when everything was rainbows and puppies and you were like "Yay!" and then the world crashed around her again.
You understood why Celia suffered for her loved ones and accepted the fact that they couldn't understand since Celia couldn't tell them what was happening. The only thing I didn't understand is why she never told Misha. Misha wanted Celia for himself and wouldn't have cared that she was pushing Aric away. He would be happy to help her with that. But he could have protected her from Anara, if he knew the werewolf had more power than a normal Elder. He could have involved the Vampire Masters to take care of the wolf threat.
I enjoy reading about Celia and her sisters and I think Misha's vamps are funny. I just hurt so much for Celia in this story where she wasn't just in physical pain and she didn't even have the support of her sisters to get her through the emotional pain.
This is a series you are best off starting from the beginning than trying to jump in the middle, but it will be worth the trip.
Received an ARC from the publisher in exchange for an honest review.
---
Favorite Scene:
I reached for a kitchen towel and wiped my feet. The moment I tossed it in the laundry room Misha pulled me to him and tried to kiss me. I whipped my head back. He managed to reach my cheek, but not much more.
Misha laughed against my ear. "My darling, at this rate we shall never conceive our children."
I broke from his hold and backed away. "Misha, we're not having children."
Misha crossed his arms, the edges of his lips curving into a patient smile. "You cannot deny the future we saw today. We will have children and you, you will finally love me."
I buried my face in my hands and willed myself to calm. I didn't understand the vision—why I'd had it, why he'd seen it. None of it made sense. I loved Aric, and knowing I carried his baby kept my feet firmly placed in reality. I dropped my hands to my sides and took a breath. Misha was my friend, and the last thing I wanted was to cause him pain. But I wouldn't lie to him just to spare his feelings. "Misha, I don't love you. The vision we saw isn't real."
His smile faded, but he refused to admit defeat. "Perhaps now, but in time—"
I shook my head. "Aric is who I love. You've known this from the start."
Misha took my hand in his and brushed his lips over my knuckles. "If that is so, why did you have me send the mongrel away?"
I froze. Misha's smile widened, pleased by my silence. he brushed a curl away from my face. "Will you join me in bed tonight?"
My jaw dropped open. "No, Misha. I told you this isn't real."
Emme's soft footsteps had me turning toward the door. She stilled when she saw us in the kitchen, Misha holding tight to my hand. Her cheeks reddened to a bright pink. "Am I-I interrupting?"
I pulled away from Misha, my own face heating. "Of course not, Emme."
Emme slowly walked in and slipped out of her cream wool coat, keeping her gaze away from mine. "It's not what you think, Emme," I insisted.
I might as well have been talking to the door. Misha kissed the top of my head. "I will have dinner brought to you. My love, if you decide to join me in bed, call the main house. Otherwise the women who wait to pleasure me will still be present."
"Gee, thanks for the heads-up," I told him.
Misha laughed. "Do not fear, my darling. Once we marry I will no longer have need for other bedfellows." He paused and thought about it. "Unless, of course, it's what you desire."
My unamused, perturbed and partially psycho expression must have told Misha exactly how I felt about his bedfellows.
Related Posts