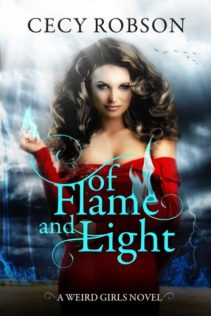 Of Flame and Light (Weird Girls, #7)
by
Cecy Robson

Published by
Self-Published
on October 18, 2016
Genres:
Paranormal/Urban Fantasy
Pages:
350
Format:
eBook



I received this book for free from in exchange for an honest review. This does not affect my opinion of the book or the content of my review.
This post contains affiliate links you can use to purchase the book. If you buy the book using that link, I will receive a small commission from the sale.
---





[box style="rounded" border="full"]I had such a hard time putting this down.  There was so much excitement and as always, Cecy had me tearing up over Gemini and Taran.[/box]
When I read Of Flame and Promise, which is the first Weird Girls book told from Taran's POV, I was disappointed that we time-jumped so far back into the series. When we left Taran in A Curse Unbroken, she had lost part of her arm in the big battle and the werewolf elders did some kind of magic to help her re-grow it. She regained her arm, but the golden-skinned Taran now had a bone white zombie arm which stood out as unnatural. It was also effecting her (un)natural magic to call fire and lightning. Taran's zombie arm was also a big issue between her and Gemini. As confident as Taran appears on the outside, she is no different from any woman, especially one who believes her only real asset is her looks. She was skeeved by her new arm and worse, she believes that Gemini is disgusted by it, and Taran sent him packing.   I must know what happens!!
Taran and Gemini have had some bumpy moments in their relationship during the first few books, but nothing so much as where A Curse Unbroken had left us. So you can understanding how frustrating it is if we are forced to go back in time through the series until we can find out what happens next. So when Of Flame and Light comes out, I breathed a sigh of relief that we were back in real time and we would return in the timeline where we had left off and I was certainly not disappointed. Yay!
Taran and Gemini's relationship is in tatters and the confident Taran is shattered by the loss. This is all made more painful by the fact that the magic which created her new arm is conflicting with her own magic. Not only does the arm seem to have a plan of it's own, but the conflict is threatening to burn Taran from the inside. Her only hope might be the one person Taran hates most, the beautiful and absolutely perfect, Genevieve, head bitch…I mean, witch of the coven who has been trying to seduce Gemini away from Taran for months.
Taran is now under Vieve's magical thumb training with the novice witches of the coven. Suffering humiliations galore at the hands of witches isn't bad enough, but Taran is subjected to watching Genevieve fawn all over Gemini. Gemini is the liaison between the witches and the pack so he is often at their compound, but Taran's heart breaks wide open listening to all the witches gossip about how hot and sexy they find Genevieve's lover. My heart was breaking along with Taran's.
The story is not all heartbreak though, we meet new friends and there is a new danger when Taran is sent to find a former witch from the coven, who isn't lacking in power like the coven believed.  Turns out she is quite the necromancer with plans to raise an army of the dead, gooey zombies.
As always, this story is full of action, excitement, magic, laughs and more than a few tears from Taran and from me.
---
Favorite Scene:
I'm exhausted and out of breath. But knowing I'm inches from freedom helps lurch me forward. I push through, spitting out mud as the first rays of dim sunlight spread across my face.
I dangle from a hole on a side of a hill with one arm out while my chin rests against the opening. Smoke filters out from the hole. I know I should keep going. But right now all I want to do is breathe.
Nothing like a zombie hand scrambling along my shoulder and smacking me across the face to snap me out of my stupor.
"What the fuck?" I scream at it.
I try to backhand it when it smacks me again, but it skitters out of the way and latches onto my forehead, trying to shove me back into the hole. And of course, because that's not bad enough, something else grabs my right ankle, then the other. The remaining zombies haul me backward, refusing to let me escape.
There's several things wrong with this scenario: getting chased down by zombie groupies–who want me to kill them, being shoved back into the hole where I was almost buried alive, and getting my ass kicked by random and decrepit body parts.
Apparently, zombies don't need air. But I do, and so does my fire to work. But apparently zombies forget a lot of things like, I don't know, staying dead and basic chemistry.
By now, I'm spitting mad, kicking hard and scrambling forward. In the movies, the hero would strike one massive blow and break free. That's why movies are movies and my reality sucks big hairy rhinoceros balls.
Related Posts