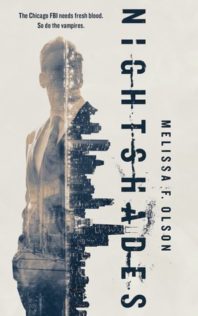 Nightshades: A Paranormal Thriller
by
Melissa F. Olson

Series:
Nightshades #1
Published by
Brilliance Audio
on December 1st 2017
Genres:
Paranormal/Urban Fantasy
Pages:
210
Format:
Audiobook
Narrator:
Luke Daniels
Length:
4 hrs 3 min



This post contains affiliate links you can use to purchase the book. If you buy the book using that link, I will receive a small commission from the sale.
Alex McKenna is the new Special Agent in Charge of the Chicago office of the Bureau of Preternatural Investigations—the division tasked with investigating crimes involving shades.

Or vampires, as they're more widely known.

Children have been going missing, and agents are routinely being slaughtered. It's up to McKenna, and some unlikely allies, to get to the bottom of the problem, and find the kids before it's too late.

Nightshades is a new gritty urban fantasy from Melissa F. Olson.
---



Nightshades is too short to meet its potential.  It attempts to be unique but is mostly the same old, same old  vampires story.  It could have been so much more if only more time was spent developing the characters and the plot.
I picked up this audiobook copy of Nightshades because it was narrated by Luke Daniels. Luke Daniels is one of my favorite narrators so when he posted that he narrated this vampire story, I thought I would give it a try.  The narrator did his job of bringing depth to the characters unfortunately the author only gave him so much to work with.
Let me start by saying that I did find the story entertaining, but at only 210 pages (or 4 hrs of audiobook), it was very short and it was trying to do a lot in a novella length story. This left me with the feeling I get after watching a movie made from my favorite novel where all the guts are taken out so it can get to all the salient points in the 2 hour run time or after watching any episode of any series on the CW. There is a lot you need to assume or just that the reader just needs to go along with.
In Nightshades, humanity has just found out about vampires, or shades as they are referred to in this series. It is so recent, some people still don't believe it is anything more than a hoax or fairytale so there is very little known about them.   About 10 months ago  subject "Ambrose" was caught and the placed in a little facility referred to as "Camp Vamp." The government has only been able to get so much information out of him and how to deal with shades is still being debated whether they are humanoid citizens or creatures to be tortured, studied and disected.
A new division of the FBI has been created, the BPI or Bureau of Preternatural Investigation. After a confrontation with shades which decimates this new division, Agent Alex McKenna applies as the new head of BPI. Alex's mother is a former head of the FBI and Alex has constantly trying to prove that he is an agent in his own right and isn't just riding his mother's coat tails.
Teenagers in a few towns outside of Chicago are disappearing and they are certain it is at the hands of the shades, especially when one body is found drained of blood. Alex is granted permission to try and get information out of Ambrose, even though the top scientiest and agents from every division cannot. We are given the basic understanding of our hero's character as Alex bends the rules to get something out of Ambrose, which turns out to be the name of another shade who is hiding in plain sight among the humans.
We then get to meet a female shade going by the name of Lindy Franklin. She has been mainstreaming among the human population for the last few decades. She wants nothing more to do with shade politics and Hector, the man who leads them. She is anxious about what the papers are saying about the shades abducting teenagers. While shades are preditors and have done this for centuries, they normally stay in the shadows and do everything not to draw attention to themselves. She doesn't know what they are trying to accomplish by allowing Ambrose to be caught by the FBI nor the very public attention they are drawing to themselves in Chicago, but it can't be good. Shades have survived by staying in the shadows and nothing good can be accomplished by shining a spotlight on their deeds.
Alex goes to collect Lindy, presuming he will be dumping her in Camp Vamp along with Ambrose, but is surprised to find a normal woman who wants to assist the BPI in rescuing the teens, if possible.  Alex agrees to allow Lindy to join the team (hiding her shade status from the others) and we see that Lindy has to make a choice of betraying her people to save the teens and stop whatever they are plotting, or taking the BPI on a merry chase.
Because of the brevity of this story, Alex and Lindy quickly establish a trust and a working relationship which should have required more give and take, and again leaves you feeling like this is a book-to-movie with the guts taken out and the "of course they work together and there will be an underlying romantic draw." There is simply not enough time to do everything right when we are trying to accomplish world-building, establishing the new division of the FBI  and the role of Alex McKenna in the BPI, introducing Lindy and then getting together the plot of rescuing the teens and confronting the shades.  We needed more time in order to do it well so we, the audience, have to make several presumptions including there is strong chemistry between Lindy and Alexa, that the good guys are good and even if they bend or break the rules it is for the best,and how evil the bad guys are.
This is the first book of a series and I have already picked up Book 2, Switchback, and a third book is scheduled to release later this year. I am willing to give this a chance to see if the second book can bring more substance to the characters since the world building has been introduced. Book 2 is also novella length but the storyline seems to build off of there we left off at the end of Nightshades. We aren't left with a cliffhanger so much as not everything is resolved by the end of the first story and the relationship between humans and shades still needs to be settled.
With the length of Book 1, I am left with the feeling that this is another vampire fluff series, but there is potential if the author can give the characters more dimension. I will see if the author can make that happen in the next installment.
Related Posts