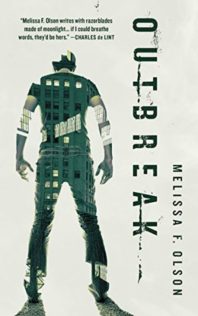 Outbreak (Nightshades, #3)
by
Melissa F. Olson

Series:
Nightshades #3
Published by
Brilliance Audio
on July 1st 2018
Genres:
Paranormal/Urban Fantasy
Format:
Audiobook
Narrator:
Luke Daniels
Length:
3 hrs 51 min



This post contains affiliate links you can use to purchase the book. If you buy the book using that link, I will receive a small commission from the sale.
Melissa F. Olson's thrilling FBI vampire procedural Nightshades series concludes with Outbreak

The Chicago field office of the Bureau of Preternatural Investigation is facing its deadliest challenge, yet--internal investigation! Alex and Lindy are on the hook, and on the run.

But when all of the BPI's captive vampires are broken free from their maximum security prison, and Hector finally steps out of the shadows, Alex must use every trick to stay ahead of both the BPI and the world's most dangerous shade.

Confrontation is inevitable. Success is not.
---
This series is good but just too short to be great.
We start book 4 where we left off on book 3, where shade (vampire) Lindy Frederick and FBI Agent Alex McKenna have just spent the night together and wake up to the news that the shades have all broken out of the FBI holding in Washington DC known as "Camp Vamp." Many agents were killed in the break out and Alex receives a call from his boss to bring Lindy in. Alex isn't stupid and as Lindy is the only known shade and even though she has been working with the FBI, he knows the FBI wants to bring her in and make her take the fall for the breakout.
Alex also knows that Lindy has been working with them on the up and up and wasn't using her in with the FBI as a front for information. Lindy could have simply used her shade abilities and mesmerized one of the agents for inside information. She didn't need to work with them to help capture her brother, Hector. So Alex goes rouge and helps Lindy escape her apartment.
Alex gets his team involved, as they too have come to trust Lindy, and together they make a plan to take down Hector. They just need to make sure they don't get caught themselves before their trap has sprung.
I am not certain if this is the final story of the Nightshade series, but it does end a story arc.
I liked the characters and as always, I was very happy with the narration by Luke Daniels. But my overall problem with the series is the fact that it was a group of novellas, which were each rather short, less than 4 hours of audiobook so the story is ending just as it is really getting started.
While the first novella was slow trying to set up the series and introduce the world of shades (vampires), the other two picked up a little more with more plot. With a novella size ending of story arc, the ending came too quick and there was no time for plot twists. The author did attempt to throw Alex and Lindy's perfect plan off kilter, but you knew, since there wasn't much story left, that everything was going to end really soon.
All the characters we have met over the prior stories are back so once again we can jump back into the story without further introductions but this was still not overly dramatic or exciting for a story arc ending.
Related Posts