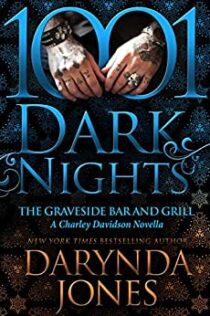 ‎The Graveside Bar and Grill (Charley Davidson, #13.7)
by
Darynda Jones

Published by
1001 Dark Nights Press
on August 23, 2022
Genres:
Paranormal/Urban Fantasy
Pages:
118
Format:
eBook
Source:
Publisher



I received this book for free from Publisher in exchange for an honest review. This does not affect my opinion of the book or the content of my review.
This post contains affiliate links you can use to purchase the book. If you buy the book using that link, I will receive a small commission from the sale.
When Donovan St. James' precocious charge asks him—no questions asked—to tail the doctor who keeps their ragtag team patched up, he wants to refuse. Not because the saucy teen is getting too big for her britches, ordering him around like a mob boss, but because the woman stirs feelings in him he would rather not explore. However, when evil threatens the doc's life, he realizes he has no choice. Sia saved his life once. He will try to return the favor. He just prays he can do it without losing his heart.
Running from the supernatural entity that has destroyed entire worlds to have her, Sia thought she'd found a haven on Earth with a motley team of warriors protecting the girl destined to save humanity. But when Sia's found, she realizes something on this plane is more scrumptious than her: that very teen. So, she runs—and Donovan St. James follows. Nothing is more alluring than a scruffy biker with a lacerating gaze. And she vows to tell him that… if they survive.
Every 1001 Dark Nights novella is a standalone story. For new readers, it's an introduction to an author's world. And for fans, it's a bonus book in the author's series. We hope you'll enjoy each one as much as we do.
---
Great to spend time in Charley's world again.
This short story features Donovan St James, everyone's favorite scary biker with the heart of gold. Donovan and his friends now ride to protect Elwyn Alexandra Loehr (a/k/a Beep), the girl who is destined to save the world. Donovan would do anything for this kid, including, per her orders, keeping an eye on their in-house doctor, Dr. Lucia (Sia) Mirabal. Since Donovan usually has an eye out for the sexy doctor, it isn't much of a hardship and if it makes the kid happy, who is he to argue.
But there is much more to Sia and her friends than anyone knows. Sia once went by the name Zhou and she and her friends were trapped in the void where Charley was sent as punishment. It is only when Charley escaped and returned to Earth that Sia and her friends escaped behind her. Zhou had found Dr. Mirabal on the brink of death in an alley after being stabbed and when the original Dr. Mirabel passed, Zhou was able to inhabit her body. Zhou didn't steal her body but she fears if anyone knew that she and her friends were walking around in bodies that weren't theirs originally, they would be mistaken for the demons that attacked New Mexico.
Sia inherited all of the doctor's education and so in a silent thanks to Charley for getting her and her friends out of the void, Sia has pledged herself to joining Donovan, Garret and the others to protect Elwyn at all costs. When Sia suddenly loses contact with her friends, she fears that the entity that kept them trapped in the void to feed off of their essence, might have also followed them out of the void and if so, Sia has to keep him as far away from Elwyn as possible as that girl's essence shines like a beacon.
Sia is on the run trying to find out of her friends are still alive and thankfully Donovan has managed to follow her. Sia might not want Donovan to find out what she truly is but she can't risk the malevolence getting past her to go looking for Elwyn. If coming clean to Donovan means losing him forever, that is something Sia will accept to protect the girl and the world which have become so important to her.
Donovan is definitely one of everyone's favorite secondary characters of the series. I don't remember the doctor from the last book. I do remember that Charley couldn't communicate with the entities with her in the void so she named them after her favorite coffee beverages. It was always fun to dip back into the world of Charley Davidson. We find the absentee Charley and Reyes are hanging out in Donovan's bar. Sadly, at just over 100 pages, we don't get to spend too much time with our gang.
I do have some issues with the overall story arc of Elwyn, most particularly the issue of why two Gods can't raise their own kid and think it is better to leave her in the hands of a couple of plain, old, no magical powered humans. Now the story goes that five year old Elwyn gets lost into a void of her own for 3 days and returns 10 years older. WTF? How does a five year survive on her own, let alone for 10 years? And still come out sane and reasonably educated? I understand that the purpose is to time jump us for the anticipated Beep series, but hopefully we find out that Elwyn spent those 10 years with her real Mom and Dad. Just saying.
Related Posts