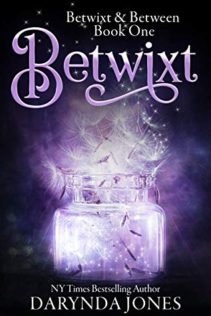 Betwixt (Betwixt & Between #1)
by
Darynda Jones

Series:
Betwixt & Between #1
Published by
Self Published
on February 18, 2020
Genres:
Paranormal/Urban Fantasy
Pages:
233
Format:
eBook



This post contains affiliate links you can use to purchase the book. If you buy the book using that link, I will receive a small commission from the sale.
Divorced, desperate, and destitute, former restaurateur Defiance Dayne finds out she has been bequeathed a house by a complete stranger. She is surprised, to say the least, and her curiosity gets the better of her. She leaves her beloved Phoenix and heads to one of the most infamous towns in America: Salem, Massachusetts.
She's only there to find out why a woman she's never met would leave her a house. A veritable castle that has seen better days. She couldn't possibly accept it, but the lawyer assigned to the case practically begs her to take it off her hands, mostly because she's scared of it. The house. The inanimate structure that, as far as Dephne can tell, has never hurt a fly.
Though it does come with some baggage. A pesky neighbor who wants her gone. A scruffy cat who's a bit of a jerk. And a handyman bathed ink who could moonlight as a supermodel for GQ.
She decides to give it three days, and not because of the model. She feels at home in Salem. Safe. But even that comes to a screeching halt when people begin knocking on her door day and night, begging for her help to locate their lost objects.
Come to find out, they think she's a witch. And after a few mysterious mishaps, Dephne is beginning to wonder if they're right.
---
I love so many things about this new series. More please!
By age 44, life should be cruising along the way you plan it, shouldn't it? But Defiance Dayne's life has hit an all-time low. Her husband had everything in his name or his mother's, which should not have been a problem until he filed for divorce and took everything, including Defiance's restaurant.
With only a few dollars in her pocket, she drove her old mint green Volkswagen Beetle (the only thing that was in her name alone) to Salem, Massachusetts where a woman has bequeathed her a house. Defiance doesn't know anyone in Salem, let alone someone who would give her a house. Defiance was adopted by her Dads when she was only three years old. But she had nothing to lose, really nothing to lose, and she decides to see what this is all about, and once again has her whole life is turned upside down.
It turns out that Ruthie Goode was her maternal grandmother who knew where Defiance was all these years, so why did she let Defiance be adopted by strangers rather than take her in herself and what happened to her mother? Having a long-lost grandmother is just the tip of the iceberg. Defiance's new world will include untapped magic, a gorgeous live-in handyman, a possessed house, an ornery cat and a whole town who have been awaiting her arrival.
Looks like Defiance's luck has taken a turn for the better…or has it?
I love sooo many things about this new series, it's like a new drug and I want more, more, more.  Let me tell you some of what I love.
I love Defiance and her BFF, Annette, who followed her to town.  And yes, I like the idea of the older heroine.  I caught someone's review complaining about them acting like 20-somethings.  Sorry youngsters, older doesn't mean stoic.  I plan on being someone's obnoxious grandma someday.  Think Betty White.
Roane, the hot handyman who lives in the basement, and has a backstory…holy sh*t, I never saw that coming.
Percival, the house has a name and it also has a personality.
Grandma Ruthie…yes, she is dead but she was also a witch, so we get to know the grandma after the fact.
Hot older guys, including the Police Chief and former boyfriend of Ruthie, and Defiance's Dads. All sweethearts.
And I love, love, love that we learn everything and get it all out on the table. We learn about Ruthie and Defiance's magic and what the heck is up with Percy and Roane. Everything is out!  There are no dribs and drabs of information that we have to wait for over books and books or magic that will suddenly, magically, appear out of no where. We know it all now!
Now that doesn't mean there will be no stories to tell. Defiance has magic and she will be able to tap into it before the end of the story, but nowhere near the ability she was able to do as a child before it was suppressed to protect her from evil witches killing her to steal it, and I am certain will be a problem to deal with in future stories.
I was so engrossed in what was unfolding when this story ended and I can't wait to see what will happen next.
My only negative has nothing to do with the story and is technical. I am used to receiving draft copies which usually include errors since they lack that final clean up. I just learned to ignore this over the years that I have been reviewing. It took me a while to remember that I paid for this copy from Amazon. For a final draft, there were way too many issues of missing words in sentences or grammatical things such as  to vs. too, etc.  I understand Darynda might miss tiny words in the sentence because when you read your own work over and over, you see what it is supposed to say, but she does make a note thanking an editor so…yikes.  This should have been cleaner, and if I finally noticed it, most people will pick that up sooner.
This is considered Women's Fiction and I am guessing that is a reference to older female main characters. It is also part of a group of thirteen authors (a coven?) who put out new paranormal series which include older heroines. Some of them look very interesting and I am going to look over the list again and see who else I want to try. If you want to check out the other authors, Click here.
---
Favorite Scene:
I reached the bathroom then fell again. I just wanted to feel the rush of cold water.  To soothe. To douse the flames.
Before I could crawl another inch, I felt my consciousness slipping away. The file floor felt good against my face. It wasn't enough. I was going to burn to death here on the floor. I knew it.
Then I felt arms around me. They lifted me off the floor.
"Water," I said to whomever had picked me up. "Cold."
The shower curtains were shoved aside then I was lifted over the edge of the clawfoot. Strong hands turned the handles and water sweet icy water, washed over me.
I lifted my face to the frigid streams and heard him. Roane. He held me upright from behind and spoke softly into my ear, his warm breath fanning across my cheek.
"You're okay."
His arms were like a vice around me. Firm. Unyielding. The length of his body against mine was almost as soothing as the cold water.
I lay my head back against his shoulder and let the water douse the wildfire inside me.
"You're okay," he said again his voice as smooth as Tennessee whiskey.
I wrapped my arms over his and sank against him. His hold tightened and he pulled me closer, his mouth brushing over my ear and along my cheek. He just held me there under the stream of icy water, getting soaked himself.
And then it hit me like the boulder in a Roadrunner cartoon. It was real. It was all real. Everything Ruthie had said, no matter how unfathomable. It was all real.
A part of me never believed it. Yet here I was, being held by a god while he ran cold tap water in the physical world over the flames that had engulfed me in the spiritual one.
An emotion spread through my body; I just didn't know which one it was. Amazement? Disbelief? Elation? All of the above?
My chest swelled with both relief and dread. I straightened and turn to him. Water dripped down his face. He smoothed back his hair with one hand, keeping me steady with the other.
"It's all real," I said.
He nodded, a knowing expression softening the concerned lines on his face. "It is."
"How is that even possible?"
The grin that lifted one corner of his mouth set me on fire once again, only this time it was concentrated in my nether regions. "I only work here, beautiful."
I let out a breathy laugh.
He called me beautiful.
Then I realized he was fully clothed. As was I. Both of us soaking wet.
"Oh, my God, I'm so sorry." I pushed open the curtain and reached for a towel, only almost toppling over three times to get to it. Thankfully, he had yet to let go.
I draped the towel over his head and patted his face dry before smoothing it over his hair. It sat around his shoulders like a boxer coming out for a fight.
Then I grabbed his shoulders and gazed into his eyes. "Please, for the love of all things holy, tell me this isn't going to ruin your kilt."
He laughed under his breath. "It'll be fine."
Thank you, Jesus.
Related Posts