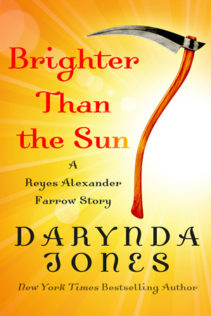 Brighter Than the Sun (Charley Davidson #8.5)
by
Darynda Jones

Series:
Charley Davidson #8.5
Published by
St. Martin's Press
on October 6th 2015
Genres:
Paranormal/Urban Fantasy
Pages:
112
Format:
eBook


I received this book for free from in exchange for an honest review. This does not affect my opinion of the book or the content of my review.
This post contains affiliate links you can use to purchase the book. If you buy the book using that link, I will receive a small commission from the sale.
---
[box style="rounded" border="full"]Although this was an enjoyable peek into the mind of Reyes, and it will be gobbled up by all the Darynda Jones Fans, it lacked any true insight into the soul of the son of Satan. [/box]
I give this a begrudging 4 stars. I can't give it less since it was enjoyable, but overall the story lacked…it just lacked. It gave you a tiny glimpse of what's going on in Reyes's head, mostly involving scenes with Charley, but it could have done so much more. Not that the Charley Davidson series is heavy literature, but this novella was a bit of a fluff piece.
If you are a fan of the series there is no doubt you will spend the $3.99 and grab a copy, if nothing else just to enjoy a few more pages with your favorite characters. Let me point out that I seem to be the only one who had any problem with it. I see 5 star reviews all over the place and beaming headlines of its awesomeness. Yet, I still find myself disappointed.
Brighter Than The Sun tells a story that we already knew but this time from Reyes's viewpoint. I have read a few companion stories like this one, told from another viewpoint, on what is a first person POV series. The point was not just to fill in scenes that we already knew from another point of view, it was to develop the inner mind of the other important character. To learn more about them and see their world and what made them. Honestly, I didn't need to have one of the violent attacks on Reyes as a child documented in detail.   I just felt we should have had more than "recovering from another attack by Earl." We saw his sister Kim try to help him after the attacks but not enough of their interaction to feel the connection we know is there. We see Reyes meet Amador, who is his best friend, but no in-depth scenes showing how or why their bond grew.
Even when Reyes goes to prison for a few years, we hear very little of his time there except a brief accounting of the story of the attack when he got there and issues already told to us by the Warden to Charley from the series. There is nothing additional added to fill out the character of Reyes during his hard years in prison. There is actually a line that says "so all that keeps me busy for a couple of years." Nothing. No poignant prison story barely even anything from when Amador becomes he cell mate for four years.
This story actually ends where the Charley Davidson series begins. So we don't get any Reyes who as on the run after escaping from prison. What was he trying to do? Where did he go? What was he thinking? Why didn't he just run? Was he clearing his name so he could be with Charley?
This story does point out the one thing I consider to be a flaw to the time line. Reyes knew when Charley would be born on earth and made sure he was born first. He was there at her birth as The Big Bad, looking like we always think of Death, cloaked in a black robe. From Reyes's POV, we know he is only about three years old and he doesn't want anyone to see him so a three-year-old cloaks himself in a robe which ends up terrifying Charley and makes him look 6 feet tall?  Have you ever played hide and seek with a three year old? They duck behind a lamp or cover their face with their hands and think you can't see them.  This three year old makes himself look like the killer from the Scream movies.  I originally thought that once Charley was born and Reyes sees her, Reyes was then born on Earth. That made sense to me but it would have made him 9 months younger. Maybe Darynda didn't like the idea of Reyes being physically younger than Charley. I am certain he would have pulled off a more mature 9 months younger.
I was surprised to find that Reyes believed he made up Charley as a coping mechanism for his brutal young life and didn't realize any differently until he met her face to face in that alley after she broke the window.
Maybe I was expecting too much from a 112 page novella from a lighthearted Urban Fantasy series. I would have like to see more of what made Reyes into the man he was, rather than just the mindless pawn son of Satan doing what he was told. I have read enough romance novels to fill in the Reyes blanks on the scenes with Charley. I wanted to know more of what happened to him when his focus wasn't on Charley.
Received an ARC from the author in exchange for an honest review.
Related Posts