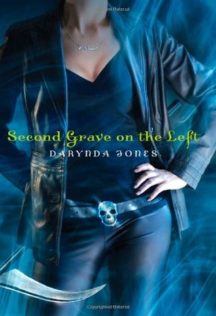 Second Grave on the Left (Charley Davidson, #2)
by
Darynda Jones

Series:
Charley Davidson #2
Published by
St. Martin's Press
on August 16th 2011
Genres:
Paranormal/Urban Fantasy
Pages:
307
Format:
Audiobook
Narrator:
Lorelei King
Length:
9 hrs 30 min



This post contains affiliate links you can use to purchase the book. If you buy the book using that link, I will receive a small commission from the sale.
---
[box style="rounded" border="full"]I have been binge listening to the audiobooks for this series. I absolutely love it. The hardest part of binge reading is trying to go back and write reviews without giving away too much of future books. I will do my best to stay focused sort of like Charley herself. [/box]
Charley Davidson is a private investigator and grim reaper. She can speak to the departed, which makes solving their deaths so much easier. Charley sometimes works with Uncle Bob, a detective with the Albuquerque Police Department to solve crimes.
NOTE: There might be small spoilers here on the emerging relationship between Charley and Reyes since the last book. You've been warned.
Cookie's friend goes missing and she needs Charley's help to find her. Cookie tells her that Mimi contacted her to meet her at an out of the way cafe in the middle of the night. When they arrive, Mimi is nowhere in sight, but a message scrawled on the bathroom wall starts them on an investigation into several recent deaths from the same high school class. Someone is hiding a secret and is willing to kill to make sure it never comes to light. Everything starts to point toward a fellow student who is about to announce his plans to run for the Senate. Charley believes she is on the right track after thugs she affectionately renames Evil Riggs and Evil Murtaugh show up in her apartment to find out how much she knows.
Reyes is out of his coma and escaped from prison. The Feds are following Charley and so is Uncle Bob. They all think that Reyes will be contacting Charley. He is, but not in any way they'll ever be able to find him. Reyes is supernatural and can become incorporeal. He will often visit Charley in her dreams or sometimes in her shower.
Charley is desperate to find him, not to send him back to prison, but to save him from the demons who are attacking his body. The demons are trying to locate Charley and Reyes decides he will allow his physical body to die so he is no longer a danger to Charley. As a supernatural being, it will take a lot for Reyes to die, but does Charley have enough time to find him and when she does, will she be able to get him away from the demons without becoming their prey?
THOUGHTS:
I love this series. The characters are fabulous and the premise of the series just leaves us wide open for an endless series. Charley is zany and unpredictable. Reyes is smoking hot. Fill that out with BFF Cookie, Uncle Bob, Garret, and those are only the living characters.
We also have a cast of deceased characters:   Angel, the 13 year old gangbanger who died decades before and who is now Charley's lead (only) investigator, and Rocket, the idiot/savant who died in the old insane asylum and who knows the name of everyone who dies on the planet and scratches their names in the walls down in the basement.
I can't get enough of this series.
---
Favorite Scene:
"Oh. So, did you buy this car used?" I ask, thinking back to the dead guy in her trunk and wondering how he got there. I still needed to figure out if Cookie had been a black widow before she met me. She did have black hair. And she'd recently cut it. A disguise, mayhaps? Not to mention her early-morning, pre-coffee mean streak that made road rage a practical alternative for a healthier, happier Cookie. The departed rarely just hung out on Earth for no particular reason. Dead Trunk Guy most likely died violently, and if I was ever going to get him to cross, I'd have to figure out how and why.
"Yeah," she said absently. "At least we know where to start with Janelle York. Should I call your uncle on this one? And maybe the medical examiner?"
"Absolutely," I said supernonchalantly. "So, then, where did you buy it?"
She looked over at me, her brows knitting. "Buy what?"
I shrugged and looked out the window. "Your car."
"At Domino Ford. Why?"
I flipped my palms up. "Just wondering. One of those weird things you think about on the way home from investigating a missing persons case."
Her eyes widened in horror. "Oh my god! There's a dead person in my backseat, isn't there?"
"Wait, what?" I said in stuttering astonishment. "Not even. Why would you assume such a thing?"
She fixed a knowing gaze on me a heartbeat before she pulled into a gas station, tires screeching.
"Cook, we're five seconds from home."
"Tell me the truth," she insisted nearly throwing me through the windshield. She had really good brakes. "I mean it, Charley. Dead people follow you everywhere, but I don't want them in my car. And you suck at lying."
"I do not." I felt oddly appalled by her statement. "I'm an excellent liar. Ask my dentist. He swears I floss regularly."
She threw the car into park and glared. Hard. She would do well in a prison setting.
After transforming a sigh into a Broadway production, I said, "I promise, Cooke, there's not a dead person in your backseat."
"Then it's in the trunk. There's a body in the trunk, isn't there?" The panic in her voice was funny. Until she flew out of the car.
"What?" I said climbing out after her. "Of course not."
She pointed to her white Taurus and stared at me accusingly. "There is a dead body in that trunk," she said. Really loud. Loud enough for the cop sitting next to us with his window down to hear.
I rolled my eyes. It was late October. Why the hell was his window down? When he opened his car door and unfolded to his full height, I dropped my hands into a palm. Thankfully it was my own. This was so not happening. If I had to call my uncle Bob, an Albuquerque Police detective, in the middle of the night one more time to get me out of one of these ridiculous altercations I tended to have with random cops, he was going to kill me. He told me so himself. With an orange peeler. Not sure why.
Related Posts