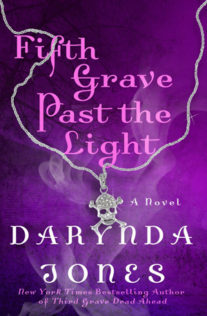 Fifth Grave Past the Light (Charley Davidson, #5)
by
Darynda Jones

Series:
Charley Davidson #5
Published by
St. Martin's Press
on July 9th 2013
Genres:
Paranormal/Urban Fantasy
Pages:
339
Format:
Audiobook
Narrator:
Lorelei King
Length:
8 hrs 52 min



This post contains affiliate links you can use to purchase the book. If you buy the book using that link, I will receive a small commission from the sale.
---
[box style="rounded" border="full"]Women are flocking to Charley's Dad's bar and something has got them in a tizzy.   There are also women flocking to Charley's apartment, but these women are all deceased and apparently all traumatized.  There is a serial killer on the loose and Charley needs to get some answers from one of the victims before her sister, Gemma, is next. [/box]
Charley Davidson is a private investigator and grim reaper. She can speak to the departed, which makes solving their deaths so much easier. Charley sometimes works with Uncle Bob, a detective with the Albuquerque Police Department to solve crimes.
NOTE: There might be small spoilers here on the emerging relationship between Charley and Reyes since the last book. You've been warned.
Women are flocking to Dad's bar and men are hitting on Charley, at least one dead guy, and she's trying to get the husband of a client to hit on her as well, but according to the dead guy, Charley's not his type. So Charley moves to Plan C — Cookie. All is going well until the husband starts to smell a set up and Cookie ends up pulling a gun, in the middle of a bar full of off-duty cops. Could it get any worse?
Apparently, it could. Angel's mother shows up in Charley's office wanting to know why Charley is depositing money into her bank account each month, and Angel is adamant that Charley not tell her he is still around. His mother grieved for a long time and he doesn't want her to suffer any more.  But his mother is just as stubborn as Angel and she's not letting go until she has answers.
When Charley visits Rocket, he is afraid to show her the name he's written on his wall — Reyes. Alexander. Farrow. Reyes isn't dead yet, but Rocket is certain he will be soon and Charley will do whatever is necessary to make sure that doesn't happen.
The topper is when Charley gets back to her apartment, it is filled with women — dead women. All blonde, all traumatized. None of them will speak to her about when happened or speak to her at all but they are there for a reason and Charley needs to find out why because more show up every day and it's getting hard to take a shower when a traumatized departed is already in your tub.
Charley makes a new friend. Unlike Quentin and her friend Pari, this woman doesn't see dead people, she experiences their deaths as if they were her own. Charley is hoping she will be able to lead Charley to the serial killer, especially when it looks like the serial killer is eyeing Gemma as his next target, Charley puts herself in the way and it doesn't go well for Charley.
THOUGHTS:
Another mix of fun, sex and torture for Charley. It is not easy being the heroine in an Urban Fantasy.
Reyes has a thing for post-it notes in this story and it's adorable that he keep leaving them all over for Charley to find.  The son of satan can be intimidating and cute too.
---
Favorite Scene:
"You're the new cook?" I asked him stunned.
"You," the man with questionable intelligence said. "My wife comes in here every day to eat because of you and she takes pictures." He shoved the phone toward Reyes, but Reyes had no intention of entertaining the guy's accusations. He kept a deadpan expression on him refusing to look at the phone until I thought the man would explode. I decided to intervene.
"Oh, my God." I said to Reyes. My eyes radiating accusations at him. "She took your picture? Just what kind of game are you playing? You're under arrest, Mister."
His mouth tilted and a dimple emerged on one cheek as I took his wrist and threw him against a wall, or well, urged him toward it. I held him against the cool wood with one hand and frisked him with the other. Slowly. Deliberately caressing parts of him I had no right to caress in public. I ran my hand over his buttocks, caressed first one pocket, then the other. Then I slid my hand under the apron and did the same to his front pockets.
He tensed when my fingers brushed across his crotch. Feeling the heat surrounding him magnify, I ran my palms down his thighs, front and back, the up over his stomach and ribs. I had no idea frisking could be so fun. Thankfully we were partially hidden a rubber tree plant.
Though I wasn't doing it to make anyone jealous, the lethal glares coming from half the women in the place told me they were not as amused as I was, or Reyes. At least he got my sense of humor and he didn't mind my groping him in public. Welcomed it if the sultry look in his eyes was any indication.
The man stood back not sure what to think. That was my secret weapon. Confuse them and keep them guess long enough to run away.
I brought out the most powerful tool I had in my arsenal. "If you resist," I said into Reyes's ear, "I'll be forced to taser you."
He looked at what I had in my hand. "That's a phone."
"I have an app. You'll probably experience nerve damage, slight memory loss."
His grin widened. He reached back, took hold of a belt loop and pulled my hips into his.
Finally deciding to join in, Uncle Bob walked over. His gait unhurried. His expression bored.
"What's the problem?"
I held up a hand. "I have this Detective."
Just then I got another text from Cookie. Apparently my situational awareness sucks.
Oh my God, I was busy groping my man. I texted her back. Apparently so does your timing.
I looked back at Reyes. "Have you learned your lesson, Sir."
I could feel a wave of jealousy swirl around me like a hot wind. After all, he was the reason the place was drowning in women. If looks could kill, I would have been writhing in agony, well on my way to the afterlife, clutching my throat and fighting for air with one eye slightly larger than the other.
Related Posts