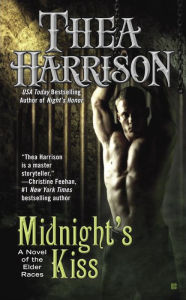 Midnight's Kiss (Elder Races, #8)
by
Thea Harrison

Series:
Elder Races #8
Published by
Berkley Sensation
on May 5th 2015
Genres:
Paranormal/Urban Fantasy
Pages:
290
Format:
eBook



I received this book for free from in exchange for an honest review. This does not affect my opinion of the book or the content of my review.
This post contains affiliate links you can use to purchase the book. If you buy the book using that link, I will receive a small commission from the sale.
---
[box style="rounded" border="full"]I have been a long time fan of Thea Harrison's Elder Races series, but the Nightkind King, Julian Regillus, was not among my favorite characters. He was mean and intimidating and never gave that "I'm a lovable vampyre" vibe, but I love when an author can change my mind about a character and in this case, she did it without changing Julian at all. [/box]
Warning: By the end of this book, Julian is not going to become a lovable, kind or warm-hearted character, but you will love him anyway.
We have met the Julian Regillus, the Nightkind king, in several other stories.  Julian had Carling segregated on an island in the otherland and he would have assisted in killing her if he could have gotten council approval. This has brought him up against Drago Cuelebre, Lord of the Wyrkind on occasion, and he has no fear of the great dragon.  Julian even got a little joy in frightening Olivia in The Wicked.
The millennia old vampire, was born a Roman slave, become a gladiator and won his freedom. He then rose through the ranks of the Roman army to become a General until he met his maker, Carling Severan. He is cold man who spent most of his life seeking power, and for the past two centuries has ruled the Nightkind. Until the last novel, Night's Honor, at no other point during the series had we seen Julian as anything more than the cruel, power hungry vampyre desperate to keep Carling out of his territory.
In Midnight's Kiss, we see there is much more to Julian than we knew. We only saw Carling after she and Rune were able to "stabilize" her, but before Rune arrived in her life, Carling's disease was making her dangerous and unpredictable. She was giving Julian conflicting orders which not only made him insane, but as she was his maker, he was compelled to do whatever she ordered no matter what.   As the former Queen of the Nightkind, her instability made her a danger to everyone in her territory. Julian managed to get Carling segregated from everyone and he needs to keep her away since even now she has the power to order him to do her bidding no matter what the request.
Julian also holds tight to his reign as King since that was the last order Carling gave to him before she went away. He cannot walk away from the position unless Carling were to reverse her order or he is dust, and he cannot trust the unstable Carling anywhere close enough to give him an order. So Julian has no choice but to rule the Nightkind until the end of his life.
But after centuries of fighting for freedom and power, he doesn't want to fight anymore. He just has no choice. The only thing he wanted was the love of the one woman who betrayed him.
Twenty years ago, Julian fell for the heir to the Light Fae Kingdom, Melisande Aindris. Not everyone was happy for them. Many feared the balance of power if the King of the Nightkind and the future Queen of the Light Fae were to marry.   When Julian found out that Melly had been unfaithful to him, he would not stand for that kind of betrayal. He walked away from her and any future they might have had.   Since then, they can't even be in the same room without it breaking down into a screaming match.
Now a member of the counsel is making a power play for the rule of the Nightkind. Justine has set up her supporters and has made an attempt upon the lives of Julian's most trusted allies. As a centuries old frenemy of Julian, Justine knows his greatest weakness — Melly.  She has kidnapped the Light Fae heir and will trade her life for Julian's.
To Julian there is no question that he will exchange himself for Melly's freedom, but Justine shows her true nature when she keeps them both.  They will have to set aside decades of hurt feelings and work together to escape.  Will their reawakened attraction be enough to keep them together after they find freedom or will old betrayals win out?
THOUGHTS:
I love that Thea Harrison could make me happy for Julian and Melly without changing Julian's character at all. She did it before in Oracle's Moon, when we fell for the Djinn Khalil.  He was pompous and overbearing but we managed to find that charming by the end, and he's still one of my favorite characters in the series. In Midnight's Kiss, she hasn't turned Julian into a favorite character, but she's gotten me to understand him better and see why life made him the man that he is, and even a cold, vampyre like Julian has the capability to love someone more than himself. Awww.
Just like Pia, Melly is a strong woman who will stand up to such a powerful male and not allow him to walk all over her. She might not have been able to convince Julian that she was not unfaithful, but after they have a second chance, she won't stop until she gets him to accept that her feelings were always just as strong as his and she had no reason or desire to cheat on him.
One interesting note is the Melly's twin sister is Bailey who works in Jamaica. In The Wicked, Sebastian's expedition teams run their headquarters out of Jamaica and his 2nd in command is named Bailey. I don't think this is a coincidence. We didn't see any interaction between Julian and Bailey when he arrived at Sebastian's ship, but they must have come across each other while Julian's people searched the ship.
This was a very enjoyable addition to the series which I would highly recommend to any paranormal romance lover.
Received an ARC from the publisher in exchange for an honest review.
---
Favorite Scene:
"Piece of cake, right?" she said breathlessly. "Mmn, what I wouldn't give for a piece of cake right now."
It surprised a chuckle out of him. Never mind all the gourmet foods she had generous access to–she always had been a fiend for chocolate cake made from a box mix, with sour cream frosting.
"When we get out of here, I'll bake a cake for you, myself," he promised. "One with a file in it."
Her flat stomach flexed as she snorted. "Now, that I would have to see, although I don't know about eating any of it. You don't know the first thing about how to bake a cake, or for that matter, how to bake anything else."
"Don't be too sure," he murmured. "Baking is just chemistry, and the directions are printed on the box, right? Besides, I watched you do it a couple of times."
"Sure you did," she retorted. "You watched me all of twenty years ago, and you never had a vested interest in the process."
She was wrong. he'd had a vested interest in everything she did. What she wore, the way she moved, the things she loved. The times they had spent in the kitchen, as she fixed herself something to eat and he opened a bottle of wine for them to share, were some of his favorite memories of when they had been together.
He hadn't let himself think of those times in years, but he did so now, immersing himself in the memories. The way she had thrown back her head to laugh. The time she had teased him into dancing while her pasta water boiled away, forgotten, and the pan had burned.
After they had put out the small kitchen fire, he had growled, "To hell with it."
With one sweep of his arm, he had cleared the kitchen table and lifted her onto it. Laughing, she had lain back, her arms over her head, while he knelt between her legs to fast on her gorgeous, delicate flesh. When he had risen at last to sink his aching erection into her, she had clasped him tight in wholehearted welcome, with her arms and legs, body and soul.
As he thought of how she had hugged him, his eyes grew damp.
The last manacle fell from his wrist.
"There," she whispered, her breath catching on another sob. "Oh thank God, there."
Finally, free, he wrapped both arms around her and sank to his knees, only loosening his hold just enough so that she could slide onto his lap. Then he clenched her against his chest again. Her arms slid around his neck, and she held him just as tightly.
"I've got you, Melisande," he whispered.
Her quick, ragged breathing sounded in his ear. "I've been so, so scared."
"I know. I've been scared too." Without fully being aware of what he did, he sank one fist into the back of her curly, tangled hair and pulled her head back so he could look deep into her eyes. He whispered, "Jesus, he was going to rape you, and I couldn't have done anything to prevent it."
"Don't think like that," she said, as she framed his face between her hands. "It didn't happen. I didn't let it happen. But oh God, Julian, when she was cutting you, I went half out of my mind. I thought it would never end–and when she let the ferals into your cell, I was so afraid they were going to kill you."
"Stop it." His voice turned harsh. "It was nothing, and it's over with now. It's all done."
She opened her eyes very wide. "I. Can't. Stop. This. And I'm not even going to try. I've been promising myself this meltdown for two damn hellish, hellish days, and nothing's going to keep me from it now."
He stared at her in utter perplexity. She looked terrible. She looked adorable. She looked stripped down, totally raw, like she didn't have a single barrier left between her and the world, and he couldn't take it any longer.
He covered her shaking mouth with his, and when he felt the soft, luscious curve of her lips move in response to his, it felt so damn good, just as he had remembered it, just as he had always known it would.
No, it didn't feel just as he remembered–it felt better. It felt like a vital, necessary part of his life had come back to him. Ravenously he parted her lips with his tongue and conquered the private recesses of her luscious mouth.
And she kissed him back.
Related Posts