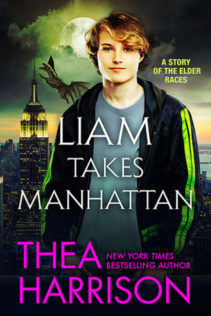 Liam Takes Manhattan (Elder Races #9.5)
by
Thea Harrison

Series:
Elder Races #9.5
Published by
Self-Published
on December 22nd 2015
Genres:
Paranormal/Urban Fantasy
Pages:
52
Format:
eBook


I received this book for free from in exchange for an honest review. This does not affect my opinion of the book or the content of my review.
This post contains affiliate links you can use to purchase the book. If you buy the book using that link, I will receive a small commission from the sale.
---
[box style="rounded" border="full"]This novella is a gift for the devoted fans. You have to be caught up with the series to read it without ruining the stories and if you haven't read an Elder Races novel, this is not the place to start. It left me with many more questions than answers as to the future of the series. [/box]
This is only a 50 page novella so there isn't much to review. We're simply going to talk about the character of Liam and possible potential future of the series. I have no inside information so I am taking some guesses.
If you haven't read Shadow's End, save this review and come back to it later.
If you are coming back later, I am going to send you over to HeroesandHeartbreakers.com so you can check out my fan casting of the Elder Races series. You can come back and let me know if you think I got it right or where you think I went wrong. 🙂
*
*
*
*
*
Liam:
Liam is a fabulous character who has to face challenges that no one has ever faced before.  To start with, he hasn't even celebrated his first birthday and he is already grown to a man who would be an age between 18 and 21.  His brain and intelligence have grown exponentially with Liam's physical growth, but he never will have experienced an average childhood.  Even Dragos appeared into the world fully grown.  While Liam appears normal in every sense, he doesn't have a chance to go through the normal emotional changes and developments like a regular kid, or even a regular wyr kid.  I wonder if we will ever see that impact on him.
We also see Liam struggling with his dragon in this novella. One of the first moments between Dragos and Liam here is Dragos checking to see that Liam is in control of the beast inside.  Again, having the time to learn to control your inner wyr would have been something most children would have learned over the years.  Liam is learning this control and hitting puberty almost instantly.  He is also trying to hold onto control of a powerful inner dragon who wants to be the dominant creature in the room but certainly can't when your dad is Dragos and exponentially more powerful than you.   The rational human Liam knows he loves his parents and they want the best for him.  Dragon Liam wants to snap at the dominant dragon in the room.
So poor Liam is dealing with a quickly reached puberty which is loading his system with the normal hormonal confusion and leaves him with the same questions as any teenager would.  Except Liam is also dealing with the fact that he is the only other dragon in existence, a dragon who wants to be at the top of the food chain but can't because Dragos is already there.  Liam has to fight that inner snarling dragon that wants to fight whenever Dragos makes a command or a declaration, which he is so used to doing with everyone around him.
Liam is also trying to figure out very quickly where he is going to fit in in the wyr demesne in the grand scheme of things.   Everyone is watching him.  Again, as an apex predator, he has to figure out what he wants and fight for it and he has to do it quickly.  We saw in Shadow's End what sitting in the shadow of his High Lord father did to Farion and he's not a powerful wyr dragon trying to fight his inner beast.  Liam wants to fight for a place among the sentinels even though he knows he lacks the experience.  He just doesn't have the luxury of waiting for another spot to open up or to sit back or take a walkabout until he figures it out.  The world, and his dragon, want to know where he belongs on the food chain.
The Future:
Let's take a few guesses as to the future of the Elder Races series. Again, if you haven't read the last set of novellas and up through Shadow's End, there will be some spoilers for you.
If you have read any of the statements that Thea has been making on her Facebook and her newsletters, Shadow's End was the last novel with her publisher Berkley Romance.   She plans to self-publish the next set of novels and is planning on taking the series to Europe.  That's all I know so where do you think that will take us?
And actually to talk about this, there will be a small spoiler about Liam Takes Manhattan, I'll give you a chance to turn away…
*
*
*
*
*
There are several possibilities where her next books will go and what they will involve.  We know from the novellas that since Dragos has a memory loss, he is unaware of his standing with the Seelie Court in the UK and in Pia Does Hollywood, the Seelie Queen attacked her sister, the Light Fae Queen.  So, could we be dealing with European politics and getting to know the European leader of the demesne, none of whom we have discussed before?
There was also talk between Dragos and Pia in Dragos Goes to Washington and again in Pia Does Hollywood about a crossover passage where they could go to with all the wyr and re-establish a wyr colony, if things go bad with the politics in America (although it is near their upstate New York location and not Europe).
In Liam's story, Liam, Pia and Dragos decide to let Liam go to a special Wyr college which is located outside of Edinburgh, Scotland.  A college which closes the passage during the school semester.  I can't imagine after watching  Liam grow up almost instantly, that we are going to dump Liam off at school and forget about him.  The possibility is there for Thea to follow Liam to college where he will learn to work his personal magic and who knows what else without his parents' assistance or interference.  Although Liam will enter under the assumed name of Liam Giovanni (I know, real hard to break that code), I am certain each demesne has spies who are aware of Liam's growth rate and may just send a spy into the school before it closes its passage.   So there is a big potential for a spinoff series involving Liam at college and all his new friends (PG-13 I hope since I am NOT ready to sex scenes with Liam. Nope. Nope. Nope).  While this sounds like I am encouraging a Harry-Potter-type plot steal, I am!  Liam at school in a more grown up type of HP background would make for an interesting series and since time runs at a different rate in the crossover lands than in our area, we could read a whole spin-off series and restart the Elder Races series right where we left off.
We also can't forget about the old characters just because there is a new storyline.  I want to know about the baby.  We know from Pia's dream that this baby will be more like her wyr than Dragos, but will it also follow that he will have the same increased growth rate as Liam or will his herbivore nature allow him to have the same growth rate as a regular wyr child?
We will also need to know, eventually, what happens with Liam if Thea doesn't choose to give us a spin-off HP/Hogwarts story.  Will he leave college with a better understanding of where he is meant to be?  Will he fight for a place in the sentinels as he is currently planning?  Will he decide to take to the air, burning down Europe until they submit to his all-powerful dragon rule and lay their gold at his feet?
Knowing Thea is taking our favorite series on the road and in a completely new direction has left me with many, many more questions then the "end" of a series should.  I can't wait to see which way she decides (both *cough*cough*).  I, for one, am looking forward to seeing where she takes us next.
Related Posts