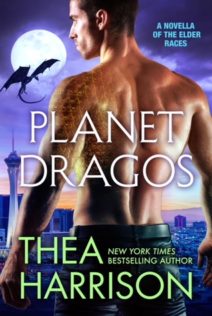 Planet Dragos (Elder Races, #9.8)
by
Thea Harrison

Series:
Elder Races #9.8
Published by
Self-Published
on May 14th 2018
Genres:
Paranormal/Urban Fantasy
Format:
eBook



I received this book for free from in exchange for an honest review. This does not affect my opinion of the book or the content of my review.
This post contains affiliate links you can use to purchase the book. If you buy the book using that link, I will receive a small commission from the sale.
From New York Times and USA Today bestselling author Thea Harrison comes the final novella featuring Pia and Dragos…

Pia's latest pregnancy has become a daily challenge, her relationship with Dragos strained with argument. That hasn't stopped them from achieving a compromise and traveling to Las Vegas to celebrate their friend Rune's wedding to his mate Carling.

From the moment they arrive, the trip goes awry. Death walks in Vegas, and Pia is kidnapped as an ancient enemy makes a move to destroy the Great Beast once and for all.

But the Great Beast has other plans.

On Planet Dragos everything goes the way he arranges it—unless someone decides to cross him, and God help them then, because he doesn't know how to back down, and he doesn't ever, ever let up….
---
The last Dragos/Pia story ever.  My heart cries.  They are one of my favorite couples.
Death has come to Vegas and he isn't there to play the slots.
It is almost nice to see Dragos and Pia have ups and downs like any other married couple. Pia's second pregnancy isn't going as smoothly as her first. She has to take special shots to keep from losing the pregnancy and unlike regular wyr, she is suffering through this one.  More like any other human woman, Pia suffers from swollen ankles, no coordination. a short temper and constant exhaustion. Pia and Dragos have been fighting over whether to induce the baby now that he has reached the point of being viable. Pia wants to give him more time, but Dragos hates seeing his mate suffer.
With everything going on, their arrival for Carling and Rune's wedding isn't going to end up being a romantic weekend away but no one expects to see Azrael, the Elder Races' God of Death performing on the Vegas strip. He has been waiting for the Cuelebres to arrive.
That is because someone else is lurking about. Someone who has waited centuries to destroy the Dragon, and the chance to kidnap Dragos's pregnant mate and make him suffer is simply too tempting to pass up.
Pia risks losing her baby without access to her shots. Dragos and the rest of the bridal party have very little time to find her before Death comes calling.
It has hard to believe this will be our last Pia and Dragos story. I was surprised how much I liked Dragos after reading Dragon Bound.  He should have been way too dictatorial to be a good romantic lead, but as a dragon born at the creation of the world, it isn't so unexpected for him to be used to snapping his fingers and expecting everyone to jump.   I appreciated how he tried for Pia not be too overbearing.
Thea Harrison was one of the first authors that I was following who returned to a prior couple in the series. Usually paranormal romances only feature new hero and heroine, but with Lord's Fall, she took us back to a Pia and Dragos centric story. I was excited and impressed that she would step out of the box like that and decide that they still had a story to tell and by God, they would have their chance.  Since then, we have also gotten a chance to spend time with them in some short stories as they grew into their own family unit.
I wanted to read slow and make this one last, but I simply couldn't put it down until I knew what was going to happen.  It will be so hard to see Pia and Dragos bow out of the spotlight after this last curtain call. I still have so much I want to know them and Liam and Stinkpot, but I guess I will have to wait and see if they pop in for some future story like Stan Lee in a Marvel movie.
I know we can expect wonderful new stories and characters from Thea and I am excited to see where she takes us next.
---
Favorite Scene:
Best scene ever!  You shouldn't mess with a woman in labor, even if you are Death.
She wanted to lean back against his chest like she had when she was given birth to Liam. She wanted his arms around her, his voice in her ear as he coached her through each contraction. Hell, she wanted Dr. Medina and a private room at the nearest hospital.
None of that was going to happen.
"Good thing I already know you're a firecracker," she whispered to the baby as she rubbed her belly soothingly. "Looks like it's you and me, kiddo."
"And me."
Slowly Pia turned, eyes wide and staring. Azrael stood beside her.
As she backed away, she said hoarsely, "You get away from me. Neither of us are dying."
He followed. When she came back against the cave wall, he leaned one broad shoulder against the wall beside her. "People always take it so personally when I arrive. They act like I'm out to get them," Azrael remarked. "I applaud your will to live. It may see you through this."
"Do something useful. Get me some hot water and towels."
"My role is not to interfere with the living," he told her. "But I can ease your death if it comes to that."
"Are you physically here?" She panted. As rage flared, she slapped him.
His head rocked back, and his gaze flared in surprise.
Her hand hurt. She shook it out. She'd had too many choices taken away from her. Slapping someone felt good, and she wanted to do it again.
"Don't stand there in the physical world and tell me you can't physically do something," she hissed. "That's bullshit. Oh, woo-woo, you might be Death, but big fucking deal.  Death is as common as dirt. Dragos lives in the physical world. He takes action–he's immersed in it. You're just using your elevated social status to keep a barrier between you and everyone else!"
"Dragos does what is in his nature, as do we all," Azrael bit out. His previous detachment had disappeared. Now he looked furious.
"Well, your nature sucks, asshole," she snarled. "If you're going to be useless, get out of my way. I've got a baby to deliver."
Related Posts