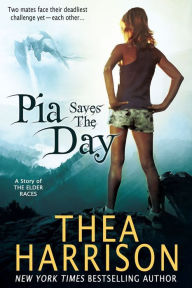 Pia Saves the Day (Elder Races, #6.6)
by
Thea Harrison

Series:
Elder Races #6.6
Published by
Self-Published
on June 23rd 2014
Genres:
Paranormal/Urban Fantasy
Pages:
100
Format:
eBook



I received this book for free from in exchange for an honest review. This does not affect my opinion of the book or the content of my review.
This post contains affiliate links you can use to purchase the book. If you buy the book using that link, I will receive a small commission from the sale.
---
In the latest story of the Elder Races, two mates face their deadliest challenge yet—each other…

Pia and Dragos's magical young son Liam (the Peanut), is growing at an unprecedented rate, and if that isn't enough, he is also exhibiting new, and unpredictable, magical gifts. To protect him, the concerned parents decide to move to upstate New York.

Both Dragos and Pia relish the idea of leaving behind the city. They finally have the space to indulge their Wyr side, and Liam can grow in safety. It's a breath of fresh air—literally—but their idyllic situation is shattered when Dragos is injured in a freak accident.

Stripped of his memory and bereft of Pia's taming influence, there's nothing holding back Dragos's darkest side. And in order to restore her family and save her mate, Pia must confront the most powerful menace in Elder Races history.

It's going to take more than a penny to fix this.
---
Pia and Dragos have decided to move to Drago's property in upstate New York on a more permanent basis. They want Liam to grow up in the fresh air and open spaces that Manhattan just can't offer. In order to move the Wyr headquarters upstate, additions need to be made to the sprawling property. The mansion needs some updating, but more importantly, they need housing for the sentinels as well as the security and Drago's office staff.
As part of the project, the construction crew needs to level the bedrock for the new housing building. When an explosion goes wrong, Dragos is covered in rubble and an angry and injured dragon emerges. It is obvious from his actions that there is more to Drago's injuries than just the bleeding head wound. The wounded Dragos takes off and Pia must first protect his demesne before she can take off to find her mate.
Pia's blood has the power to heal but she has to get the wary and cunning dragon to trust her enough to get close. She tries to get his attention with gold and jewels to tempt his acquisitive nature. Dragos doesn't remember Pia but her scent is stirring something deep down inside him. Dragos is looking at the golden beauty before him and he sees a treasure more valuable than baubles which he wants to keep for himself.
THOUGHTS:
I absolutely love that Thea Harrison has once again brought us a story of Pia and Dragos. This would be the third story that has come back to focus on these major characters of the series. Series either focus on the continuing story of a main character or characters or they focus on a group and each pair gets their day in the sun. It is rare that an author will bring the spotlight back to characters who have already had their story told, and I love that she does this.  I talked with author Thea Harrison just before the Lord's Fall was released two years ago.
In this series Pia and Dragos are the backbone of this group and obviously they still have a lot of story to be told. Dragos is the most powerful Wyr in existence, no question. See favorite scene from Kinked. In Dragon Bound, he was pushy and domineering to a degree that should have pissed me off, but I couldn't help but be intrigued by the dynamics of Dragos and Pia and that has only increased as the series progressed and Pia brings out a gentleness that is surprising even to the dragon himself. They are a very dynamic power couple in the paranormal world.
If you are a fan of the series, you have probably already purchased this novella and have finished it and don't need my review to sway you in any way. But most interesting about this novella, I believe, is that there are several things occurring here that are going to bring interesting, if not major, changes to the series and to the dynamics of the characters.
This is not something that an author of a well liked series does unless they're desperate or creating a spin off, and especially not in the form of a novella rather than a major novel release.  This is pretty brave shake up on the part of Thea Harrison.  I am absolutely fascinated to see how the ripples created by this novella is going to effect the future stories.
There is one more novella featuring the Cuellebre family coming out this summer and it is Peanut Goes to School. Here is another delightful character in the series who brings a great big question mark about how he will change things. Peanut is the nickname of Pia and Dragos's son Liam and he is the only other dragon to exist since Dragos was "born" at the creation of the world millennia ago. He is growing at a phenomenal rate, but since there are no other dragons, no one knows what is normal for him. He turns into a tiny baby dragon which is absolutely adorable! Since everything about Peanut's dragon nature being combined with Pia's gifts is up in the air, anything can happen. He is a great big surprise and no one knows how he will affect the future of the series.
The other characters and stories have been very entertaining, but the big stars of this series are no question Pia, Dragos and Liam.
If you like paranormal romance and haven't tried the Elder Races series, you are definitely missing out.
Received an ARC from the author in exchange for an honest review.
---
Favorite Scene:
Dragos bent his head and kissed her, softly because their sleeping son nestled between them. His firm, warm lips parted hers, and he dipped his tongue into her mouth in an erotic promise for later. Awash in the love that burned through her veins, she steadied herself by gripping his bicep. With obvious reluctance, he pulled away.
In the fourteen months they had been together, the desire had never changed. Elemental as necessary as breathing, it dictated the rhythm of their lives. They orbited around each other, always looking, always reaching for the other, but it never ceased to amaze her that he looked at her this way.
His brutally handsome face could be so hard, so ruthless, but his need for her always won through. She never doubted what he felt for her. She could see it in everything he did.
You want me, she breathed.
She'd meant to say it in a cocky and flirtatious way, with a wink and a saucy Marilyn Monroe wiggle of the hips. But she forgot to wink, the hip wiggle turned into a slow, needy roll against his, and the words came out breathless and awed.
He rubbed the calloused ball of his thumb across her soft, moistened lips. A dark flush stained his high cheekbones, and his gold eyes glittered. I'll die before I stop wanting you.
Me too. She closed her eyes at his touch.
They were both immortal Wyr. Maybe, just maybe, that would be long enough to express the depth of what she felt for him.
He kissed her forehead. Here, take Liam.
————–
She glanced down at the top of Liam's head and said softly, "I'm going to tuck him into his crib."
Dragos nodded, his expression softening as he looked down at Liam too. "Now that you're back, I'll head out to the site. I want to see how much headway they've made in the blasting today."
"Okay." She smiled at him. "See you later."
He answered her with a slow, wicked one of his own. "But not too much later. I fancy an early bedtime tonight."
She watched him walk away, thinking happy, comfortable thoughts. Dinner then bed, and who knew when they would finally fall asleep? They could take their time tonight. They had all the time in the world.
Less than an half an hour later, she would give anything to call him back to her again. Anything to keep him from walking away.
Oh gods, anything.
Related Posts