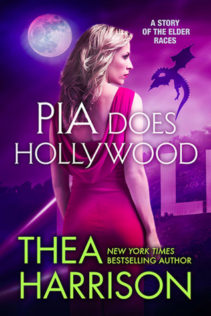 Pia Does Hollywood (Elder Races, #8.6)
by
Thea Harrison

Series:
Elder Races #8.6
Published by
Self-Published
on November 17th 2015
Genres:
Paranormal/Urban Fantasy
Pages:
180
Format:
eBook


I received this book for free from in exchange for an honest review. This does not affect my opinion of the book or the content of my review.
This post contains affiliate links you can use to purchase the book. If you buy the book using that link, I will receive a small commission from the sale.
---
[box style="rounded" border="full"]This one was a bit of a nail-biter. Thea Harrison ratcheted up the tension on this one when Dragos get bitten by an infected Fae and Pia needed to decide between saving her husband or her unborn child. [/box]
Dragos Goes to Washington ended with the U.S. government officials and the Elder Races agreeing to reduce tensions between the races by sending a member of each faction to visit another for a week. Although Dragos doesn't like being told what to do by a committee, it had been decided that Pia was to go visit the Light Fae Demesne in California. The Tatiana, the leader of the Light Fae, wanted to put off the visit for a few months, but Pia won't agree. Pia and Dragos haven't announced that they were having another baby so Tatiana is a bit put out that she is insisting on keeping the originally agreed on date.
Since Dragos isn't about to let his pregnant mate into another demesne's territory without him, he cloaks himself and meets her in California. Pia is surprised by the large security presence when she disembarks her plane, but isn't too concerned at first.  It is the curious dragon who spends his free time finding out why there seems to be lack of Elder Races walking around town.
Tatiana was trying to delay Pia's stay because she didn't want anyone to know that infection has been spreading quickly through the Light Fae, turning them all rabid. Dragos is attacked by a mob of the infected and bitten. The infection spreads by a bite and Dragos can no longer shift into his dragon form to heal. Tatiana's security force isn't happy to let the powerful dragon on the property when he could turn rabid at any moment.  Even stuck in his human form, Dragos would be formidable.
To help keep her pregnancy, Pia needs to keep taking shots to suppress her own magic. When she tries to heal Dragos, her magic isn't at full strength. Pia might just need to chose between her husband and her baby. Does she take her next dose to suppress her magic or does she risk the baby, so she can try to save Dragos before he succumbs to the infection and she loses him forever?
THOUGHTS:
I was quite tense reading this story. The blurb for the next novella which is Liam Takes Manhattan states "Reeling from a deep loss, the magical prince of the Wyr, Dragos and Pia's son Liam Cuelebre, turns inward and withdrawn…"
I wasn't certain where Thea was going to go with this story and what "deep loss" Liam was going to be suffering from in the next story. I didn't think she would kill Dragos, but he is already suffering from memory loss from the accident a few months ago. What more would she do to him?  Would she actually sacrifice the baby?  I was very stressed!!
No way I'm going to tell you what happens but you might want to clutch your pillow close for this one.    
I know from a recent newsletter that Thea has changes planned for this series.  Things have been hinted at in Dragos and Pia's stories and it could be a complete upheaval for the Wyr if the political environment stays so unstable.
Exciting and tension-filled, this is another must read for Elder Races fans.
Received an ARC from the author in exchange for an honest.
---
While she was doing that, she fell into a deep sleep.
The next thing she knew, she was climbing along her favorite trail in the Adirondacks, admiring the glorious fall colors as the trees turned brilliant red, orange and yellow.
She had been raised a city girl, because her mother believed that the best place for them to hide was in the middle of a dense, busy population. But part of Pia had always been wild, and one of the things she relished about moving to upstate New York was being able to sink into the outdoors without worrying about her safety. It soothed a part of her nature that had never before gotten the change to stretch out her legs and roam.
Something rustled in the underbrush, and part of her attention turned to it, but she kept walking.
The slight rustle followed.
Pausing, she bent to pretend to tie her shoe. As she did so, she studied either side of the trail carefully.
Deep in the shadows of nearby brush, gold eyes watched her.
Small gold eyes, close to the ground. She raised her eyebrows. There was no way that could be Dragos.
She stared to smile. "It's okay if you want to come out. Wouldn't you like a hug?"
The gold eyes blinked, but nothing emerged from the brush.
"Okay," she said with a shrug. "Suit yourself."
Straightening, she began to walk again.
The small rustling followed her.
She paused again. This time, without looking, she said, "Are you sure you wouldn't like to come out for a hug?"
Nothing happened. No rustle or movement of any kind. She listened to the wind and watched the clouds while she waited.
Then amusement got the better of her. She muttered, "We've got this all wrong, haven't we? You're not another Peanut. You're a little Stinkpot."
Giving up, she looked around and located the stinkpot. The small gold eyes had found another deep shadow from which to watch here.
"It's okay, darling," she said gently to it. "You can hide for as long as you want to…I'll be waiting whenever you want to come out. I'll always be here for you."
Related Posts