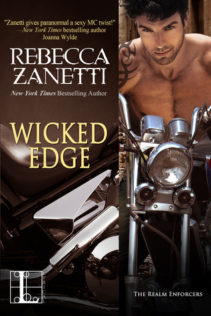 Wicked Edge (Realm Enforcers, #2)
by
Rebecca Zanetti

Series:
Realm Enforcers #2
Published by
Lyrical Press
on November 10th 2015
Genres:
Paranormal/Urban Fantasy
Pages:
276
Format:
eBook


I received this book for free from in exchange for an honest review. This does not affect my opinion of the book or the content of my review.
This post contains affiliate links you can use to purchase the book. If you buy the book using that link, I will receive a small commission from the sale.
---
[box style="rounded" border="full"]I love Rebecca Zanetti's writing. This one was action packed and included quite the surprise. I saw it coming and waited impatiently for all the fireworks.   It was awesome. [/box]
Realm Enforcer for the Coven Nine witches, Daire Dunne is getting impatient with this new assignment. He and his brothers are still working undercover with the Titans of Fire Motorcycle Club to obtain information about the supplier of the drug known as Apollo. While the Titan are definitely distributing it to humans, this drug is being manufactured for the sole purpose of killing witches and Seattle is just the testing ground.
Daire and his brothers have been here for months now and he is getting frustrated by their lack of progress. He stopped by the Titan's headquarters with the intention of pushing a little harder for information and sees a beautiful woman sitting alone at one of the tables. Maybe one night off from the task is just what he needs, and the company of this lovely creature will definitely do the trick. Imagine his surprise when they get to his apartment and the 300 year old enforcer is taken down by a woman almost half his size. He is drugged and when he wakes to find many of his confidential files missing, the chase in on.
Cee Cee needed the information in those the Enforcers files yet she almost feels bad about drugging him…almost. She has been planning revenge against the man who killed her husband and she knew the Enforcer would have more detailed maps of all the planekite mines owned by Ivan Bychkov. Destroying Ivan's mines are just the first part of her plan. After closing his mines, Cee Cee is going to destroy the rest of his financial holdings. If Ivan's "investors" don't kill him first, Cee Cee will be happy to do the job.
Daire finally catches up with Cee Cee, but he can't get her to fill him in on her plans. He does realize that Cee Cee does make one very important point — it is most likely Ivan who is supplying the planekite for the production of Apollo. Rolling with the old saying "the enemy of my enemy is my friend," Daire decides that working together is in his best interest, as well as Cee Cee's, and he's all in on helping her with her plans to ruin Bychokov. But what happens once you finish taking down your common enemy? Will Daire be willing to let the petite beauty just walk away or is the fire burning between them simply too hot?
THOUGHTS:
I loved this story. It was action-packed and exciting. An early-on description of Cee Cee made me go "hmmm" and I raced to my Dark Protectors shelf to check on something. I was so certain I was right and I knew once all the puzzle pieces were put together, the shit was going to hit the fan. I was correct and I was as awesome and awkward as could be expected. Hehehe. Nice twist, Mrs. Zanetti. Very nice.  Because of this twist, I don't want to talk about it too much and give too much away.
When her plans, for the most part, come together, you can see that Cee Cee is actually having fun. She grew up overprotected and sheltered and for the first time, she is getting a feeling of satisfaction in her success. Although her risking herself makes Daire crazy, her joy is infectious to the stalwart Enforcer and he finally stops fighting her to keep her safe and goes to protector her while she carries out her mission.
I really like the story and it drew in some past characters from the Dark Protectors series which is always fun. It also sets things up very nicely for the next book staring cousin, Simone.
The one thing I was very cranky about and I understand that it was a necessary plot point and using artistic license, suspension of disbelief, blah, blah. But there is a scene where Daire and Cee Cee are attacked by a pack of polar bears. I call it a pack because I uncertain what to call it because polar bears are solitary creatures and don't hunt in groups. So pack, pride, flock, bunch, whatever. Obviously, she didn't want to use a pack of polar bear shifters since they specifically remark that they knew for certain they were dealing with animals vs. shifters. I would have been more into the scene if they were fighting a group of shifters.  Shifters, witches and vampires have a truce now, but they could have had no affiliation to the Realm or the Coven Nine and were mercenaries protecting the Ivan's lair rather than eight wild polar bears hunting together and attacking people.  The only time you see a group of polar bears together in the wild is when they are eating a beached whale or at Christmas time when they get together to drink Coke.  Really, how did you let eight large polar bears get the drop on you when there is nothing around for them to hide behind?  And why couldn't a 300 year old Enforcer just throw enough plasma balls in their faces to make them run away?
Other than my personal pet peeve about the polar bears, this was a great book which sets us up for more excitement in the next installment.
Received an ARC from the publisher in exchange for an honest review.
---
Favorite Scene:
"You don't want to know. Just trust me."
He barked out a laugh. "Trust you? No dice. Try again." While he kept his voice hard, he had to appreciate her gumption. Even now, she was trying to play him, which wasn't easy and definitely took balls. "We're not moving until you talk."
She eyed his body, the door, and the rest of the room.
He grinned. "We can fight first, but I don't play fair, baby." His legs tensed with the anticipation of a good tackle.
She rolled her eyes. "I've already kicked you in the head, and apparently there's nothing in there. The kick didn't knock one semblance of sense into you."
Warmth rolled through his chest. Spunky and cute, wasn't she? "I do have a hard head." As did she. In fact, he hadn't met anybody more stubborn than the little demon. But the woman had a heart, and he could get to it. Though she tried to hide her soft side, she wasn't very good at it. "You're hurting my feelings by not trusting me."
Her eyelashes fluttered, and she studied him, her fingers picking at the bedspread. "I'm trying to protect you from having to make impossible choices, you big oaf."
"How sweet," he drawled. "How about you let the big, bad enforcer protect himself?" And her. Whether she liked it or not.
She shook her head. "Go away."
"Nope." He let loose his brogue. "Not garna happen. You have a choice here. Either start talking, or I'll see if you're ticklish."
Her eyes widened, and she wrapped her arms around her legs. "You're joking. The big, bad enforcer tickles for information?"
He slowly nodded, enjoying her discomfort. Yeah, he'd thought she was ticklish after sleeping with her in the tent. When his foot had rubbed the bottom of hers, she'd nearly jumped out of the sleeping bag. Was that only a couple of days ago? "I often tickle for data, and by the panic in your eyes, I'm thinking I'd get what I want."
She swallowed and didn't move.
"All right." He prowled toward her, keeping his movements slow. Where to start? Feet or ribs? He liked her ribs. Then he put one knee on the bed.
"Wait." She held out a hand." Fine."
He bit back another grin. She must be incredibly ticklish, and boy, was going to explore that later. "Well?"
She drew in a deep breath and then exhaled, dark regret filled her eyes. "Fine, but I warned you."
Related Posts