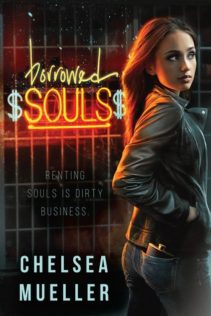 Borrowed Souls (Soul Charmer #1)
by
Chelsea Mueller

Series:
Soul Charmer #1
Published by
Talos
on May 2nd 2017
Genres:
Paranormal/Urban Fantasy
Pages:
312
Format:
Paperback



I received this book for free from in exchange for an honest review. This does not affect my opinion of the book or the content of my review.
This post contains affiliate links you can use to purchase the book. If you buy the book using that link, I will receive a small commission from the sale.
Callie Delgado always puts family first, and unfortunately her brother knows it. She's emptied her savings, lost work, and spilled countless tears trying to keep him out of trouble, but now he's in deeper than ever, and his debt is on Callie's head. She's given a choice: do some dirty work for the mob, or have her brother returned to her in tiny pieces.

Renting souls is big business for the religious population of Gem City. Those looking to take part in immoral—or even illegal—activity can borrow someone else's soul, for a price, and sin without consequence.

To save her brother, Callie needs a borrowed soul, but she doesn't have anywhere near the money to pay for it. The slimy Soul Charmer is willing to barter, but accepting his offer will force Callie into a dangerous world of magic she isn't ready for.

With the help of the guarded but undeniably attractive Derek—whose allegiance to the Charmer wavers as his connection to Callie grows—she'll have to walk a tight line, avoid pissing off the bad guys, all while struggling to determine what her loyalty to her family's really worth.

Losing her brother isn't an option. Losing her soul? Maybe.
---




This is a creative new concept for an Urban Fantasy series.
In Gem City, you can feel free to cheat on your spouse, steal or even commit murder, just make sure you borrow a soul from the Soul Charmer before you do it. Not only will your soul remain untainted from your action but any fingerprints or DNA left at the crime scene will be tainted. That's why the Police are gathering evidence to make soul borrowing illegal. That's why Callie Delgado gets dragged into the sleezy world of soul renting.
Callie's brother has an issue with drugs and has gotten in deep with the mob. In order to save him, the mob want Callie to break into the police station and steal all their research on souls. In order to get away with it, Callie will need to borrow a soul from the Charmer.
The Charmer takes an instant like to Callie and won't rent a soul to her unless she works for him for a few weeks to earn it. The Charmer hooks her up with Derek, one of his collectors, who rounds up all those individuals who forget to return their borrowed souls. It seems borrowing souls gives the borrower a sort of high, first from the energy the soul releases and also from the freedom to do as they please without consequence.
In order to assist Derek in collecting the souls, the Charmer forces some magic on Callie which helps her determine who is a soul borrower and who has more than one soul in their body.
This was a very interesting and unique concept for an Urban Fantasy. While unique is good, it also requires the author to spend a lot of time mapping out the basics rules for the audience. If you give ma vampire story, I know what a vampire is and I just need an author's specific twist, can they walk in the light, can they be seen in mirrors, etc. Here we need to understand who's borrowing souls and why, what happens if they hold onto them too long. We also need to understand why sometimes Callie's hands go ice cold while other times they are burning hot. So there is a lot of ground work to be introduced here while still telling an interesting story.
The beginning of the story was slow going and maybe I was too tired, but I had to re-read a section now and then in the first thirty pages trying to focus on what was being introduced. I will admit that at first introduction, Callie isn't my favorite Urban Fantasy heroine. Not only does she spend all her time being pushed into everything by others, her drug addicted brother who always wants her to get him out of trouble, then the mob making her become a criminal, and then the Charmer who won't accept money from her because he wants her to work for him, and then there is a rival for the Charmer's business who is trying to get Callie to switch sides. Derek is the only character who doesn't try to use Callie.
I was also a bit disappointed that Callie would stand up against someone, the mob, the Charmer, the new villian in town, and as soon as they pushed back, she was folding like cheap Ikea furniture. Many Urban Fantasy heroines put up a fake front of bravery to the bad guy, while inwardly shaking and hoping their bluff doesn't get called, but they do that inwardly. They don't crumble at the first pushback. Again, this is the first book, and there are still secrets to be uncovered. So hopefully we will see a lot of growth from Callie in the future stories and she becomes more involved and comfortable with the business of borrowing souls.
This was certainly an interesting concept for an Urban Fantasy, you just need to keep in mind it will be a slower read while we are introduced to the basics of Gem City and Soul Borrowing.
Related Posts