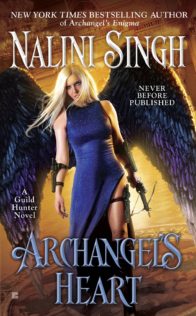 Archangel's Heart (Guild Hunter, #9)
by
Nalini Singh

Series:
Guild Hunter #9
Published by
Berkley
on November 1st 2016
Genres:
Paranormal/Urban Fantasy
Pages:
384
Format:
eBook
Narrator:
Justine Eyre
Length:
11 hrs 20 min



I received this book for free from in exchange for an honest review. This does not affect my opinion of the book or the content of my review.
This post contains affiliate links you can use to purchase the book. If you buy the book using that link, I will receive a small commission from the sale.
New York Times bestselling author Nalini Singh takes us into a dangerous and exhilarating world where a deadly, beautiful archangel and his once-mortal consort are caught in a fury of twisted darkness…
One of the most vicious archangels in the world has disappeared. No one knows if Lijuan is dead or has chosen to Sleep the long sleep of an immortal. But with her lands falling into chaos under a rising tide of vampiric bloodlust, a mysterious and ancient order of angels known as the Luminata calls the entire Cadre together to discuss the fate of her territory.
Accompanying her archangelic lover Raphael to the Luminata compound, guild hunter-turned-angel Elena senses that all is not as it seems. Secrets echo from within the stone walls of the compound, and the deeper Elena goes, the uglier the darkness. But neither Raphael nor Elena is ready for the brutal truths hidden within—truths that will change everything Elena thinks she knows about who she is…
Nothing will ever be the same again.
---



I always love me some Nalini Singh, no question. Yet, this story lacks the excitement of most of the novels in the Guild Hunter series.
I guess every novel can't be a city destroying battle between archangels like Archangel's Blood or Archangel's Legion. While there are interesting revelations and lots to push the series forward, this meeting of the Cadre lacks the danger and excitement of the prior stories.
We start two years since the awaken of the ancient Archangel, Alexander. Everyone is simply waiting for the other shoe to drop. Lijuan hasn't been seen since her attack on New York but does that mean she is biding her time or has the ancient gone to sleep. When news surfaces that there has been unchecked attacks of blood lust by the vampires in China, the only group with the authority to force the Cadre to meet sends out missives to all the archangels. Even the archangels cannot ignore the request of the group of angels known as the Luminata. If they refuse, their territory would be forfeited.
The Luminata are a weird, creepy group with a sense of entitlement which, of course, will not go over well with the Cadre of entitled archangels.  They are monk-like individuals searching for enlightenment and hoarding great works of art and literature and there is a big question of whether they are all their seeking a higher sense of being or just as a search for power over others.
Raphael and Elena, accompanied only by Aodhan arrive at the compound outside Morocco. Morocco is where Elena believes that her grandparents were from and plans on searching the vast library at in Lumia and the surrounding towns for information about the woman with coloring and hair like Elena.  Elena uncovers more than she bargained for. Meanwhile the Cadre are trying to determine if it is time to step in and take over China from the absent archangel.
While this story lacks excitement, we do see changes coming to the series. We also get to spend time getting to know Aodhan better and hopefully that means that we will get an Aodhan story shortly.
The Cascade is still effecting the world, especially with twelve archangels awake. Raphael can't control the healing ability or the white fire that he received but we still see sparks of it still.  We also see that his bond with Elena strengthens these abilities. I also noted little bits here and there which seem to indicate that Elena might be gaining angel abilities at a faster rate than should be expected of her, not the speed or strength of Raphael, but there are many comments that Elena is a baby by angel terms yet her abilities are gaining rapidly and that I believe might be trickling down from her bond with Raphael.  That will show that Elena might no longer be Raphael's weakness for much longer.
Sadly, there wasn't even much in the way of sexy, naked time with the hot archangel since they were in creep central and kept feeling like they were being watched.
This is a story written more for series fans than to grab new ones.  If you are new and want to know what the fuss is about, grab Archangel's Blood or jump to Archangel's Legion for more excitement.
I started reading my ARC copy but shortly after received an audiobook copy from Tantor Audio.  Since I originally binged on this series by audiobook, I was happy to  make the jump over to audiobook since I missed the narration on the last few books.
---
Favorite Scene:
"I like holding hands," she declared, moving their clasped hands slightly back and forth as they walked down the wide hallway in which Dmitri had his office, the walls newly painted an elegant gray, the thick carpet beneath their feet a darker gray.
Raphael's response was silent, his wing brushing hers as he…
"Raphael!"
The damn archangel had dusted her.
Glittering, sparkly stuff stuck to her, delicious beyond compare when she parted her mouth and it licked onto her tongue. Her thighs clenched. "This is not funny!" She glared at him even as arousal flooded her system, but he was laughing too hard to care.
Her heart, it just stopped.
Even now, the Archangel of New York rarely laughed and never like this. Until she could see the youth he must've once been, with eyes of a wild, astonishing blue that asked a woman to laugh with him. She'd never before seen him truly young. How could she? He had so much power that it pulsed in his every touch, burned in his skin.
Hauling him close to her with her hands fisted in the cream linen of his shirt, she took a kiss, took him. He sank into her, his wings sweeping up to wrap around her until all she could sense was Raphael, all she could taste was him. And angel dust. The special blend he'd created just for her.
He pushed one hand into her hair, fisting it as he wrapped his other arm around her waist and backed her up against a wall. Something fell with a dull thud. Maybe the vivid painting of wildflowers that had just been put up, all the art having been taken down during the repainting.
Elena loved that simple piece Honor had found in a thrift shop, but right now, it could've been a priceless artwork by the Hummingbird and she wouldn't have cared. She was far too happy to be pressed up against the hard warmth of her archangel tip to toe after spending the previous night on watch. No time for shenanigans with Dmitri away and Illium off-shift, Aodhan assigned to patrol the sea border, and Raphael dealing with the overall security situation.
She'd flown a proper defense grid, both to stay in practice and because none of them could afford to be blasé with the Cascade an unpredictable foe that could unleash itself at any moment, smashing the world back into chaos and, possibly, war.
Today, however, the others were on-shift and she could kiss her lover. He burned hot, Raphael, but he was a crashing sea in her mind, a tumultuous, passionate storm that swept her up and thundered through her veins.
We can talk to Dmitri later, she sent to Raphael, sliding her hands up the ridges and valleys of his chest. Let's go upstairs to our suite.
"A-hem."
She tried to ignore that pointed cough that held a biting amusement.
Raphael's lips smiled against hers. I think my second has other ideas. Pulling away with a kiss that promised more to come, he folded back his wings to reveal the vampire who leaned against the wall about ten feet down the corridor, beside an open door.
Related Posts