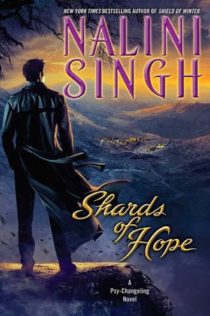 Shards of Hope (Psy-Changeling, #14)
by
Nalini Singh

Series:
Psy-Changeling #14
Published by
Berkley Hardcover
on June 2nd 2015
Genres:
Paranormal/Urban Fantasy
Pages:
483
Format:
Audiobook
Narrator:
Angela Dawe
Length:
16 hrs



I received this book for free from in exchange for an honest review. This does not affect my opinion of the book or the content of my review.
This post contains affiliate links you can use to purchase the book. If you buy the book using that link, I will receive a small commission from the sale.
---
[box style="rounded" border="full"]I always love a Nalini Singh story but the last three in this series have topped the charts. She has brought major changes to the series and in this story she shows us that not everyone is hoping that the psynet finds stability. [/box]
The psy people and the world around them are still recovering from the fall of Silence, the near collapse of the psynet and the infection that was killing so many. Former counselors, Kaleb Krychek, Nakita Duncan, and Anthony Kyriakus along with the Arrows, led by Aden Kai, have been trying to stabilize the net and the people who have not been allowed to show any emotion for more than 100 years. But someone powerful is hoping to keep the psy people off balance and fracture the fragile lines of friendship which have been building between the pys, humans and changelings since the recent turmoils.
A group calling themselves the Consortium are hoping to break the backbone of the new Ruling Coalition by showing that the most dangerous protectors, the Arrows, can't protect their own leader. Killing Aden Kai would destroy the Arrows, who are struggling the hardest with the fall of Silence, and put the public in a panic. If the head of the deadly Arrows is vulnerable, then who is safe.
Aden and one is his Commander, Zaira Neve, have been captured by this new enemy. The plan is to use Aden's desire to protect his Arrows against him. They have implanted a device into Aden and Zaira's brains to disconnect them from the psynet and from their own abilities. Their captors believe that in torturing Zaira they will break Aden and get confidential information about the Arrows and the Ruling Coalition which they will use to their best advantage. But Zaira isn't one of the Arrows' Commanders for nothing. Her strongest asset is that her petite size always fools her enemies into believing she is week, but this dainty creature is deadlier than any changeling, and their captors will learn the very painful truth that Arrows are truly as dangerous as the rumors indicate.
Escaping their captors is only the first step. Already sustaining severe wounds during their capture, Aden and Zaira find themselves free and surrounded by mountains and forest as far as the eye can see. Since they cannot psychically call to Vasic or any of the teleporters, Zaira and Aden need to find civilization to call for help. If it was not for a small clan of changelings who take them in and give them medical care, the Consortium would have succeeded in their plan to kill the Arrow leader.
But getting home does not equal safety, it just puts Aden back into play and knowing that they lost all hope of getting information from him, they will settle for just a very public and violent execution of the Arrow leader.
Destroying the Arrows is just the beginning for the Consortium. Unlike the fanatics in Pure Psy, they are being led by someone very smart and very strategic. They have been working behind the scenes to pit humans against changelings and changelings against psy. Interfering in psy business transactions and buying up changeling lands under the names of past enemies to cause mistrust among the new allies. It is only by reaching out to these new friends instead of simply reacting, that the whole systems has kept from collapsing like a house of cards.
While trying to keep the world safe, Aden is also trying to keep his people sane. The psy have all felt the pressure of the downfall of Silence, but years and decades of training have made acclimating all but impossible for the oldest Arrows. They all had emotions beaten, tortured or in some cases dissonance was used to rob them of all emotions. Now being told they can have a life and happiness like everyone else around them feels impossible. Two of their own, Judd Laurens and Vasic Duvnjak have dropped their Silence and have found love and a life beyond the squad. While Aden tells the squad to look to Vasic as an example, it is Vasic that explains to Aden that it is he who needs to lead the squad into the future. It is Aden who needs to find a life outside of the squad and Silence.
Aden knows that the Consortium had one thing right, of all his fellow Arrows, it is Zaira who means the most to him on a personal level. Aden wants to find that future with Zaira at his side, but it is Zaira who considers herself one of those who is too broken to survive without Silence. Her parents were sadistic. They kept her caged and tried to beat her into controlling her TK abilities. She killed them and the planning and control she exhibited were almost a death sentence since what seven year old should be able to kill in cold blood.
Zaira would give everything to Aden, both as a leader and as a man. Yet there is a darkness and the rage that lives inside of her. That rage that kept her alive while her parents tortured her is very possessive of Aden. That dark part that wants to listen to him and wants keep Aden all to herself, but she fears that opening herself up to love might let loose the darkness that she has caged so long.
Aden refuses to give up on Zaira.  He wants Zaira as his partner.  He is an Arrow on a mission and an Arrow never fails.
THOUGHTS:
Wow! After the fall of Silence and the saving of the psynet in the last two stories, I wasn't sure where she would take us in this latest novel. There is a new enemy working against the world in general. They want chaos to rule so they can step in as the new world order. They have been working since before the fall of Silence, lining up their pieces and their first move is to show the world that even the deadly Arrows can't keep their own leader safe. They believe that killing Aden will cause enough chaos and fear to spiral the world out of control and their planning is meticulous. Any information the Arrows find lead to dead ends or those with no more knowledge than their small piece of the plot. The head of this serpent isn't going to be easy to find and the list of possible leaders is very long.
Like in Heart of Obsidian, the relationship between Zaira and Aden goes back to their childhood, when the broken Zaira is brought to the Arrows to be reconditioned and trained to control her TK abilities. Oddly, she uses more of her hand-to-hand combat training in the story than her psy abilities. It is Aden's treatment of the broken child that cements Zaira's loyalty and his treatment of the Squad in general that makes Aden their leader. Where Ming felt the flawed or used up Arrows were disposable, Aden's belief is more "no Arrow is to be left behind."
Not only are Aden, Zaira and Vasik working to save their Arrows from self-destructing after the fall of Silence, they have to figure out how to train the next generation of Arrows. Children sent to become Arrows have immense powers and it is important to teach them to control these powers because they could maim or kill with just a thought. While in the past pain and punishment were used, they need to find a way to help the children balance their emerging emotions and still control their powers.
This is unfamiliar territory to the formerly cold psy and they look to the changelings for help creating a safe environment for the children that is both controlled and still nurturing.
I liked that although Zaira originally wants Aden to find a life partner who would be sweet to him, she eventually comes to realize that Aden needs someone strong by his side not just as a show of power, but as someone who can force Aden to think about himself and who can protect him while he protects the rest of the Squad.
I did a combo listening/reading like I did on my last Nalini Singh story because I just couldn't wait until the next time I was in my car to see what was going to happen next. The narrator, Angela Dawe, is not one of my top favorite narrators. Her conversations flow naturally, but her narration is very stiff and formal. She did narrate the whole Psy-Changeling series so I was used to her storytelling, but there are so many characters who appear in this story that finding unique and separate voices for each is impossible.
I have no idea whose story could possible be next, but I can't wait to see where she takes us.
Received an ARC in exchange for an honest review.
---
Favorite Scene:
The most important thing is that the child knows he or she is loved, is wanted, belongs.
Zaira didn't know what it was to be loved, didn't understand the emotion, though the insane girl in her had often pressed its hands to the windows of her eyes in wordless yearning as it watched those of the other races. Living in Venice, Zaira had seen fathers and mothers with their children, siblings laughing arms in arm, lovers walking wrapped in one another, and she'd sometimes imagined a future in which she, too, had someone who liked to be with her just because she was Zaira.
Her brain had trouble with that concept, but oddly the rage creature coveted it. Even when it appeared to Zaira that love was as huge a thing as rage, that it would fill her up should she ever understand it.
Not far from them, the boy Jojo had "attacked" was laughing as he picked her up by the scruff of her neck and nipped at the tip of her nose.
Rage was a selfish, covetous emotion that wanted to swallow her whole. Love, it appeared, spread outward. And still the twisted, deformed girl insider her, the one filled with rage, looked at that scene and cried. The tears were old and silent and hidden deep in the vault of her mind. Zaira hadn't cried true tears since she was maybe three, but deep in that vault, the girl shaped by rage sometimes did so surreptitiously.
Zaira tried to ignore her, but it was hard, her cries echoing in the silence of her head. Stomach tensing, causing her raw skin to ache, she waited until Remi left the table before saying. "How can we teach Arrow children about love if we don't understand it?"
Aden's eyes went to where Jojo was sitting up on the lap of the boy who had the same eyes and skin as the little girl, her paws on the tabletop and her ears pricked as she listened to the conversation around her. The teenager had one hand on her back, steadying her, while with his other he was spooning up cereal, his eyes turned in the direction of another boy with whom he was holding a conversation.
"Look at her," Aden said in that quiet tone that always brought people to attention. "She's happy to be there though no one is currently paying her any particular attention."
Zaira saw what he meant. "She's being touched by someone she trusts not to hurt her and she knows that should she need care, it will be given." As Remi had so easily prepared that slice of toast for her.
"Yes." Aden touched his hand to her own back, as if he'd sensed the vicious wolves of aloneness biting at her. "We can give our children a safe haven where they never have to fear being hurt simply for being who they are."
Zaira thought again of that long-ago infirmary room and of the solemn boy who'd patched up her wounds. He'd been her safe place. And in giving her that, he'd given her a reason not to take unnecessary risk, not to get herself killed, and never, ever to give up the fight against the insanity that wanted to envelop her mind. "I can do that." Her voice came out raw, the insane, angry girl nodding in silent agreement. "I can help make a safe place for Arrow children."
Aden's lips brushed her ear as he leaned down to speak, the scent of his body in her every breath. "If you can do that, then you can be my partner."
Zaira wanted to say yes, but her wants could be deadly. It was because of want that she collected things that were Aden's and kept them close, why she took those things out late at night and carefully looked through them one by one. "If you'd made me this offer when I was sixteen, I would've taken it." Would've taken him.
"What's changed?" Aden asked.
"Now I understand that my obsessive desire to own you comes from the same dark place as my rage." That truth was one it had taken her years to grapple with, to comprehend. "It'll crush the life out of you." Because if she broke discipline and took Aden's hand, then all bets were off. She'd regress to the feral creature she'd once been, murderous and violent and so full of need that she would take and take and take and take.
Because Zaira couldn't walk the middle road: either she could be a disciplined, cold Arrow or she could be a savage, possessive, obsessive creature capable of madness to get her own way. "I'd snap the neck of anyone who tried to get between us, anyone who dared take your attention from me," she said, allowing him to see the sinuous darkness that lived in her. "I'd destroy you with my want and my need."
Related Posts