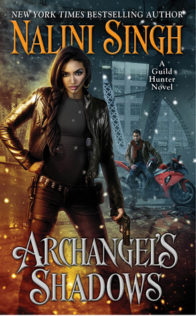 Archangel's Shadows
by
Nalini Singh
,
Justine Eyre

Series:
Guild Hunter #7
Published by
Tantor Audio
on October 28th 2014
Genres:
Paranormal/Urban Fantasy
Format:
Audiobook
Narrator:
Justine Eyre
Length:
12 hrs 17 min



I received this book for free from in exchange for an honest review. This does not affect my opinion of the book or the content of my review.
This post contains affiliate links you can use to purchase the book. If you buy the book using that link, I will receive a small commission from the sale.
---
Another fabulous story by Nalini Singh. The story of Ashwini and Janvier is a perfect addition to the archangel series and blends well with the recovery of the city and the evil that is still lurking in the shadows. I had a review copy of this story, but had an opportunity to receive an audiobook copy as well. Since I had listened to this entire series, I opted to wait until my audiobook was delivered. I was halfway through the story when the work week ended and I knew I couldn't wait until Monday to see what happened next. I picked up where I left off and read the rest Friday night. I just couldn't put it down.
---
The story starts out showing us that Guild Hunter Ashwini, and Raphael's vampires, Janvier and Naasir are working together as a team in the shadows behind enemy lines causing as much confusion and damage to Lijuan's forces to disrupt their fighting Raphael and his angel fighter.
New York City is still licking its wounds from the battle of two archangels which almost destroyed the city. When bodies start to show up desiccated and mummified, first of animals and then of humans, Raphael fears that maybe the archangel wasn't completely destroyed and is trying to regenerate in the bowels of city. With the city still recovering, he doesn't want news to spread and cause a panic. Working with the Guild to quietly investigate without showing the Tower's interest in the matter, he sends out Janvier to work with Ash to track down the victims and hopefully they can follow a trail back to the killer.
We have met Janvier and Ashwini in prior stories. There was a short story about them which was published in Angels' Flight. I did go back and read this since I had a copy of the anthology, but it is not truly necessary. It just gives us move of a chance to see Ash and Janvier working and flirting together. We are told in both stories how Ash had originally been sent to track down Janvier, not once but three times when Janvier angered an Angel only to be pulled off at the last minute when Janvier makes up with the angel. It wasn't spelled out in the story, but I have a feeling that the mellow and laid back Janvier pissed someone off on purpose so that he could play the cat and mouse game with Ash.
Janvier seems to know everyone. I loved that whenever they went to talk to someone that Janvier knew they always asked, "Is that your hunter?" Janvier has made no secret of how he feels about Ashwini and he even states that he has had no interest in other women since he first saw her staring at him with a crossbow pointed at his heart. Ash has given up any pretext at this point that she isn't as attracted to the vampire as he is to her.
Janvier knows that touching things or worse, touching people, forces Ash to see all the good and bad about a person. Janvier is one of the few who Ashwini can't read but Ash has been hiding something else about herself from Janvier. It is the reason she can't be with him. Ash knows that if she says yes to Janvier and then he finds out what she has been hiding, it would destroy him. Janvier is absolutely loyal and Ash doesn't doubt what he feels for her since she feels for him just as intensely. That's why she is still trying to protect him from becoming too attached to her. She knows that they have reached the point where they have to move forward with a relationship or she has to push him away completely.
Ash also knows that Janvier wants her to become a vampire so they can have eternity together but Ash fears what her gift as well as her secret would do to her mind after a century or so getting close to the angels and vampires who hold so much darkness inside themselves.
Watching Ash and Janvier flirt and try to work out their relationship was interesting enough, but we also had the mystery of what was happening in the city and who was responsible. I liked that we got to see more of Naasir, who got very close with Ash and Janvier during the fighting. He is a very interesting and feral creature. I say creature because there is still a mystery of why he is so feral and odd and I can't help but wonder what Nalini Singh will come up with to explain him.
We don't see as much of the other angels in this story and they are helping more in the background. If I were asked whose story should be told next, I don't think I could make the decision. We have had very interesting glimpses of Illium, Aodhin, Naasir, and I would like to get more on them. I also fear for Elena and Ash's friend Ransom, a Guild Hunter. We hear a lot about his love, the librarian who won the heart of the womanizing Ransom, but we never meet her. I fear that like many other series, she will be ripped away from him by some tragedy, scarring him but leaving him open for a new HEA down the road. If that is not her evil plan, why haven't we met her except in reference?  I also can't wait to see what happens with Vivek.  The last we saw him Vivek had agreed to be changed into a vampire in hopes that this body would heal his paralysis.  We see some indication, but I want to see him walking, fighting and learning to be a Guild Hunter.
I would admit my only complaint here is that when characters know each other so well, we can usually jump right into the hot and heavy. Since Ash is inexperienced, since she can't really touch many people, Janvier decides to take it slow. At first, I thought he meant that time he'd go slow. Turns out there was a lot of high school-type making out and getting on base before we finally get them to have sex.
As far as the audiobook, Justine Eyre does separate voices for most of the major characters since she has done the whole series, including accents, but her Cajun was not that great.
This is a great paranormal romance series.  Although you would want to start at the beginning, you could certainly pick this book up with being completely lost.
Received an ARC from the publisher and an audiobook from Tantor Media in exchange for an honest review.
---
Favorite Scene:
Janvier wanted Ashwini. He'd wanted her since their first meeting in the luxuriant green humidity of a cypress swamp, her skin beaded with sweat and dragonflies buzzing in the air. It has taken everything he had not to attempt to seduce her then and there, the desire to lick up the salt-laced tang of her as he drove his cock in her body a sudden, violent craving.
The fact that she had a crossbow aimed at his gut hadn't dampened his lust, just heightened it, but the lust had only been the start. Each time they tangled, he'd learned a little more about his Ashblade, until having her body would no longer be enough. Janvier wanted all of the gifted, complicated, skilled woman in front of him.
Including her trust.
Today, the rich brown eyes he'd seen laughing, infuriated, amused, were sad and brittle. A small push and he knew she'd permit the seduction, allow him to use his body to make her forget the pain that lived in her, that huge thing too terrible for a mortal to possess. He could kiss her, taste her in an effort to assuage the need inside him, even thrust his cock so deep into her that she cried out. And when it was over, he'd have destroyed the most beautiful thing he'd encountered, that he'd felt, in all eternity.
"It's a great night for a long ride," he said before she could speak. "No real wind, and I can handle any snow that falls. You game?"
A pregnant pause, those mysterious eyes locked on his face.
His nerves stretched taut; Janvier didn't know if he had the strength to refuse her if she made him a different offer, even knowing it would be a devastating mistake. She was his Achilles' heel, his personal, luminous madness.
"Yes," she said at last. "Let's go."
Grabbing the helmet he'd bought especially for her and that he never lent to anyone else, he put it on her with his own hands flipping down the fog-resistant visor to protect her face. Then, zipping up his jacket after a glance at Ash to make sure hers was secure, he put on his helmet and straddled the bike. She hesitated for a second before swinging up behind him, long and sleek and the most complex, fascinating creature he'd ever met.
Not interrupting the silence that had fallen between them, he drove down the narrow cliff access road with care; he might have a daredevil streak, but despite her grit and determination, Ash was mortal. If he totaled the bike, she could die. His gut tightened, his spine locking.
Only a few more decades. Then it'll be time for a new hunter to chase you.
She'd said that to him the first time she ever asked him for help. They'd gone into Nazarach's territory, survived the sadistic angel, shared a decadent promise of a kiss on a train platform before she left him, his wild windstorm of a lover. Because she was very much is lover, even if they'd never been skin to skin. The idea of being with any other woman after he met her had simply been out of the question.
He would not—could not—let her die. Not the tempestuous storm that was her.
The light would go out of the world if she was gone.
The only impediment to her becoming near-immortal was Ash's own resistance to the idea. Raphael had been aware of Ash since long before Janvier's fateful meeting with her in that swamp; the archangel would be more than happy to have a woman with her abilities in his Tower. Somehow, Janvier would have to make Ash see that living hundreds, perhaps thousands of years wouldn't be the nightmare she imagined.
Once out of the Enclave, he turned the bike in the direction of the Adirondacks. The night wind whistled past them and other vehicles overtook on the left because he kept the speed undemanding, the snow on the sides of the road glittering in the beam of his headlight when they passed out of the more populated areas, the trees clean silhouettes against the night.
Flicking on the microphone and speaker system embedded in his helmet with a tilt of his head, he said, "There's something about going for a ride with a beautiful woman wrapped around me."
It took her a couple of seconds to figure out the system on her end. "Since when is a hand on your shoulder 'wrapped around you'?"
The old sadness and older hurt he'd sensed in her since the instant she came face-to-face with her brother was still there, but he could hear his Ash rising through it. "Ah, perhaps I am simply indulging in a fantasy. Foolish male that I am."
A snort sounded from behind him…but then she slid her arms around his body, pressing her chest flush to his back, the strength of her grip making him feel possessed, owned. The contact eased the aged, potent need inside him enough that his chest no longer hurt, air filling his lungs again.
"So, I ask and I receive. You're in a generous mood."
"Don't get too cocky, cuddlebunny."
His grin was bright. "What's a cuddlebunny?" he asked, genuinely curious.
"You, at the moment. Sexy, non?"
He loved it when she teased him. "Oui, if it makes you cuddle so close."
Her laughter was husky, and it was all he needed to hear.
Related Posts