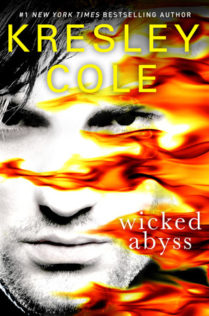 Wicked Abyss (Immortals After Dark, #18)
by
Kresley Cole

Series:
Immortals After Dark #18
Published by
Gallery Books
on April 25, 2017
Genres:
Paranormal/Urban Fantasy
Pages:
400
Format:
Hardcover



I received this book for free from in exchange for an honest review. This does not affect my opinion of the book or the content of my review.
This post contains affiliate links you can use to purchase the book. If you buy the book using that link, I will receive a small commission from the sale.
The terrifying king of hell...

As a boy, Abyssian "Sian" Infernas had his heart shattered by a treacherous fey beauty who died before he could exact vengeance. Millennia later, a curse has transformed him into a demonic monster—just as she's been reincarnated. Sian captures the delicate but bold female, forcing her back to hell.

Meets his match.

Princess Calliope "Lila" Barbot's people have hated and feared Abyssian and his alliance of monsters for aeons. When the beastly demon imprisons her in his mystical castle, vowing revenge for betrayals she can't remember, Lila makes her own vow: to bring down the wicked beast for good.

Can two adversaries share one happily-ever-after?

As Calliope turns hell inside out, the all-powerful Sian finds himself defenseless against his feelings for her. In turn, Lila reluctantly responds to the beast's cleverness and gruff vulnerability. But when truths from a far distant past are revealed, can their tenuous bond withstand ages of deceit, a curse, and a looming supernatural war?
---
I finished this book in a day.  Each chapter kept drawing me into the next into the next and then the next thing I knew, it was done.
This had a very obvious Beauty and the Beast premise.  Including Lila hiding in plain sight working at the Magic Kingdom, and wearing a yellow dress after being invited to dinner.  Sian's biggest concern is his looks since the once handsome prince of Hell, once he became King of Hell transformed into his Hell Demon form which would continue to become more grotesque the longer he was King.  Of course, this was the one thing that Calliope really had no issue with.
While there is no dancing candlestick, there is a magical castle in Hell.
If you, like me, just re-read Shadow's Claim to reacquaint yourself with the story after the release of Shadow's Seduction, you will recognize Sian's fraternal brother in the Primordial Hell Demon who was fighting for Bettina's hand.  Sian's brother, also handsome until he had become king, was so lonely he wanted to win a bride of his own.  So scary, gross, oozy Primordial Demon now get an "awww…" 🙁
I always enjoy a Kresley Cole story and while this is not my favorite story of the series, I did like it more than Sweet Ruin.  Calliope is a perfect IAD heroine.  She's clever, smart, witty, snarky and doesn't take any crap from Sian.  Like Belle, Calliope likes to read and learn and Lila uses this intelligence against Sian.
Whenever Sian and Lila put aside their differences, they had magic.  Unfortunately, KC uses the premises of reincarnation in this story which I am never a fan of since it always seems that the hero is trying to recreate the love they had with the prior person and that tarnishes the romance for me in a who are you in love with way.  Here Lila is the reincarnated mate of Sian who once upon a time chose another over him.   Calliope used to be Princess Kari of the same Sylvan Court that Lila is from but Kari was a pompous fey princess and looked down on the beast prince from the demon realm.  Sian was only sixteen when he met Kari and didn't understand why she wouldn't chose him since he knew she was his mate.  So sadly, once Kari is reincarnated as Calliope, Sian intends to take out all of his pain from Kari's rejection on Calliope.  He seriously can't let it go.
Even the dragon shifter, Uthyr, who hangs out with Sian, and who obviously has some big issues himself since he won't return to human form, keeps telling him to use this as a second chance and stop punishing her for something Kari did, especially since Calliope didn't share the same memories and seems to be a nicer person.  Sian just can't get past it.  Anytime things are going good between them, he remembers something nasty Kari said to him and everything devolves between them.  He's 10 millenia old, but he remembers every unhappy moment of the two weeks he knew Kari.
This isn't the first time KC subjected a heroine to punishment for someone else's ill deeds.  In the very first novel, A Hunger Like No Other, Lachlain tortured Emma because she was a vampire and vampires tortured him.  Same with MacRieve and the succubus.
I like a romance which focuses on just the hero and heroine trying to work out their relationship, but it would have been a more enjoyable story if once Sian decided to let go of the past, he actually did but he just couldn't do it which ruined the flow of the budding romance.
Since more of this story takes place in the Hell Realm, we get very little interaction with other characters.  Nix shows up at the very beginning and she uses Lanthe and Sabine to capture Lila and present her as a captive/spy to Sian.   In another crossover storyline, Lanthe, Thronos and the Vrakeners settled in Pandemonium at the end of Dark Skye, which is Sian's Hell Realm territory.  Lanthe uses turning over Lila as a bargaining chip so Sian will let them stay in the territory they claimed.
With several more members of the  Møriør travelling to Gaia, and I am sure they will each be getting a story, I guess we, or maybe just I, need to accept that KC has started a new story arc in this series and may never go back to finish the old stories which were hinted at.
---
Favorite Scene:
"My lazy fey slave," Sian grated when he appeared before her. She wasn't even trying to finish the last few rooms? He clenched his fists, that crimson haze covering his eyes.
Craning her head up, she met his gaze. "I'm not lazy–you set me up so I would fail. Tell me why you're doing this to me."
He stalked closer, having no idea what his next move would be. His rationality continued to decline; tyrannizing his subjects only worsened his condition.
She backed toward the edge of the terrace. "Can you even see me, you blank-eyed beast? Hear me?"
Why would she ask that? "You knew the consequences should you not finish your chores."
At the railing, she whispered, "But I've hurt myself, demon."
Her voice rocked him. Though he'd willed himself to be blind to her needs, he now fought back against the animal aggression taking him over.
Once he'd cleared the filter from his vision, he saw that her pale skin was abraded in several places. Burn marks from the fire vine lashed her flesh.
She wasn't regenerating. Which meant she wasn't immortal yet. Which meant she was very, very young.
Rune had mistakenly thought Josephine was in her mid-twenties. By all the gods, this female might be younger even than that.
Sian's instinct to care for his vulnerable mate raged inside him. The only demon instinct stronger than the one to mate was the one to protect.
Right now he needed to fulfill both.
He traced to her, coiling an arm around her back. His bare torso pressed against her scantily clad body. Flesh met flesh. Electricity sparked through every point of contact.
Even she looked surprised.
Her scent made him light-headed…her racing heartbeat drummed in his ears…
Worry turned into crushing need, his emotions in chaos. When she gazed up at him with those lustrous eyes, he drew her even closer, his shaft straining against her.
He needed to taste her lips. Just once in this lifetime. To see if their kiss could be as intense as he remembered.
Lost in her, he barely perceived the movements of her hands. But he felt three pricks in his neck. He released her to pat his skin…the spindle was jutting from his throat?
"What the fuck is this?" With her speed, she'd struck him multiple times. Like a little viper! Lust dwindling, he pulled out the spindle. "Stupid female! Do you really think something like this could hurt me?"
"No. Which is why I coated the point with freshly milked spider venom."
His lips parted. This amount of venom wouldn't kill an immortal, but she didn't know that! Was she trying to murder him?
"If you strike out at me, I'll hit you twice as hard!" With a haughty smile, she kicked a piece of wood at the railing. A handle?
A line constricted around his ankle. He met her gaze for a split second. "You bitch–"
His feet…yanked out from under him…
Some force had flung his body over the railing and off the terrace. Stunned realization: this was the first time an enemy had landed a blow against him–in ages.
Too astounded to react, he plunged toward the river.
Related Posts