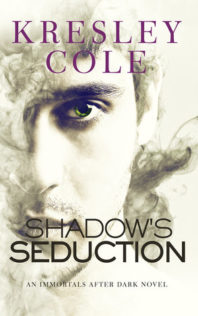 Shadow's Seduction
by
Kresley Cole

Series:
The Dacians #2
Published by
Self-Published
on February 28th 2017
Genres:
Paranormal/Urban Fantasy
Pages:
160
Format:
eBook



I received this book for free from in exchange for an honest review. This does not affect my opinion of the book or the content of my review.
This post contains affiliate links you can use to purchase the book. If you buy the book using that link, I will receive a small commission from the sale.
In this scorching Immortals After Dark/Dacian novel, #1 New York Times bestselling author Kresley Cole brings together a wicked vampire prince used to getting everything he desires and a demon warrior who always felt like an outcast.

A night of debauchery
Prince Mirceo Daciano and his new friend Caspion the Tracker comb the streets of Dacia, drunkenly seeking out pleasures of the flesh. In what should have been a typical night, they coax a bevy of nymphs to bed. To impress their females, the demon and the vampire kiss on a dare.

Changes them forever
Once they finally break away from their soul-searing kiss, they find themselves alone—and shaken. Had they imagined their explosive chemistry? Obstacles—ranging from a death sentence, to exile on a war-torn dimension—threaten to destroy their lives, much less the vulnerable promise in that one kiss.

How long can they resist the fire that blazes between them?
Even if Mirceo can accept Caspion as his fated mate, the sensual vampire still must convince the stubborn demon that their bond is forever. And any royal Dacian union must receive the blessing of King Lothaire, an unpredictable and savage killer...
---




Kresley Cole brings her usual IAD style to this M/M romance.   For fans, it is worth reading even if M/M is not your usual choice.
Note: I highly recommend that you re-read Shadow's Claim before starting Shadow Seduction. Shadow's Claim takes place smack in the middle of Shadow Seduction and Caspian is a major character in the prior book. I did not do this and had to re-read my own review to see the connection between the stories. It has been five years since Shadow's Claim was released so I borrowed a copy from the library. (I think I gave my copy away. Silly me.)
Caspian, a death demon, and Prince Mirceo of the Dacians meet at the cusp of Mirceo being frozen into his immortality. He is a thirty-year-old, natural-born vampire and he plans to enjoy all types of pleasures before he loses his heartbeat and his ability to have sex. He is currently working his way through all the females and the males at the New Rome Pleasure Palace.
Mirceo sees Caspian and must have him as his next playmate. While Mirceo is very flexible in his sexuality, Cas, as a demon, is more conservative and only has sex with females. After spending several hours together, they form a quick friendship and go off together cavorting and drinking as Mirceo's heartbeat continues to slow down.
The more time they spend together, Mirceo and Cas feel their bond growing. Mirceo believes that Cas might be the destined mate for his sister, Princess Kosmina. He convinces Cas to return with him to Dacia to meet her but he warns Cas that strangers who go to Dacia can never leave. Killing anyone who tries keeps the Kingdom hidden.
After meeting Kosmina, Cas realizes that they are not mates, but as his feelings toward Mirceo grow stronger, Cas starts to become uncomfortable with the possible truth that Mirceo keeps whispering, that they might be mates. Cas panics and decides to return to his home world to see his friend, Battina.
Prince Trehan follows Cas to his home dimension to kill him for leaving Dacia and meets his Bride, Battina.
Here is where the entire Shadow's Claim takes place!
Upon Cas's downfall in the Iron Ring of Abbdon, Cas runs away to another dimension where times runs differently from Earth. He returns only weeks later here in this dimension, but Cas has been a Bounty Hunter in the other dimension for five centuries, making him suddenly significantly older than his friend, Mirceo.
Mirceo once again tracks down his friend with all intentions of seducing him so the Mirceo can prove that fate intends them to be mated. But Mirceo is in for a bigger surprise, Cas isn't avoiding him because he doesn't want male as his mate. Cas doesn't want a spoiled, selfish Prince as his mate. Mirceo will do anything to prove himself worthy of Cas.
As always, Kresley Cole keeps the tensions high between the lovers by keeping the consummation until the end. Whether it is a f/m couples or now the m/m couples of Mirceo/Caspian, she keeps the teasing high as well while she continues to keep the action going so she doesn't lose the audience while they wait to find out if Cas/Mirceo are truly mates.
While I usually don't grab for a m/m romance, if it is part of a series that I am reading, I want a copy.   Right now, I am looking forward to reading my copy of Midnight Target by Elle Kennedy which also features a m/m couple, Liam and Sully.
My only major complaint here (beside the fact that should be a re-read Shadow's Claim disclosure) is the fact that she ends this story with a set up for another story.   She now has several dangling, unfinished story lines and with the release of the last book, Sweet Ruin, she introduced five or six new major characters who will also be clamoring for a HEA. That was bad enough when she was publishing 2 IAD books a year. For the last few years, we only get 1 a year and my daughters will definitely be graduated from high school before we ever get to Nix's story.
It is wonderful that we, the fans, are clamoring for more stories but sometimes it feels like — if you as old as I am and remember when The Empire Strikes Back released in 1980 and left you crying about Han Solo being trapped in carbonite after telling Princess Leia he loved her, and you knew it would be years–YEARS–before you would ever find out what happened next.   KC is not the only author I follow that takes her time between releases, but she is the only one who has so many epilogues setting up another story which we still have no hint when we will get back to.  For example, MacRieve was published in 2013 with hint of a storyline for his brother and a mate. It is 2017 and her 2017 release, Wicked Abyss has nothing to do with the brother or that storyline.
Ms. Cole, we need more IADs or please only tease us with the next couple on the list.   Trust me, we will read the next book.  We are already dying to read it, but waiting years and years for the book you want causes a certain disappointment when each book release is finally announced and it is not the couple you are waiting for.  I cried each time for years over the Lanthe/Thronos books that seemed to never be coming out.
Kresley Cole delivers an interesting new couple in this latest release, but please someone lock her in a room until she catches up with more on this series.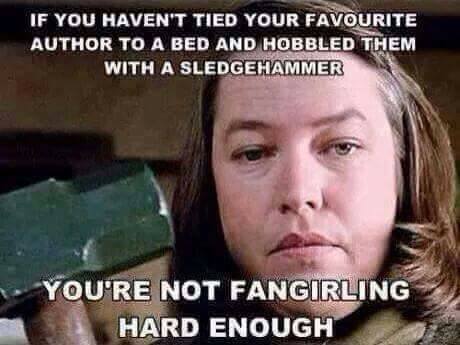 ---
Favorite Scene:
Mirceo's banter with one of the nymphs roused him from his thoughts. As usual, the prince had focused his attentions on a redhead. When Mirceo laughed at the female's playful teasing, Cas grew distracted, scarcely noticing as the other two removed their tops.
For weeks, Cas had watched Mirceo bed any available beauty–they'd even shared females–but Mirceo's enjoyment of that redhead irritated Cas for some reason.
Like claws down a chalkboard. Was it because Cas had drunk too much tonight?
The prince caught him frowning, so Cas averted his gaze, reaching for the busty brunette to knead a plump breast. That delight should have filled his shaft with blood, but he…flagged. She even stroked his horns–which demons loved. So why did he wish this night was already over? As he dropped his hand, he found Mirceo's attention on him.
The air between them seemed taut. Awareness prickled. Why had Mirceo's addictive scent–sandalwood with a hint of blood–never registered with him before? Why had Cas never noticed the heat his vampiric body gave off?
The redhead noticed them staring at each other. "You two should kiss."
With a smile in his tone, Mirceo said, "What an intriguing idea, tulip." The vampire traced to sit beside him at the foot of the bed.
"Hardly," Cas said. "I only pleasure females."
The brunette stood, crossing her arms over her chest. "Nothing would pleasure us more than seeing you two masculine specimens lock lips."
The blonde stood as well, leaving Cas and Mirceo on the bed. She joined the other two–nymphs in solidarity.
Mirceo laughed again, treating Cas to that rich, throaty sound. "It's just a lark, sweetheart. Something to titillate our ladies. I can scent them growing wet in anticipation."
The redhead said, "Perhaps the demon hunter isn't as secure in his tastes as we thought."
Cas raised his brows. "I'm very secure." he knew two things about his sexuality. I've always been attracted to females, and I've never been attracted to males. So why did Mirceo's vampire charisma seem to get stronger every day?
Maybe Cas should press his lips to Mirceo's–to cure himself of his growing obsession with the prince.
Clasping her hands in front of her chest, the redhead said, "Pleeeeease. Something to remember for the rest of our eternal lives."
Cas turned to Mirceo to crack a joke. "I've done a lot of things to get laid, but–"
The vampire's mouth met his.
Sensation flooded Cas, electricity crackling up and down his spine. Too much, too… He tensed to jerk away, but Mirceo darted his tongue between Cas's parted lips.
Fuuuck. Their tongues touched. Cas's head swam.
Related Posts