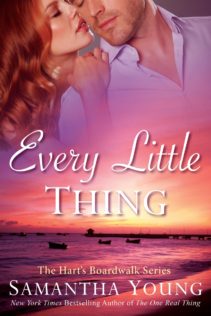 Every Little Thing (Hart's Boardwalk, #2)
by
Samantha Young

Series:
Hart's Boardwalk #2
Published by
Berkley Books
on March 7th 2017
Genres:
Small Town
Pages:
352
Format:
eBook



I received this book for free from in exchange for an honest review. This does not affect my opinion of the book or the content of my review.
This post contains affiliate links you can use to purchase the book. If you buy the book using that link, I will receive a small commission from the sale.
Hartwell, Delaware—the perfect place to get away from it all, and find what you never knew you needed…

Bailey Hartwell has many reasons to feel content—her successful business, a close circle of friends, and her steady boyfriend…even if their romance feels staid after ten years without a serious commitment. The only challenge in her life comes in the form of sexy businessman Vaughn Tremaine. She thinks the ex-New Yorker acts superior and that he considers her a small-town nobody. But when Bailey's blindsided by a betrayal, she's shocked to discover Vaughn is actually a decent guy.

Vaughn admires Bailey's free spirit, independence, and loyalty. As his passion for her has grown, his antagonism toward her has only worsened. Every little thing Bailey does seduces him. But when Vaughn's painful emotional past makes him walk away in fear he will hurt her, it opens an old wound in Bailey, and she uncharacteristically retreats.

Once Vaughn begins to realize he's made the biggest mistake of his life, he has no choice but to fight like he's never fought before to convince Bailey that the love they've found together only comes around once in a lifetime.
---




A great enemies to lover story.  I was looking forward to Vaughn and Bailey's story after The One Real Thing and I wasn't disappointed.
Although it is not necessary to have read Book 1 in order to read Book 2, we did get all the background set up in the first book for all the people who live and work on the boardwalk and the friendships and frenemies therein.  Still, feel free to jump in with Every Little Thing and then decide whether you want to jump back.
Bailey Hartwell might be from the original founding family of Hartwell but she is quite down to earth.  Keeping the Boardwalk a quiet fun retreat for families is what is most important to Bailey.  That is why Bailey was so against Vaughn Tremaine opening his slick hotel and conference on the Boardwalk.  She tried to stop the Board form approving his plans three years ago, and has just given him an all around hard time since he came to Hartwell.
But recently she had to, reluctantly, agree that Vaughn has been an asset to the Boardwalk community.  He agrees with Bailey and the other shop owners about keeping the Boardwalk properties the way it has always been and he has no problem using his money or influence where he can.  And he is behind them in their plans to keep Ian Devlin and he unpleasant plans for "improvements" off the boardwalk.  Bailey has even, again reluctantly, given Vaughn some advice on how to get the town council and mayor to see his good side, even if he only shows that to everyone but Bailey.
Vaughn and Bailey have moved their antagonistic relationship into the murkier water of frenemies…frenemies who seem to really like swiping at each other.
Regardless of whether or not they agree on how to run their respective businesses, sparks always fly when Bailey and Vaughn are together.  The types of sparks Bailey has never had with Tom in the 10 years they have been together.   That makes it all the more confusing when Bailey catches Tom cheating and she isn't that upset about the end of their long relationship.
Vaughn is more upset about the breakup since having Bailey with Tom was the one real roadblock which was keeping Vaughn from making a stupid move on Bailey himself.  And when Ian Devlin makes a move on Bailey's Inn and Vaughn steps in, their friends finally take notice of Vaughn's interest in everything Bailey.  After mistakes in his past, Vaughn's plan is to remain a confirmed bachelor and Bailey is the type of woman who wants a husband and family.  So giving in to his desire to kiss Ms. Hartwell senseless during her next tirade would not be good for anyone.  If only he can keep convincing himself of that.
These two gave off strong sexual vibes since we started.  While it takes a while for Vaughn and Bailey to make the leap from enemies to lovers, once they finally give in they don't disappoint.
My biggest concern after reading The One Real Thing was the similarities in the characters in that book to the relationship dynamics of Joss and Braden in On Dublin Street and I worried that this series would just be rehashing of the prior series in a new location.  Thankfully, I did not get that same feeling with book 2.
---
Favorite Scene:
Bailey sighed. "I'm a little worried about Dahlia. She had a bad day. I won't go into it. And I'm worried about Vanessa and the fact that I haven't seen her since I kicked her out. And I'm worried that you might be a workaholic who doesn't care if we don't see each other a lot and I care if we don't see each other a lot because I work a lot too and you work a lot and I just think that we should talk about it because I am more than willing to make time for you and I need to know if you will make time for me and this is way too soon to mention it."
God, he loved when she rambled at him.
It was unbelievably adorable.
What she had to say, though, still concerned him.
"Okay. Number one on that list: Dahlia. Is there anything I can do?"
"What?"
"Is there anything I can do?"
When she didn't reply, Vaughn shot her a look. She was staring at him, open mouthed. It was his turn to ask, "What?"
"You!" She gestured to him in exasperation. "You're being perfect right now and you have to stop."
Laughter filled his voice, "Why would I stop?"
"Because it makes me want to have sex with you all the time. Like all the time. And my vagina might eventually break!"
Vaughn threw his head back laughing so hard he almost swerved. No woman in his acquaintance had ever used the word "vagina" in a sentence, let alone worry about how too much sex with him would break it. God, he loved this crazy, cute, sexy woman.
She smacked his arm, laughing. "Stop it!"
"You're laughing," he argued.
"But I'm being serious."
"Bailey, your vagina is not going to break from overuse. It might get a little sore…" He grinned, taking a perverse kind of pleasure in the idea of "overusing" her.
"Oh, you'd love that wouldn't you?"
He had a flash of memory of the night before and how hard she'd come while he fucked her with her hands tied to the bedposts. "Yes."
Related Posts