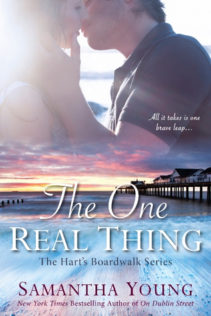 The One Real Thing
by
Samantha Young

Series:
Hart's Boardwalk #1
Published by
Berkley
on September 6th 2016
Genres:
Contemporary
,
Small Town
Pages:
352
Format:
eBook



I received this book for free from in exchange for an honest review. This does not affect my opinion of the book or the content of my review.
This post contains affiliate links you can use to purchase the book. If you buy the book using that link, I will receive a small commission from the sale.
---
[box style="rounded" border="full"]This new series by Samantha Young left me waffling. It has many things to like about it but it also gave me deja vu of her prior series. I will need to read another book or two from her to see where I stand with this series and with this author. [/box]
Dr. Jessica Huntington has spent her life paying penance for a past that she can't recover from. She has lost her sister and has been abandoned by her parents.  She has no desire for a real relationship and mostly feels unworthy of real love and affection. She feels that her past mistakes give her a connection to the women at the penitentiary where she works, even if the inmates aren't aware how much they have in common with their doctor.
Jessica finds letters hidden in a book from almost forty years prior and decides to take her vacation in Hartwell, DE in order to return them to the man they were intended for.
From the moment she arrives in Hartwell, Jessica finds a peace which she hasn't felt in years as well as an almost instant connection to the people who work on the Boardwalk. The strongest connection is with the mesmerizing bar owner, Cooper Lawson.
Cooper is still recovering from a nasty divorce after finding his wife in bed with his best friend, and a year and a half later, he still isn't certain whose betrayal hurts him more.
Cooper doesn't want Jessica to leave Hartwell after her three week vacation comes to an end. He is hoping that her love of Hartwell and her new found affection for his friends, as well as their passionate response to each other, will convince Jessica that it is time for her to make some changes. But no matter how heated things get between the two of them, he can still feel her pulling away from him. He will do anything to make Jessica a part of his life. He just needs to convince her to give them a chance.
THOUGHTS:
In her latest series, Samantha Young takes us to the shore town of Hartwell, Delaware and Hart's Boardwalk. She introduces us to a wonderful new cast of characters and since we are starting out with more female secondary characters, there should be the eventual introduction of more potential romantic leads.
I loved the overall group of characters introduced: the quiet and reserved bookstore owner, the older married couple who owned the restaurant, and especially the passionate animosity between the Inn owner, Bailey, and the hotel owner, Vaughn. I am also dying to know why Cooper's best friend Jack betrayed him, yet it still feels like Jack betrayed Cooper to help him. Like it was a self-sacrifice, and Jack's betrayal saved Cooper from a worse fate, especially since Jack's rich, obnoxious father is the big antagonist of this series.
Unfortunately, this first book was a bit draggy. It took me longer than it should have to read it and I found myself easily distracted from it.
What concerns me the most is the fact that the characters of Jessica and Cooper gave me a very strong Joss and Braden deja-vu feel (On Dublin Street). Yes, their stories were different but also very similar. Joss lost her family while Jessica lost her sister and was then emotionally abandoned by her parents and she has a problem connecting.  Joss would go to the top of the local castle and look out over the landscape and feel at peace, while Jessica likes to stand on her room balcony and look over the ocean.   Both Braden and Cooper acted sexually aggressive when they knew Joss/Jessica were keeping secrets and an emotional distance, like they could fuck the distance away. Both were very controlling and had a big "my way or the highway" vibe going and a "If you won't bear your soul to me, I'll just stand here being angry at you until you give in."
I am looking forward to Bailey and Vaughn's story which is book 2, but I am also a bit hesitant. I was part of the cover reveal for Every Little Thing and the description is giving me a big Olivia/Nate feeling (Before Jamaica Lane).  Samantha Young also has a bit of a formula to her books which was easier to pick out as On Dublin Street continued.  I hope we will not see that entire series rehashed here in simply another location with different accents.
I am not saying that Samantha Young is not a talented writer.   Her stories are enjoyable.   But an issue I have been having with Nora Roberts of late is the fact that the more I read her stories, the more her characters and story lines seem to be repeating and I become very distracted from the story itself when I am picking out Roarke-isms or story similarities to other stories I have just recently read. Her paranormal trilogies are the same basic framework with a tiny shake up of characters and location.   If an author plagiarizes themselves, do we want to keep buying their books? If Hart's Boardwalk becomes an On Dublin Boardwalk knockoff, I will walk away no matter how much I like the other characters in the story.
Related Posts