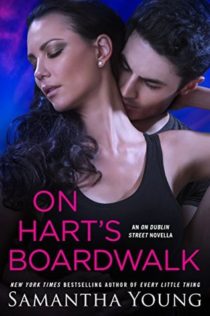 On Hart's Boardwalk (On Dublin Street, #6.7; Hart's Boardwalk, #2.5)
by
Samantha Young

Published by
Intermix
on March 20th 2018
Genres:
Small Town
Pages:
128
Format:
eBook



I received this book for free from in exchange for an honest review. This does not affect my opinion of the book or the content of my review.
This post contains affiliate links you can use to purchase the book. If you buy the book using that link, I will receive a small commission from the sale.

One of

New York Times

bestselling author Samantha Young's most beloved couples returns for the first time in a brand new novella set ten years after her blockbuster bestseller

Before Jamaica Lane

...


Nate and Liv have a great life together but they miss the spontaneity and freedom they enjoyed early on in their romance. Careers and their children have inevitably kept them busy, so when Nate discovers Liv is feeling disconnected from him, he plans an anniversary trip to the idyllic seaside town of Hartwell, Delaware. There he hopes they will have the opportunity they've been craving--a chance to reinvent themselves and fall in love all over again.

With each new day comes a new adventure, from wedding crashing at the five-star boardwalk hotel to pretending they are two strangers having a chance encounter at the boardwalk bar. In the midst of this daring, sexually-charged game of romantic rediscovery, Nate and Liv discover the only constant they need is each other.
---
A delightful crossover blending Samantha Young's two popular series.
I have to confess that Nate and Olivia were my favorite couple from the On Dublin Street series and seeing them having marriage problems absolutely broke my heart.
Things are not right at the Sawyer house and after a particularly bad fight, Nate realizes that he is actually at risk of losing his family. Things have been strained between Nate and Olivia. Does the breach between them have anything to do with Nate losing one of his best friends in a car accident or has it have more to do with Olivia hiting 40?
Nate is hoping that some alone time with is wife can help get them back on track so he takes Olivia to relive a childhood memory of a happy vacation at the shore. Time on the beach, relaxing at the Hart's Inn B&B and enjoying the shops and businesses on the boardwalk is helping to reduce the stress between them and rekindle their sex life. Yet there is still something festering deep in their relationship that needs to be addressed in order for their marriage to truly be saved.
Every marriage goes through ups and downs and having this flaw in their perfect world makes our couple more real, and like any real couple, both fear that in airing their concerns, their worst fears might just be realized. So do you accept the so-so flawed status quo which is only a shadow of your original relatinoship or do you risk airing your grievences and possibly lose everything?
If you have only tried one of Samantha Young's series (Hart's Boardwalk or On Dublin Street), this story gives you an introduction to both sets of characters so you can "have a look around" the other series.
Related Posts