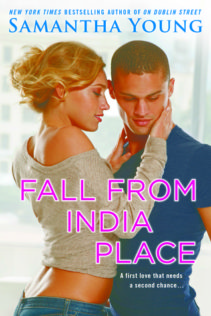 Fall from India Place (On Dublin Street, #4)
by
Samantha Young

Series:
On Dublin Street #4
Published by
NAL
on June 3rd 2014
Genres:
Contemporary
,
Small Town
Pages:
294
Format:
eBook



I received this book for free from in exchange for an honest review. This does not affect my opinion of the book or the content of my review.
This post contains affiliate links you can use to purchase the book. If you buy the book using that link, I will receive a small commission from the sale.
---
When Hannah Nichols last saw Marco D'Alessandro, five long years ago, he broke her heart. The bad boy with a hidden sweet side was the only guy Hannah ever loved—and the only man she's ever been with. After one intense night of giving into temptation, Marco took off, leaving Scotland and Hannah behind. Shattered by the consequences of their night together, Hannah has never truly moved on.

Leaving Hannah was the biggest mistake of Marco's life, something he has deeply regretted for years. So when fate reunites them, he refuses to let her go without a fight. Determined to make her his, Marco pursues Hannah, reminding her of all the reasons they're meant to be together.…

But just when Marco thinks they're committed to a future together, Hannah makes a discovery that unearths the secret pain she's been hiding from him, a secret that could tear them apart before they have a real chance to start over again.
---
It has been seven years since Nate won the heart of Olivia in Before Jamaica Lane and we find Hannah Nichols all grown up and finishing her first year as a probationary teacher. Sunday dinner at her parents house has gotten even more crowded over the years with all her friends and family now bringing their children with them.
When Mum needs Hannah to clean out her old room so they have room for a crib, Hannah stumbles over her old diaries and a picture of the only boy she has ever loved, Marco D'Alessandro, and it sends her on a painful trip down memory lane. They first met when she was 13 and he was 15. The upperclassman protected her from some bullies after she missed her bus and afterwards he took it upon himself to walk her home each time she missed the bus. As they walked and talked, their friendship grew and Hannah's schoolgirl crush deepened into a young woman's first love. But it was the night that Hannah gave her virginity to Marco that tore her world apart. Marco walked away from her that night and returned to America taking her heart and all her girlhood dreams with him.
Hannah spends most of her free time with her new best friend, Cole Walker. After Marco left town, Hannah and Cole grew closer. Hannah only wishes that there were the kind of sparks between her and Cole as she felt with Marco. In fact, Hannah hasn't found anyone who makes her feel even half of what she felt for Marco.
Morning over the loss of an old love is depressing enough, but to run into him once again after reliving the hurt knocks the wind out of Hannah. She never expected to ever see Marco again in Scotland, but when she finds out he returned more than four years ago, it shatters what is left of her heart. She felt abandoned before but now she can add betrayed to that list as well.
Marco has grown up during his time away from Hannah. The young man who felt unworthy of the beautiful, smart and too young Hannah is gone and the man before her hasn't forgotten his own feelings and how much Hannah meant to him. He never planned to walk back into her life, but now that he has seen her again, Marco can't stop his desire for a second chance to win the heart of the only woman he has ever loved. Both the boy he was and the man he is now, know there is no other love for him like Hannah and this time he won't walk away from her.
But Hannah and Marco are both hiding secrets from their past that could destroy any future they can have together.
THOUGHTS:
I always have a hard time with a series when we have a young characters now grown like Hannah and Marco. It takes me a while to get with the program since part of my brain is still looking at the little kid they were. Seeing them as grown ups who have sex takes me a while. (Yes, my kids are in trouble.)  Just like in Until Fountain Bridge, Hannah uses her diary entries to fill us in on our past with Marco from before and after we left her in Nate and Liv's story.
For the most part, I liked young Hannah and Marco better.   Being friends with Marco made Hannah more confident but she was always outspoken with the quiet and reserved Marco.   To Marco, Hannah's friendship  and dedication gave him a comfort he couldn't get from his own family.
Grown up Hannah was holding on too much to her feelings of anger and betrayal.  Marco had definitely matured and apologized and no matter that her family and friends all told her how good they were together and how she should give Marco a second chance, she kept jerking him around.  Marco would jump through hoops and Hannah wouldn't stop her bitchy behavior.
Young Hannah was a very likeable character throughout the series and you can understand that her heartbreak could change her, but she needed to either decide to give the guy a chance or walk away.  I didn't like that they kept having sex and she would toss him out, over and over again.   Take him back or lock your door.   Marco was a responsible and caring kid, who had self-esteem issues and he grew to became a responsible and caring man who finally thought that maybe he was worthy of Hannah.   Hannah continuing to jerk Marco around just knocked Hannah's character down several pegs to the point that I almost had no more pity for her pain.
Cole Walker has grown up into an impressive man, and I am looking forward to his book which is next.
Received an ARC from the publisher in exchange for an honest review.
---
Favorite Scene:
My gaze snapped back to Marco.
A double date.
I was going to be sick. Or I was going to kill him. We were only a few feet from the table when we drew Marco's gaze. His expression softening at the sight of me until his eyes dropped to my hand in Cole's and that expression instantly hardened.
Seriously?
He was on a double date and I was with a friend and he was pissed?
"Marco." Cole greeted him pleasantly. "Just wanted to come over and apologize for…well, you know…" My best friend looked at the pretty blonde at Marco's side. "I hope I'm not interrupting your date."
Marco's eyes clashed with mine and I knew he was definitely irritated with Cole. "It's not—"
"We shouldn't have interrupted." I was studiously avoiding Leah's burning gaze as I tugged on Cole's hand. "We'll let you enjoy your dinner. Cole."
Cole gave Marco a tight grin before sliding his hand around my waist and leading us to the waiting hostess. As soon as she delivered us to our table, Cole sighed and said, "You're shaking like a leaf."
"I'm trying not to kill somebody," I said through clenched teeth. "Let's just go home."
"Fuck that." Cole let the anger shine from his eyes. "He can't do this to you."
"He's not. I am. I'm doing this to me," I muttered angrily. "I'm sending him mixed signals, he's sending me mixed signals. It's a whole bunch of fucked-up mixed signals. And I really just want to go home before I end up doing hard time."
Cole leaned into me, pressing his forehead against mine so I had nowhere to look but in his eyes or at my feet. I chose his eyes. "I'm sorry for taking you over there. But he knows that no matter how mixed up you are, underneath it all you love him. And he's here on a bloody date? I wanted to shake him up, not you."
"I'm fine."
"You're not fine. You're trembling."
"I'm trembling with anger. Cole—"
He cut me off by cupping my face in his hands and pressing a soft, sweet kiss to my lips. When he finally pulled back, I stared at him wide-eyed and more than slightly alarmed. "What the hell are you doing?"
"Reminding him he hasn't won you yet and unless he fights harder he'll lose you to someone else. He doesn't need to know that someone will never be me, sweetheart." He grinned unrepentantly.
I loved my best friend. Totally. I leaned up and pressed another soft kiss to his cheek. "You're the best, but part of the reason I'm so messed up is because I don't want him to fight harder. I want us to be over. I just don't know how to let go."
Cole leaned into me again, lips almost touching mine as he said quietly, "You need to stop lying to yourself, Hannah Nichols. You love him. You know you do. Otherwise you wouldn't be in such a state."
Before I could respond in the negative, a shadow fell over us and we pulled slightly apart to look at our right and into Marco's furious face. Anger danced in his exceptional eyes and it was all directed at Cole. "You've got two seconds to move away from her before I fuck you up a million times worse than I did at the site."
Related Posts