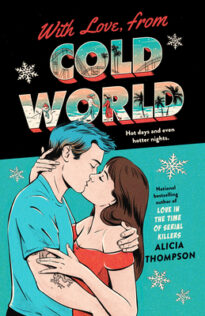 With Love, from Cold World
by
Alicia Thompson

Published by
Berkley
on August 1, 2023
Genres:
Contemporary
Pages:
394
Format:
eBook
Source:
Netgalley

I received this book for free from Netgalley in exchange for an honest review. This does not affect my opinion of the book or the content of my review.
This post contains affiliate links you can use to purchase the book. If you buy the book using that link, I will receive a small commission from the sale.
She has a to-do list a mile long and falling for her coworker isn't on it--yet somehow he's become her top priority in this romantic comedy from the national bestselling author of Love in the Time of Serial Killers.
Lauren Fox is the bookkeeper for Cold World, a tourist destination that's always a winter wonderland despite being located in humid Orlando, Florida. Sure, it's ranked way below any of the trademarked amusement parks and maybe foot traffic could be better. But it's a fun place to work, even if "fun" isn't exactly Lauren's middle name.
Her coworker Asa Williamson, on the other hand, is all about finding ways to enliven his days at Cold World--whether that means organizing the Secret Santa or teasing Lauren. When the owner asks Lauren and Asa to propose something (anything, really) to raise more revenue, their rivalry heats up as they compete to come up with the best idea. But the situation is more dire than they thought, and it might take these polar opposites working together to save the day. If Asa thought Lauren didn't know how to enjoy herself, he's surprised by how much he enjoys spending time together. And if Lauren thought Asa wasn't serious about anything, she's surprised by how seriously he seems to take her.
As Lauren and Asa work to save their beloved wintery spot, they realize the real attraction might be the heat generating between them.
---
Interesting concept, lovely characters.
Asa loves his job at Cold World. He is the "fun" guy to who keeps his co-workers laughing and makes sure no one cheats in secret santa. The one person who Asa just can't seem to come to terms with is Lauren Fox in accounting. She is such a robot but whenever he teases her about that or about anything, she gets so riled up–which is kind of fun too.
Lauren grew up in foster care and never had a chance to connect with people. She enjoys her job at Cold World but she hasn't really connected with the rest of the staff, that isn't helped by the fact that Asa keeps calling her a robot and making her feel uncomfortable.
Asa and Lauren are calling into their bosses office and given a special project, they are supposed to come up with something new and exciting to entice more guests into Cold World. Lauren is certain that the "winner" of the contest will receive a big promotion and refuses to work with Asa. That is until they accidentally get locked into the building after hours and they are forced to work through their mutual aggression until they realized they actually like each other. Their proposal starts to come together until they begin to wonder if this special project is about earning a promotion or keeping Cold World from going under.
THOUGHTS:
For me it was a little slow in the beginning as we begin to understanding Asa and Lauren and why they are so antagonistic towards each other. Once we understand why Lauren is so standoffish and why good-natured Asa seems so aggressive in his teasing toward Lauren, and once the characters open up to each other and we get past their hostility, the story absolutely picks up.
My only negative is that when Asa and Lauren are stuck together and forced to deal with their animosity, we go from "why do you hate me" to awkward sexual situation really quick and I certainly wasn't ready to switch gears so quickly.
As far as world building, Cold World is an interest place to find in the middle of Florida and while it is no Disney World, it certainly has interesting potential. Someone should look into that.
This was certainly an enjoyable story once things picked up.
---
Favorite Scene:
"I'm sorry," Lauren said now, her soft voice pulling him back up from the memories. "That must've been really hard, to hear that from your own father. You deserved to be treated with love and support, not kicked out."
"It's funny," he said, "because I say the same thing all the time to these teens I counsel through a crisis text line once a week. They're twelve, thirteen, sixteen years old, and wondering how to come out or how to ask their parents about transitioning or what to do about bullying at school. And I try to listen to their problems, validate their experiences, remind them that they're worthy. But sometimes I wish I could get on a direct line with their parents or their peers or whoever, and just say, do you have any idea how much this kid cares? How much they internalize your words, how much they want to please you, how much thought they've given to trying to figure out who they are and how they fit into the world? Can't you just for one fucking second listen to them, and tell them that they're worthy, so that they hear it from you?"
His eyes were burning, and he scrubbed his hand over his face, trying to unclench his jaw. "Obviously, there are also lots of people out there who have beautiful stories of support and acceptance. We don't tend to see as many of them through the crisis line, so my data set is a little skewed here. Elliot's parents have a cake delivered to the house every year on the anniversary of when Elliot came out to them. And it's Publix buttercream, so you know that shit's real love."
Lauren smiled. "You're really fortunate to have found Elliot, and Kiki, and John. They seem like great friends."
"The best," Asa said. "Whose turn is it? I've lost track."
"Yours," she said. "But we can stop, if you want. It's late."
He'd already tapped the button for a new randomly generated number, and he held up his phone to show her the six on the screen. "And miss a chance to get a compliment? No way. Tell me something good about myself."
She compressed her bottom lip with her teeth, as if thinking. He didn't know if she even realized how close she was sitting to him by now. If he turned at all they'd be practically nose to nose.
"Don't be so quick with it," he said dryly. "I'll get a big head."
"You smell really good," she blurted, then covered her face with her hands, like she needed to physically retreat from the words. But he wasn't about to let her off that easily. He lifted his arm, giving it a sniff.
"Do I?"
"It's your soap or something," she said. "It's not even really a compliment to you. More like a compliment to the products you use. Tell me what kind of soap it is and I'll leave the company a really nice online review."
"I know that trick. You want the name so you can buy it for yourself and smell me all the time."
"I'm not going to buy it–"
"You want to carve a little soap doll of me. It's sick. I refuse to feed this obsession."
"More like a voodoo doll, and I know right where I'd stick the first pin."
Her eyes widened, her mouth in an O, like she only just heard what she'd said and was shocked by her own words. He mirrored the expression right back at her, although he was laughing.
"Damn," he said. "Okay. I'll behave my good-smelling self."
She rolled her eyes, although a smile tugged at her own mouth. "I knew I should've just told you I admired your ice skating skills."
Related Posts