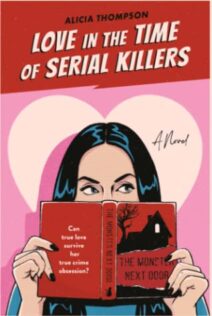 Love in the Time of Serial Killers
by
Alicia Thompson

Published by
Jove Books
on August 1, 2022
Pages:
336
Source:
Netgalley



I received this book for free from Netgalley in exchange for an honest review. This does not affect my opinion of the book or the content of my review.
This post contains affiliate links you can use to purchase the book. If you buy the book using that link, I will receive a small commission from the sale.
Turns out that reading nothing but true crime isn't exactly conducive to modern dating—and one woman is going to have to learn how to give love a chance when she's used to suspecting the worst.
PhD candidate Phoebe Walsh has always been obsessed with true crime. She's even analyzing the genre in her dissertation—if she can manage to finish writing it. It's hard to find the time while she spends the summer in Florida, cleaning out her childhood home, dealing with her obnoxiously good-natured younger brother, and grappling with the complicated feelings of mourning a father she hadn't had a relationship with for years.
It doesn't help that she's low-key convinced that her new neighbor, Sam Dennings, is a serial killer (he may dress business casual by day, but at night he's clearly up to something). It's not long before Phoebe realizes that Sam might be something much scarier—a genuinely nice guy who can pierce her armor to reach her vulnerable heart.
---
A unique premise for a romance but it worked.
Phoebe Walsh didn't have a great relationship with her father so returning to his house after he passed to clean it out wasn't on the top of her to-do list, but as she was on her summer break and needed somewhere quiet to finish writing her thesis, now was as good a time as any to meet up with her brother, Connor.  Connor was raised by her father while Phoebe was raised by her mother and stepfather so there is a distance between the two siblings. Connor wants to get to know Phoebe better but Phoebe has a hard time making connections with people, even with someone who is family.
When Phoebe pulls up to the house, it is the middle of the night and she is frightened when a voice behind her offers to help her carry in her very heavy, antique writing desk.  Phoebe is obsessed with serial killer so of course, her brain is screaming "Stranger Danger!"  and she shoos him away.
While Phoebe clears out her father's house, she spends as much time watching the comings and goings of her new neighbor as much as writing her thesis, making notes of his possible serial killer tendencies.   Of course her thesis is on the biographies of serial killers.   She has read most of the books written on the various killers and she is certain that how we view these killers is influenced by who is writing the biography. But spending a lot of your time focused on serial killers does skew your world view especially about meeting new people.
Phoebe doubts that the good looking neighbor is really a serial killer (probably), but what about his odd comings and goings? What is he doing late at night in his garage?   What is that dark substance dripping from his hands?  Why does he keep popping up behind her? And is he cute enough for look past all those concerns and try to get to know him better? A summer fling sounds just about right…as long as she doesn't end up tied up in his basement.
I thought this was a clever use of our growing obsession with serial killers.  Really, how many TV specials, podcasts and TikToks feature serial killers?   We are obsessed and with the amount of serial killers presumed to be lurking in the U.S. alone, it is not surprising that we are always looking over our shoulders.   And for anyone who has watched the coming and goings of their neighbors (No, not me. Never.), it is easy to see how something so innocent as an unpredictable schedule or late-night banging around in the garage could be given a darker significance.
Phoebe's dark obsession is especially funny when we find out that Sam is a sweet, kind and harmless elementary school music teacher with a large, close family and no desire to keep women tied up in his basement.
On the downside, Phoebe's inability to connect with people made  her  a hard character to empathize with.  Her brother Connor and his fiancé were so nice and Connor wanted so much to connect with his older sister but it took a long time for Phoebe to realize that she didn't need to close herself off from everyone.  Same goes with Sam as he seems to have an instant connection to Phoebe and wants to jump into a relationship (maybe a little too fast) but Phoebe was so reluctant to call it anything but a summer fling, even after she decided he wasn't a serial killer.
This was a novel approach to a romance and shows me I don't know really enough about serial killers.  Where are those podcasts?
---
Favorite Scene:
"I can't believe I said that," I said. "I totally thought you were a serial killer when I moved in, you know."
Sam had been taking his first bite, but choked on it at my pronouncement. He kept coughing until he had to set the plate down, filling a glass with water from the fridge door dispenser. He sipped it for a long time, his Adam's apple bobbing.
"What," he said finally. Either his throat was still too raw to get the rest of his question out, or that was the question, because he just looked at me.
"Not really," I said. "Or not much more than the general way I believe everyone is capable of the darkest shit. But that first night, you came out of nowhere!"
"I came from right here," he said. "My house. Where I live."
"Well, I didn't know that," I said. "And you were always doing mysterious stuff. Banging around in your soundproofed garage–you have to admit that sounds creepy–and coming and going at the most random times…"
I should really stop. I hadn't intended to ever tell Sam any of this, and certainly not in this stream-of-consciousness way that made me sound completely unhinged.
"So on a scale of one to ten," he said, "one being your grandmother and ten being H.H. Holmes, how much did you actually think I was a serial killer?"
I pointed my fork at him. "That is a bad example. My grandmother had it in her to be a black widow, for real. But that first night, I would say I was at a…six?"
"Holy shit." It was almost cute, how shocked he looked by my answer.
"The scale is broken," I said. "Being a serial killer is a binary situation. Either you are or you aren't."
"When you came to my party."
I didn't pretend to misunderstand what he was asking. "Down to maybe a four."
"When you asked for my help with your car?"
"Three point six."
He raised his eyebrows. "Living on the edge, accepting a ride from someone you thought was a three point six. Now?"
I looked at him. Really looked at him. Swept my gaze from the top of his messy hair–true bedhead this time, I suspected–to his blue eyes, sparked with amusement and something else. His T-shirt looked thin and soft and clung to his arms and chest in a way I didn't hate, and he was wearing actual jeans instead of that neutral-professional garb I'd seen him in so much lately. He was leaning back against the sink, holding his plate of pie, which was already half gone.
There was something intoxicating about being able to survey him so openly. What was it about his kitchen that seemed to bring out this heat?
"Two," I said finally, sliding another bite of pie in my mouth.
"What would get me to a one?" he asked. "This house doesn't have a crawlspace, you know."
"But you do have a garage," I pointed out.
"You think I'm hiding something in my garage?"
I shrugged. There was no way I was telling him about the one night I'd observed him, the suspicious liquid on his hands, the dropcloth, the paranoid call I'd immediately made to Connor.