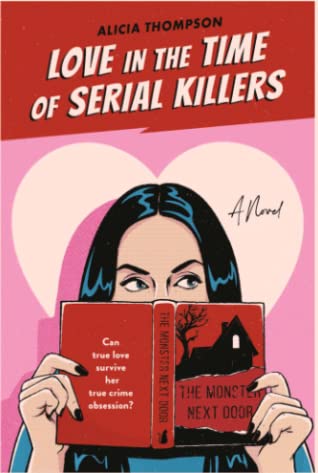 LOVE IN THE TIME OF SERIAL KILLERS by Alicia Thompson
Berkley; August 16, 2022
PhD student Phoebe Walsh can't get enough true crime. So much so, she's writing her dissertation on the genre…if she could ever manage to finish it. Unfortunately, these days here writing is on hold as she spends her summer in Florida cleaning out her childhood home, dealing with her obnoxiously good-natured younger brother, and mourning the unexpected loss of her estranged father. Needless to say, this is definitely not the time to think about falling in love.
Enter Sam Dennings, a new neighbor she's convinced is a serial killer. Something about his business casual dress and neighborly behavior makes her hairs stand on end. But it's not long before she realizes that he might be something much scarier—a genuinely nice guy who can pierce through her armor to her vulnerable heart underneath.
LOVE IN THE TIME OF SERIAL KILLERS is a truly modern novel, starring a full-figured heroine who relates well to many readers today trying to navigate the bewildering world of dating. Phoebe's skepticism of Sam—and what love can offer her—is endearing, and her journey to trusting in love is heartwarming. Set in beautiful, warm Florida and written by an author whose voice is bright and humorous, Alicia Thompson's new novel promises readers a perfect beach read that will convince them that love isn't so scary after all.
https://www.penguinrandomhouse.com/books/695831/love-in-the-time-of-serial-killers-by-alicia-thompson/
AMAZON: https://www.amazon.com/Love-Serial-Killers-Alicia-Thompson-ebook/dp/B09M2YWQYX/
B&N:  https://www.barnesandnoble.com/w/love-in-the-time-of-serial-killers-alicia-thompson/1140532499?ean=9780593438657
---