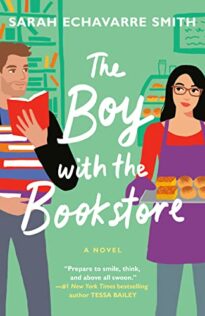 The Boy With the Bookstore
by
Sarah Echavarre Smith
,
Sarah Smith

Published by
Berkley
on September 6, 2022
Genres:
Contemporary
Pages:
352
Format:
eBook
Source:
Netgalley



I received this book for free from Netgalley in exchange for an honest review. This does not affect my opinion of the book or the content of my review.
This post contains affiliate links you can use to purchase the book. If you buy the book using that link, I will receive a small commission from the sale.
When a baker meets the bookshop owner of her dreams, and he turns into her nemesis, they'll both have to read between the lines to avoid a career-ending recipe for disaster.
Max Boyson looks good...from a distance. But up close and personal, the tattooed hottie Joelle Prima has been crushing on for the past year and half has turned into the prime example of why you shouldn't judge a book by his delectable cover.
When she first learned about the massive renovation to the building they share, Joelle imagined that temporarily combining her Filipino bakery with Max's neighboring bookstore would be the perfect opening chapter to their happily ever after. In her fantasies they fed each other bibingka and pandesal while discussing Jane Austen and cooing over her pet hamster, Pumpkin. Reality, however...is quite different. Her gallant prince turned out to be a stubborn toad who snaps at her in front of customers, dries his sweaty gym clothes in her oven, and routinely helps himself to the yummy pastries in her display case without asking.
But beneath Max's grumpy glares, Joelle senses a rising heat—and a softening heart. And when they discover the real reason for the renovation, they'll have to put both their business senses and their feelings for each other to the test.
---
A hot guy with a bookstore? Yes please. But there were too many issues with this story and these characters for me to get behind their HEA.
Joelle Prima  and Max Boyson have neighboring stores. Max often starts his day at Joelle's coffee shop and Joelle and her family frequent Max's bookstore.  In the last year and a half, there has been a bit of subtle flirting going on and one kiss leads to quite the heavy petting session. Joelle is hoping that this is the beginning of the relationship of her dreams but it all comes crashing down when her landlord announces renovations to their building.
The landlord moves Joelle and Max's businesses into a smaller garage area around back of the building. Both businesses need to scale back in order to fit together in this smaller area and while neither are happy with the situation, Max seems to be taking out his frustrations on Joelle.
I had a lot of issues with this story right away. Where to start…okay, let's start with the fact that Joelle put her post-graduation plans of culinary school on hold. This is because a money manager stole all her parent's, Aunt's and Grandmother's savings so Joelle gave the money set aside for culinary school so that her family had a nest egg. Everyone in the family has been working overtime for the last few years to rebuild their family funds. First, good for them working together towards their collective future. Getting their money stolen sucks. But here's my issues, Joelle's family doesn't need her to work to support them.  Her parents are abled-bodied (and probably my age) and still have time to work for their own retirement.  So why doesn't Joelle get a student loan and go to Culinary School?   I am certain that culinary school is cheaper than a Yale degree.  Many people have to finance their own way through post-high school education.  Getting a student loan is actually quite common so why does it seem outside the realm in this story?   I have read many stories where a character needed to give up their dreams in order to support their family due to a death or some other health issue.   Joelle didn't need to walk away from her dreams.  Her parents, aunt and even grandma were still working.  Maybe she couldn't afford to go to Paris after finishing, but was it really Joelle's responsibility to help rebuild her parent's retirement fund while they were still working and abled bodied? Shouldn't she be working towards her own retirement once she begins working full-time?  Her family constantly thanking her for her sacrifices seems over the top especially since Joelle already owned her own business–a coffee shop–was was making food.  Wouldn't that have been her plan after culinary school anyway?
I was feeling a little prudish over Max and Joelle's first kiss. Joelle was trying to work up the nerve to ask Max to go for drinks. Suddenly she kisses him, and their make out session ends with Joelle in his lap and a lot of grinding.  An ill-timed phone call stops this from going further.  Would have had sex in Max's tiny office with customer's outside?   It seemed awfully fast when Joelle was just wondering if she was misreading his flirting as Joelle didn't look like the women he usually dated. She was questioning his attraction but never thought to pull back and put on some brakes when he starts rubbing her intimate areas.  Maybe he's the kind of guy who takes up any woman's offer from free sex.   She hasn't seen Max with any one woman for more than a few dates.   She doesn't seem to know Max very well.  He is just flirty, hot guy with a bookstore who talks about his pets.  Is he husband material or a psychopath?
Most importantly here, I have big issues with Max's attituded. I understand that Max didn't have a great childhood. His parents suck and Max has a hard time with relationships. Max tells us he doesn't really have any friends. His parents are trying to get in touch with him at the same time that this move takes place. So Max is overwhelmed first by the unwanted contact from his parents and then being forced into a smaller area. Max seems to be taking out his frustrations on Joelle.  We kind of accept this since we did have a chapter from Max's point of view where we see that Max is very attracted to Joelle and can't understand why he was being such a jerk to her.   But does this really excuse his behavior?
Some of their issues with misunderstandings but some were definitely generated by Max. Looking at this potential relationship from the outside, all I am feeling is do you want to get in a relationship with someone who is going to take out all their outside frustrations on you?
I am almost surprised over the fact that Max, who had a horrible family, didn't latch onto Joelle when he was welcomed so warmly by her family. Ever since Max opened his store next to Joelle's, her family has been kind to him and supportive. If he wasn't the hero of this story, I could see him jumping into a relationship with Joelle, whether or not she was his type, just to be included into this giving family unit.
Hell, even the idea of a landlord making thousands of dollars of improvement into a building with two thriving businesses who aren't complaining of the conditions seems bizarre, and neither one questions this.  The landlord doesn't even consult with them on these renovations.  Shouldn't Joelle have a say in what her new space will look like?   And while Max is bitchy about having to squeeze his business into the shared space, the landlord could have simply shut him down for the duration of the renovations.  Again, it's all negative with Max.  Also, what goes better together than books and coffee?  Well, books and anything, but two stores that are perfect for joining are books and coffee.  That why B&N added coffee and snacks to some of their stores.   This shared space should have been beneficial to both businesses.
Unfortunately, this story hit too many negative boxes for me to get beyond our introduction of sweet Joelle and sexy, hot Max to overlook their collective issues.
Related Posts