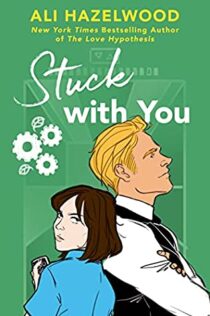 Stuck with You (The STEMinist Novellas, #2)
by
Ali Hazelwood

Series:
The STEMinist Novellas #2
Published by
Berkley
on June 7, 2022
Genres:
Contemporary
Format:
eBook
Source:
Netgalley



I received this book for free from Netgalley in exchange for an honest review. This does not affect my opinion of the book or the content of my review.
This post contains affiliate links you can use to purchase the book. If you buy the book using that link, I will receive a small commission from the sale.
Nothing like a little rivalry between scientists to take love to the next level.
Mara, Sadie, and Hannah are friends first, scientists always. Though their fields of study might take them to different corners of the world, they can all agree on this universal truth: when it comes to love and science, opposites attract and rivals make you burn…
Logically, Sadie knows that civil engineers are supposed to build bridges. However, as a woman of STEM she also understands that variables can change, and when you are stuck for hours in a tiny New York elevator with the man who broke your heart, you earn the right to burn that brawny, blond bridge to the ground. Erik can apologize all he wants, but to quote her rebel leader—she'd just as soon kiss a Wookiee.
Not even the most sophisticated of Sadie's superstitious rituals could have predicted such a disastrous reunion. But while she refuses to acknowledge the siren call of Erik's steely forearms or the way his voice softens when he offers her his sweater, Sadie can't help but wonder if there might be more layers to her cold-hearted nemesis than meet the eye. Maybe, possibly, even burned bridges can still be crossed….
To read Mara and Hannah's stories look for the novellas Under One Roof, available now, and Below Zero, coming soon from Berkley!
---
An adorable short story. Nothing like a good nerds in love story.
Sadie might be an engineer with a PhD but she knows she is also just a wee bit superstitious, hence wearing her lucky underwear and needing to grab a really bad croissant from Faye's bakery. It brought in a huge client before and today Sadie has another big client to pitch, but when she is told there aren't any more, Sadie begins to panic. That is until a gorgeous Nordic God, she will secretly refer to as Corporate Thor, hands her his and their meeting changes Sadie's life.
Sadie Grantham and Erik Nowak spend a magical day together so why, just three weeks later, is the idea of being trapped in an elevator together so painful to both of them? The story is told to us by Sadie as we jump back and forth in our timeline from their first meet to present day elevator time.
Sparks fly when Sadie and Erik meet. They are both huge soccer fans but also engineers at rival companies. Was the magic all lies?  Was there some misunderstanding? We need to know what happened that got us from their romantic meeting to the night in the elevator.
This was a really quick read so there isn't much to discuss without giving the plot away, but I really enjoyed these characters and I really had to know what happened to sour all that magic between them.
I love a good nerd in love story and Ali Hazelwood has her own magic spinning science and romance into a fun, lighthearted story. This appears to be part of three short stories about three friends who just obtained their PhD's and are just entering the corporate scene. Oddly, there was only book 2 available in Netgalley so I now have to make a trip over to Amazon to grab books 1 and 3.
I have my eye on this new author and I also have a copy of her next release Love on the Brain which I can't wait to get to.
---
Favorite Scene:
"Hey." I grin up. And up and up and up. He's taller than I calculated. And I'm more winded than I'd like. I need to work out more. "Thank you so much! You really didn't have to…"
I fall silent. For no real reason other than because of how striking he looks. He is just so…
Scandinavian, maybe. Viking-like. Norse. Like his ancestors frolicked below the aurora borealis on their way to funding Ikea. He is a big as a yeti, with clear blue eyes and short, pale-blond hair, and I would bet my gift croissant that his name contains one or those cool Nordic letters. The a and the e smushed together; that weird o slashed through the middle; the big b that's actually two s's stacked on top of each other. Something that requires a lot of HTML knowledge to be typed.
It takes me by surprise, that's all, and for a moment I'm not sure what to say and just stare up. The strong jaw. The deep-set eyes. The way the angular parts of his face come together into something very, very handsome.
Then I realize that he's staring back and instantly become self-conscious. I know exactly what he's seeing: the blue button down-down I tucked into my chinos; the bangs I really need to trim; the brown, shoulder-length hair I also need to trim; and then of course, the croissant.
The croissant! "Thank you so much!" I smile. "I didn't mean to steal your food."
No reply.
"I could pay you back."
Still no reply. Just that North Germanic, severe stare.
"Or I could buy you a muffin. Or a bagel. I really didn't mean to interfere with your breakfast."
Number of replies: zero. Intensity of stare: many millions. Does he even understand what I'm–Oh.
Ooooh.
"Thank. You," I say, very, very slowly, like when my mom's side of the family, the one that never immigrated to the U.S., attempts to speak Italian with me. "For"–I lift the croissant in front of my face–"this. Thank"–I point at the Viking–"you. You are very"–I tilt my head an scrunch my nose happily–"nice." He stares even longer, pensive. I don't think he got it. "You don't understand, do you?" I murmur to myself dejectedly. "Well, thank you again. You really did me a solid there." I lift the croissant one last time, like I'm toasting him. Then I turn around and begin to walk away.
"You're welcome. Although you'll find that the croissant leaves much to be desired."
I whirl back to him. Blondie the Viking is looking at me with an indecipherable expression. "D-did you just speak?"
"I did."
"In English?"
"I believe so, yes."
I feel my soul crawl outside my body to astral project itself into the burning flames of hell out of pure, sheer embarrassment. "You…you weren't saying anything. Before."
He shrugs. His yes are calm and serious. The span of his shoulders could easily moonlight as a plateau in Eurasia. "You didn't ask a question." His grammar is better than mine and I am withering inside.
"I thought…It seemed…I…" I close my eyes, remembering the way I mimicked the word nice to him. I think I want to die. I want this to be over. Yes, my time has come. "I am very grateful."
"You probably won't be, once you try the croissant."
"No, I…" I wince. "I know it's not good."
"You do?" He crosses his arms on this chest and gives me a curious look. He's wearing a suit, like 99 percent of the men who work on this block. Except that he looks unlike any other man I've ever seen. He looks like a corporate version of Thor. Like Platinum Ragnarok. I wish he'd smile at me, instead of just observing me. I'd feel less intimidated. "Could have fooled me."
"I–The thing is, I don't really want to eat it. I just need it for a…for a thing."
His eyebrows lift. "A thing?"
"It's a long story." I scratch my nose. "Kind of embarrassing, actually."
"I see." He presses his lips together and nods thoughtfully. "More or less embarrassing than you assuming I don't speak English?"
The swift and violent death I was talking about earlier? I need it now. "I am so, so sorry about that. I really didn't–"
"Watch out."
Related Posts