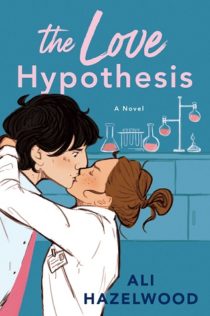 The Love Hypothesis
by
Ali Hazelwood

Published by
Berkley Books
on September 14, 2021
Genres:
Contemporary
Pages:
384
Format:
eBook



I received this book for free from in exchange for an honest review. This does not affect my opinion of the book or the content of my review.
This post contains affiliate links you can use to purchase the book. If you buy the book using that link, I will receive a small commission from the sale.

When a fake relationship between scientists meets the irresistible force of attraction, it throws one woman's carefully calculated theories on love into chaos.

As a third-year Ph.D. candidate, Olive Smith doesn't believe in lasting romantic relationships--but her best friend does, and that's what got her into this situation. Convincing Anh that Olive is dating and well on her way to a happily ever after was always going to take more than hand-wavy Jedi mind tricks: Scientists require proof. So, like any self-respecting biologist, Olive panics and kisses the first man she sees.
That man is none other than Adam Carlsen, a young hotshot professor--and well-known ass. Which is why Olive is positively floored when Stanford's reigning lab tyrant agrees to keep her charade a secret and be her fake boyfriend. But when a big science conference goes haywire, putting Olive's career on the Bunsen burner, Adam surprises her again with his unyielding support and even more unyielding...six-pack abs.
Suddenly their little experiment feels dangerously close to combustion. And Olive discovers that the only thing more complicated than a hypothesis on love is putting her own heart under the microscope.
---
Loved it! Loved it! LOVED IT!   The Love Hypothesis is funny, sweet and delightful.
Olive Smith is a grad student at Stanford. Until Olive made friends with Ahn and Malcom, she was orphaned and alone in the world. So Olive would do anything for her friend's happiness. Olive can tell that her friend Ahn really likes Olive's date but she knows that Ahn would never steal Olive's boyfriend.   So all Olive needs to do is convince Ahn that she isn't truly interested in Jeremy, which she isn't.   She tells Ahn she has a date and goes off to her lab to get some work done but when she sees Ahn walking toward the obviously dateless Olive, Olive turns and kisses the first man she finds.  She realizes too late that it happens to be Dr Adam Carlsen, the most hated professor at Stanford. Now Olive has to convince her friends that there is more to Adam then a grouchy professor who is out to ruin student lives. Unfortunately for Olive she also realizes that there's a lot more to Adam then she ever realized, and she's falling very fast and very hard for her fake-date.
One of my favorite tropes is the fake date. I love that it gives the characters time to get to know each other and truly fall for each other. In the story Olive is amazing but she doubts her own self-worth because she's been alone for so long.  Normally a character that's always apologizing for forcing people to spend time with them would be a turn off but Olive is just so sweet and she simply doesn't see her own worth.   When she first approaches Adam to fake-date, she doesn't want to impose on him and she feels she needs to convince him to spend 10 minutes with her a week in a public place getting coffee or such.
Of course we learn that Adam has had his eye on Olive since before she started the program but he too doubts his own self worth, at least in a non-scientific fashion since he is a bit of a scientific rockstar, and he's afraid to ask her out.  When she approaches him to continue with this fake date scheme for awhile at least until her friends starts dating, he jumps at the chance wanting to spend more time with Olive and probably hoping they can eventually have a real date.
I found the whole story delightful.   I just loved Olive and Adam.   Olive wasn't afraid of Adam, in fact she teases him about his grumpiness.  Actually, she teases him about everything and he doesn't mind.  In fact,  Adam will do anything to spend more time with Olive. I like the story so much that as soon as I finished the last page, I turn back to page 1 and started again.   The story does not come out until September but you really need to mark your good reads list or pre-order list and get yourself a copy
---
Favorite Scene:
So many great scenes it was hard to choose…
Number thirty-seven – salt and vinegar potato chips – was sold out. It was frankly inexplicable; Olive had to come in at 8 PM and there had  been at least one bag left in the break room's vending machine. She distinctly remember patting the back pocket of her jeans for quarters and the feeling of triumph at finding exactly four. She recalled looking forward to that moment, possibly two hours later, by which time she estimated that she'd have completed exactly a third of her work and would thus be able to reward herself with the indisputable best among the snacks that the fourth floor had to offer. Except that the moment had come, and there was no chips left.  Which was a problem, because Olive had already inserted her precious quarters inside the coin slot, and she was very hungry.
She selected number twenty-four (Twix) – which was OK, though not her favorite by a long shot – and listen to its dull, disappointing thud as it fell to the bottom shelf. Then she bent to pick it up, staring wistfully at the way the gold wrapper shined in her palm.
"I wish you were salt and vinegar chips," she whispered at it, a trace of resentment in her voice.
"Here."
"Aaah!" She startled and instantly turned around, hands in front of her body and ready to defend – possibly even attack. But the only person in the break room was Adam, sitting on one of the small couches in the middle, looking at her with a bland, slightly amused expression.
She relaxed in her pose and clutched her hands to her chest, willing her racing heartbeat to slow down. "When did you get here?!"
"Five minutes ago?" He recorded her calmly. "I was here when you came in."
"Why didn't you say anything? "
He tilted his head. "I could ask the same."
She covered her mouth with her hand, trying to recover from the scare. "I didn't see you. Why are you sitting in the dark like a creep?"
"Lights broken. As usual." Adam lifted his drink – a bottle of Coke that hilariously named "Seraphina"– and Olive remembered Jess, one of his grads, complaining about how strict Adam was about bringing food and drinks into his lab. He grabbed something from the cushion and held it out to olive. "Here. You can have the rest of the chips. "
Olive narrowed her eyes. "You."
"Me?"
"You stole my chips."
His mouth curved. "Sorry. You can have what's left." He peeked into the bag. "I didn't have many, I don't think."
She hesitated and then made her way to the couch. She distrustfully excepted the small bag and took a seat next to him. "Thanks, I guess."
He nodded, taking a sip of his drink. She tried not to stare at his throat as he tipped his head back, averting her eyes to her knees.
"Should you be having caffeine at"– olive glanced at the clock – "ten twenty-seven p.m.?"  Come to think of it, he shouldn't be having caffeine at all, given his baseline shiny personality. And yet the two of them got coffee together every Wednesday. Olive was nothing but an enabler.
"I doubt I'll be sleeping much, anyway."
"Why?"
"I need to run a set of last minute analysis for a grant due on Sunday night."
"Oh." She leaned back, finding a more comfortable position. "I thought you had minions for that."
"As it turns out, asking your grads to pull an all-nighter or for you is frowned upon by HR."
"What a travesty. "
"Truly. What about you? "
"Tom's report." She sighed. "I'm supposed to send it to him tomorrow and there's a section that I just don't…" She sighed again. "I'm rerunning a few analysis, just to make sure that everything is perfect, but the equipment I'm working with is not exactly…ugh. "
"Have you told Ausegul?"
Ayaegul, he said.  Naturally.  Because Adam was a colleague of Dr Aslan, not her grad, and it made sense that he'd think of her as Aysegul.  It wasn't the first time he called her that, it wasn't even the first time Olive  I had noticed. It was just hard to reconcile, when they were sitting alone and talking quietly, that Adam was faculty and Olive was very much not.  Worlds apart, really.
"I did, but there's no money to get anything better. She's a great mentor but…last year her husband got sick and she decided to retire early, and sometimes it feels like she's stopped caring." Olive rubbed her temple. She could feel a headache coming up and had a long night ahead of her. "Are you going to tell her I told you that?"
"Of course. "
She groaned. "Don't."
"Might also tell her about the kisses you've been extorting, and the fake-dating scheme you roped me into, and above all about the sunscreen—"
"Oh God." Olive hid her face in her knees, arms coming up to wraparound her head. "God. The sunscreen. "
"Yeah."  His voice sounded muffled from down here. "Yeah that was…"
"Awkward?" She offered, sitting back straight with a grimace. Adam was looking elsewhere. She probably imagining it, the way he was flushing.
He cleared his throat. "Among other things. "
"Yep."  It had been other things, too. A lot of things that she was not going to mention, because her other things for sure not to be his other things. His other things were probably "terrible" and "harrowing" and "invasive." While hers…
"Is the sunscreen going in the Title IX complaint? "
His mouth twitched. "Right on the first page. Non-consensual sunblock application."
"Oh, come on. I saved you from basal cell carcinoma."
"Groped under SPF pretense."
She swatted him with her Twix, and he ducked a bit to avoid her, amused. "Hey, you want half of this? Since I fully plan to eat what's left of your chips."
"Nah."
"You sure?"
"Can't stand chocolate."
Olive stared at him, shaking her head in disbelief. "You would, wouldn't you? Hate everything that is delicious and lovely and comforting."
"Chocolate's disgusting."
"You just want to live in your dark, bitter world made of black coffee and plain bagels with plain cream cheese. And occasionally salt and vinegar chips."
"They are clearly your favorite chips"
"Not the point."
"–and I am I am flattered that you've memorized my orders."
"It does help that they're always the same. "
"At least I've never ordered something called unicorn Frappuccino."
"That was so good. It tasted like the rainbow. "
"Like sugar and food coloring? "
"My two favorite things in the universe. Thank you for buying it for me by the way." It had made for a nice fake-dating Wednesday treat this week, even though Olive had been so busy with Tom's report that she hadn't been able to exchange more than a couple of words with Adam. Which, she had to admit, had been a little disappointing.
"Where is Tom by the way, while you and I slave our Friday night away?"
"Out. On a date, I think."
"On a date? Does his girlfriend live here?"
"Tom has lots of girlfriends. In lots of places."
"But are any of them fake?"  She beamed at him, and could tell that he was tempted to smile back. "Would you like half a dollar, then? For the chips?"
"Keep it."
"Great. Because it's about a third of my monthly salary."
She actually managed to make him laugh, and–it didn't just transform his face, it changed the entire space they were inhabiting. Olive had to convince her lungs not to stop working, to keep taking in oxygen and not get lost in the little lines at the corners of his eyes; the dimples in the center of his cheeks. "Glad to hear that grad students' stipends have not increased since I was one."
"Did you use to live on instant ramen and bananas during your Ph.D., too?"
"I don't like bananas, but I remember having lots of apples."
"Apples are expensive, you fiscally irresponsible splurger." She tilted her head and wondered if it was okay to ask the one thing she'd been dying to know. She told herself that it was probably inappropriate–and then went for it anyway. "How old are you?"
"Thirty-four."
"Oh. Wow." She'd thought younger. Or older, maybe. She'd thought he existed in an ageless dimension. It was so weird to hear a number. To have a year of birth, almost a whole decade before hers. "I'm twenty-six." Olive wasn't sure why she offered up the information, since he hadn't asked. "It's odd to think that you used to be a student, too."
"Is it?"
"Yep. Were you like this as an undergrad, too?"
"Like this?"
"You know." She batted her eyes at him. "Antagonistic and unapproachable."
He glared, but she was starting to not take that too seriously. "I might have been worse, actually."
"I bet." There was a brief, comfortable silence as she sat back and began to tackle her bag of chips. It was all she'd ever wanted from a vending machine snack. "So does it get better?"
"What?"
"This." She gestured inchoately around herself. "Acadamia. Does it get better, after grad school? Once you have tenure?"
"No. God, no." He looked so horrified by the assumption, she had to laugh.
"Why do you stick around, then?"
"Unclear." There was a flash of something in his eyes that Olive couldn't quite interpret, but–nothing surprising about that. There was a lot about Adam Carlsen she didn't know. He was an ass, but with unexpected depths. "There's an element of sunk-cost fallacy, probably–hard to step away, when you've invested so much time and energy. But the science makes it worth it. When it works, anyway."
She hummed, considering his words, and remembered The Guy in the bathroom. He'd said that academia was a lot of bucks for little bang, and that one needed a good reason to stick around. Olive wondered where he was now. If he'd managed to graduate. If he knew that he'd helped someone make one of the hardest decisions of their life. If he had any idea that there was a girl, somewhere in the world, who thought about their random encounter surprisingly often. Doubtful.
"I know grad school is supposed to be miserable for everyone, but it's depressing to see tenured faculty here on a Friday night, instead of, I don't know, watching Netflix in bed, or getting dinner with his girlfriend–"
"I thought you were my girlfriend."
Olive smiled up at him. "Not quite."
Related Posts