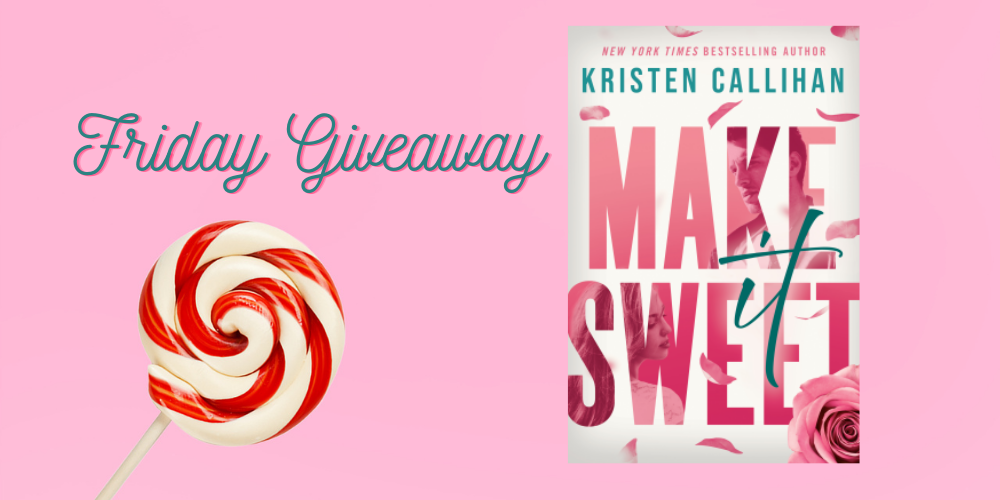 Our winner is…Joanne B. Congratulations.
Happy Friday!
Sorry so late with my post but I was enjoying a rare day off and spent a quiet morning sitting outside reading a lovely book which we will talk about more next week. The Love Hypothesis  doesn't come out until September, but you definitely want to put it on your reading list.  We'll discuss…
I have family stopping in for the weekend (yay!) so before I run back to make snacks I wanted to share this week's giveaway.  This week I have a Kindle copy of Kristen Callihan's Make it Sweet.   This one was on my side list of books to pick up and when it went on sale, I picked up one for me and one to share.
Just leave a comment to be entered in this week's giveaway.
This is for a U.S. Kindle copy.  Giveaway ends Thursday, July 1st.
Life for Emma isn't good. The world knows her as Princess Anya on Dark Castle, but then her character gets the axe—literally. The cherry on top is finding her boyfriend in bed with another woman. She needs a break, and sanctuary comes in the form of Rosemont, a gorgeous estate in California promising rest and relaxation.

Then she meets the owner's equally gorgeous grandson, ex–hockey player and current recluse Lucian Osmond, and she sees her own pain and yearning reflected in his eyes.

He's charming when he wants to be but also secretive and gruff, with protective walls as thick as Emma's own. Despite a growing attraction, they avoid each other.

But then there's an impromptu nighttime skinny-dip, and Lucian's luscious homemade tarts and cream cakes start arriving at Emma's door, tempting her to taste life again…

In trying to stay apart, they only grow closer—and their broken pieces just might fit together and make them whole.