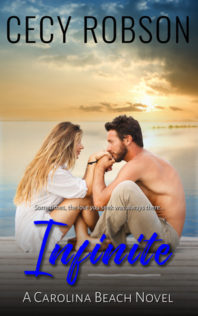 Infinite (Carolina Beach, #3)
by
Cecy Robson

Series:
Carolina Beach #3
Published by
Self-Published
on August 15th 2018
Genres:
Contemporary
Pages:
365
Format:
eBook



I received this book for free from in exchange for an honest review. This does not affect my opinion of the book or the content of my review.
This post contains affiliate links you can use to purchase the book. If you buy the book using that link, I will receive a small commission from the sale.
Hale Wilder, aka the Anaconda of Wall Street, spent his childhood fighting to be the best to win his father's love. He was the best student and the best athlete, who grew into a successful businessman and took the finance world by storm. Want to retire before you're forty-five? He's got you. Need your millions to be billions? He's your man.

Young, rich, and powerful, Hale was unstoppable, until a company scandal destroys his reputation and threatens to bring down everything he's bled for.

Becca Shields is the kickass public relations goddess spinning scandals to gold and launching has-beens into superstardom. She never expected to see Hale again—not following the humiliating night when her family caught them on the beach, barely clothed.

When Becca discovers Hale is in trouble, she can't turn her back on the boy who was once her world and the man she never forgot.

Hale never thought he'd have another shot at greatness or with Becca. Now that he has both, he won't let either go without a fight.
---
After waiting to find out what was being hinted at between these two, I did not click with Hale and Becca when it came time to their story. I had too many issues with the plot points to enjoy it.
I love Cecy Robson (Crave Me is one of my favorite books) but Infinite just didn't click for me. During the first two books in the series, we see Becca and Hale having moments but we are not privy to more than we are see in the distance. We are told that Becca and Hale are such good friends but the summer after graduation, just before they are to leave for college, Becca decides she wants to have sex with Hale before they go their separate ways. Great. No problem with that, but she might have wanted to go somewhere except on the beach in front of her father's house. Who would do that? Especially when your rich, entitled and slightly crazy Daddy absolutely hates Hale.
So as you might imagine, Becca and Hale get caught half naked making out with his hand up her skirt in the sand by Becca's cousins, who will do anything to gain favor with her rich Daddy and beat the crap out of Hale. Becca calls their friends and they keep Hale from needing to be hospitalized, but at this point Becca's crazy father shows up with a shotgun threatening to shoot Hale unless Becca gets rid of the trash. Hale wants Becca to leave with him and is upset that she chooses to stay with her father. Did he not see the shotgun? If they are such good friends, he has to know about her father?  He know that her father hates him and that he is a rich, entitled bastard and crazy enough to shooth him.  Hale leaves angry and hurt that Becca chooses her father over him.  This isn't Romeo and Juliet.  Did I mention that they weren't even dating and that they were just good friends?   Then crazy Daddy takes out his anger on Becca's face and tosses her out of the house for being a dirty slut.
This group of friends really suck since Hale never tries to call Becca to make sure crazy Daddy didn't hurt her or even realize there might be a reason she stayed behind with her crazy Daddy. And Becca has to walk to her BFF's house and her family takes Becca to the hospital.  Of course, Becca doesn't want anyone to tell Hale, and they don't. Really? Whether or not they knew about Becca and Hale getting naked in the sand, why would no one let Hale know that Becca got the hell beaten out of her by her Dad?
Becca and Hale's entire non-relationship is based upon the fact that Hale is hurt that Becca didn't choose him.  At one point after graduating college, quite magnanimously, Hale decides he is going to seek out Becca at a New Year's party and move past things until he sees an engagement ring on her finger and is once again hurt by her betrayal and stomps away with no conversation.   He hasn't spoken to her in six years but she was suppose to what? wait for him.
While I admire the fact that Becca somehow attended the college that her father now refused to pay for and she has become very successful as the PR director of an NFL football team and helped turn around their reputation, but part of that included the fake engagement to the son of the owner of the team.  They faked the engagement because this guy was such a spoiled, screw up and they needed to polish his reputation.  When he screws up again, and his father wants to distract the public with a wedding, and here suddenly is another rich, entitled asshat who is trying to force Becca to do his bidding or else he will fire her.
Just for drama, since there wasn't enough for this story, Becca's rich, entitled daddy is now sick and he wants to see Becca.  Doesn't matter that he tossed out onto the street 10 years ago after beating her up, he wants to see her now.  Her Mama (who hasn't spoken to Becca either) calls and Becca actually waffles back and forth for pages and pages whether she should go.  Are you kidding me?  Screw him.  He wants to make amends, he can put me back in the Will to reimburse the medical bills.  That trip to the ER when you no longer have insurance coverage is expensive.
Then because there wasn't enough misunderstandings between Hale and Becca, we should also throw in a fiance who shows up for Hale and who Becca finds half-naked in Hale's house, but she's not really the fiance.  She just says she is because wants to be the fiance but Hale won't commit since Becca (see above) screwed with his heart.  *sigh*
Even when they got their act together and adopted some shelter dogs and made a cute little family, I just couldn't be happy for them.  They frustrated me too much and the whole thing could have been avoided if these two friends would have just picked up their cell phones and texted an "Are you alright?"
Related Posts