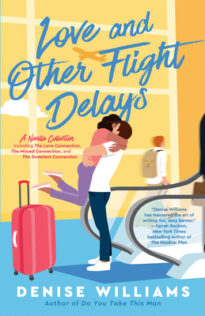 Love and Other Flight Delays
by
Denise Williams

Published by
Berkley
on March 14, 2023
Genres:
Contemporary
Source:
Publisher



I received this book for free from Publisher in exchange for an honest review. This does not affect my opinion of the book or the content of my review.
This post contains affiliate links you can use to purchase the book. If you buy the book using that link, I will receive a small commission from the sale.
Love takes flight in a collection of sexy, fun novellas all set at the airport from the acclaimed author of The Fastest Way to Fall.

The Love Connection
An airport pet groomer meets her frequent-flier crush and finds herself in a fake-dating situation with a professional risk assessor who moonlights as a romance author.
The Missed Connection
Two strangers share a romantic night only to discover months later that they're professional rivals about to embark on an extended business trip together in this grumpy-meets-sunshine romance.

The Sweetest Connection
Two best friends have one week to return a lost love letter found in a candy store at the airport--and work up the courage to confess the deep feelings between them--before one of them leaves the country.
---
A sweet, light-hearted romance and a fun read.
The Love Connection
Olivia Wright spends every Tuesday having her "diet coke commercial" moment watching the most scrumptious man alive walk out of his flight into the terminal. Gate C7 is right outside of Olivia's dog grooming shop Pre-flight Paws and those few minutes each week are a highlight. They have a meet-cute when their resident Houdini named Pepper escapes his bath and makes a run through the terminal only to be swept up by Mr Scrumptious.
Not only is Bennett beautiful to look at, he is such an awkward nerd, you just want to hug him as he nervously rambles on. Bennett might be nervous in real life but his alter-ego D.B. Bennett is a delightful romance writer, who makes women melt into puddles. If only he had enough confidence in himself to give up his safe job of risk-assessing, and gamble on his writing full time.
Olivia's experience with long-distance relationships left a bitter taste when her ex-fiancé moved to New York for a job and forgot to mention the other woman he was living with there.
In order for Olivia and Bennett to have their HEA, they will both need to be brave enough to take a leap of faith.
The Missed Connection:
This story features Bennett's BFF, Gia.
Georgia "Gia" Price is stranded at the airport on New Year's eve, alone, post-breakup, which leads to a chance, romantic encounter with a handsome stranger and a very memorable New Year's kiss.
Some months later, the only female on the chemistry team is sent for pick up duty at the airport.  Worse if the fact that her pick up is A.F. Ennings—the man who constantly criticizes every paper she publishes.   She should leave him stranded there, but she is a professional. When A.F. Ennings turns out to be hot-kiss Felix, even outgoing Gia is at a loss for words. 
Working in the same department is bad enough but being assigned a two-week trip to visit other colleges might just lead to blood shed. Except alone time with Felix gives Gia an insight into the quiet and aloof  Felix and a realization  that his critiques are making her a better researcher.  
Now Gia's biggest problem is admitting how much that New Year's kiss meant to her, so much so that she now has no defenses against how much Felix is coming to mean to her and how much more alone-time with Felix she wants in her life. 
The Sweetest Connection:
In a back-and-forth past-and-present storytelling, we learned of the great friendship between Teagan and Silas who met freshman year in college. Now, seven years later, Teagan is about to embark on a European trip to study abroad and finish her college education. Just before she leaves, she finds a memo of pros and cons about whether or not to date a friend and Teagan drags Silas into finding out who wrote this list and help them achieve their HEA before she departs.
We see both Teagan and Silas desiring more from their friendship, but both so afraid of losing that one person who is most important if the dating doesn't work out.  
Thought:
I loved the banter between all the characters although I have to confess that Ollie and Bennett are my favorites.    These were all such sweet romances and beneath it all they focus on being brave enough to take a risk and confess you want more before you lose your chance.
The Missed Connection made me think of the Ali Hazelwood stories focusing on STEM romances.  There was references to the difficulties that women still face in STEM jobs.
But what I like best about author Denise Williams is that her stories focus on mixed raced couples, but skin tone is just noted in the story like eye color or hair color.   Any differences in races aren't even addressed.  People are people and skin-tone doesn't change that.  There is also a same sex couple in the background of one of the Sweetest Connection and there is no shock or scandal.  It is two people who like each other and want to move their relationship into a romance.
I saved this one for my vacation and this was a perfect beach read.  It was light-hearted and fund and I enjoyed it very much.
---
Favorite Scene:
The customer and the dog pushed out of the glass door and I had a full view of her face. Olivia. Ollie. She was focused on her computer, and I cut my glance away when a short elderly man shoulder-checked me as he passed. I'd become of the those people I hated blocking the flow of traffic.
"Apologies," I said. My words were met with a grunt from the man, but when I glanced back up. Ollie was looking at me, smiling. I'd hoped to see her–the stop was right across from my gate, after all–but I hadn't planned on talking to her. I waved, which felt like the dumbest thing to do, but she waved back. Then we stood there, both our hands raised like someone had hit pause, but she looked away first, saying something over her shoulder.
Before I got knocked over by another senior citizen, I stepped aside and opened my emails, my mood instantly sinking. There were seven urgent messages from my boss, none of which he'd mentioned when we were on the phone. Risk assessment had seemed like a job I'd enjoy–it wasn't sexy or glamourous, but it fit me. I grew up in a house where betting it all on the next big thing was a love language. Risk was all around, and as an adult, I enjoyed identifying and hopefully minimizing risks with my clients, which I never could with my family. The emails sat on my phone like talismans of doom. I was drafting a quick reply to the first one, which wasn't as urgent as my boss had made it seem with the subject line. I had fantasies of deleting the mail app I used for work, hitting uninstall, and watching the messages disappear in a flash.
"Are you on the lookout for wet dogs?"
I shot my head up in surprise–dropping my phone and two file folders I'd pulled from my messenger bag to get my boss the information he needed–at the sound of her voice and the sight of her approaching. "Should I be?"
"Pepper just left, so you're relieved of duty," she said, bending with me to pick up the papers, our knees bumping for a split second. I couldn't remember ever touching knees with someone in a memorable way before, and I made a note to include it in a book, as there was something exciting about the brief contact.
"Shame–I like the little guy." I shoved the folders into my bag and we both stood in the mostly empty gate. That flight always cleared fast.
"Maybe we should hire you." Her gaze cut to my tie and swept up over my suit. "Not sure we could afford it, though."
I hoisted my bag onto my shoulder. "As luck would have it, dog catching is a hobby. I'd prefer to maintain my amateur status."
Ollie crossed her arms over her chest and tilted her head. "Sounds nefarious. Are you a bad guy?"
"I don't think so..I always give the dogs back. I'm not Cruella de Vil or anything."
Her laugh filled the gate area, and I wanted to make her laugh again. She grinned before speaking, continuing the joke. "You sure? You didn't just leave your Dalmatian coat in an overhead bin?" She tipped her head back in a way I wanted to record so I could write it accurately later, the lines around her smile and the arc of her neck. I had an overwhelming urge to drop everything and write down the description that came to mind, but now she was looking at me, unaware I had been turning her into my main character.
"Best to check the coat. It's insured, after all."
"Prudent." She leaned against the column, her crossed arms still folded under the swell of her breasts.
My phone buzzed in my hand and my boss's face flashed on the screen.
"Go ahead. Thanks for checking to see if we needed any animals corralled." She took a step back, still facing me. "And thanks for not kidnapping any baby animals in the middle of the concourse. I consider it a personal favor."
"Who knew what I would have gotten up to if you hadn't arrived."
She smiled again, and, God, she had a great smile. I felt something shift in me, a rock rolling out of the way. "Good luck with the coat." She waved again and turned to walk back toward her shop.
I took a moment to appreciate the way she moved and the curves of her body as she walked away. It was like I could feel her smile in the bounce of her step. I turned back to the urgent messages and rolled my eyes at my cheesy internal monologue but still made note of the line in an email I sent to myself. Ideas suddenly started flowing, but a text notification from Carter flashed over my screen as two more urgent emails arrived. I gave Ollie's retreating form one more glance, amazed at how that short exchange with her had lit a fire under my creativity.
Related Posts