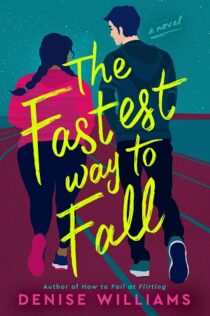 The Fastest Way To Fall
by
Denise Williams

Published by
Berkley Romance
on November 2, 2021
Genres:
Contemporary
Pages:
361
Source:
Publisher



I received this book for free from Publisher in exchange for an honest review. This does not affect my opinion of the book or the content of my review.
This post contains affiliate links you can use to purchase the book. If you buy the book using that link, I will receive a small commission from the sale.
Britta didn't plan on falling for her personal trainer, and Wes didn't plan on Britta. Plans change and it's unclear if love, career, or both will meet them at the finish line.
Britta Colby works for a lifestyle website, and when tasked to write about her experience with a hot new body-positive fitness app that includes personal coaching, she knows it's a major opportunity to prove she should write for the site full-time.
As CEO of the FitMe app, Wes Lawson finally has the financial security he grew up without, but despite his success, his floundering love life and complicated family situation leaves him feeling isolated and unfulfilled. He decides to get back to what he loves—coaching. Britta's his first new client and they click immediately.
As weeks pass, she's surprised at how much she enjoys experimenting with her exercise routine. He's surprised at how much he looks forward to talking to her every day. They convince themselves their attraction is harmless, but when they start working out in person, Wes and Britta find it increasingly challenging to deny their chemistry and maintain a professional distance.
Wes isn't supposed to be training clients, much less meeting with them, and Britta's credibility will be sunk if the lifestyle site finds out she's practically dating the fitness coach she's reviewing. Walking away from each other is the smartest thing to do, but running side by side feels like the start of something big.
---
A delightful story. I am so glad I found Britta and Wes.
Britta is an aspiring writer working as an assistant for Best Life magazine. Britta comes up with the idea that she would investigate the new fitness app FitMi that assigns you your own personal trainer.  Her boss decides to expand the idea and assigns Britta's rival for the open writer's job, Claire,  to review the app HottrYou and they can compare their experiences.    Britta will have to outshine Claire in this assignment if she wants that job.
Britta's unconventional responses to the FitMi application questions bounce her application out of the standard algorithm which would assign her a coach.  FitMi CEO, Christopher Wesley ("Wes") Larkin is in a funk and has decided to pick up a new client or two himself and get back to the fun of coaching.  When he reads Britta's responses, he smiles for the first time in forever and decides to assign Britta to himself.
Wes helps Britta take her first steps into proper exercise and eating for a healthier life.  They start their conversations in the company's email server but soon those responses aren't quick enough until they finally exchange numbers and spend most of their days texting each other.  When Wes's friend and co-owner find out that Wes is getting too attached to his client, he is concerned as the coaches aren't supposed to get too friendly but as his friend, he sees a happiness in Wes that has been missing for a long time.
An emergency brings Wes and Britta together in real life and while moving from virtual coaching to live meet ups isn't company policy, or a good idea, but it seems so easy to move their friendship that way.  Britta hasn't told Wes that she's reviewing his company online and Wes hasn't told Britta that he isn't just a coach for FitMi but one of the owners.   This keeps them from moving forward with a relationship that they both secretly want.  Of course, they eventually give in but as they feared, when their secrets go public, it is bad for both Wes and Britta as well as the companies they each work for.  They knew that crossing the line could have consequences, but once things explode, they won't have any say in how the pieces will fall.
As a blogger, I receive countless offers to review upcoming books. Of course, I jump on copies of books from my favorite authors. But I have found over the years that I grab less and less copies of new or new to me authors simply because what start as a great premise, just doesn't live up to the anticipation.  I keep trying because every once in a while, you do find a gem amongst the glass. The Fastest Way to Fall was one of those gems for me. It has many of my favorite story ideas, such as the delayed meeting where it isn't about appearance but the person inside.  We also have two sweet people with a great sense of humor that mesh so well.  These two were half in love before they laid eyes on each other.
We also have this entire story set up where Britta, a plus-size woman is trying to exercise for the first time, and the fears and self-consciousness of jumping into something where you might not feel welcomed. With my own recent experiences joining a gym for the first time, I understood quite well Britta's uncertainty about standing out as an obvious newbie surrounded by the fit and the beautiful. Even if you don't relate exactly with that experience, you can certainly appreciate how Wes falls so hard for Britta every time she exceeded a challenged and she smiled so warmly at him and making him part of her success.  I liked that Wes stressed that their plan wasn't about weight loss, it was about fitness and getting stronger no matter your body type.
While Britta was mostly happy with her body as is, she did have some deep seeded body issues.  Sadly, I think most of us do no matter what your body size.  I think this was addressed well  in this story–not hyper-focused on but also not glossed over.  Again, the emphasis was more about getting fit then getting skinny.  By the end, Britta is happier, healthier and truly comes to love her body even though she has not become a size 2.
We also have Wes whose mother has a drug addiction.  This lead to Wes not having a stable childhood.   This was again not overly obsessed about nor ignored, but it was important to understand that it was part of what shaped Wes into the person he is.
One other thing,  this was my first Denise Williams story but just like all the Nalini Singh's series, I liked that this story featured what I think of as a blending of colors.   Several of the couples in the story were a mix of races.  I like that this cast was so ethnically blended but that it wasn't so emphasized that it became a stumbling block to friendships or romance.   Wes was welcomed by Britta's family and Wes's mother liked Wes's friend.   People are people.  Write me good characters and I don't care about race, skin color or sexual preference.  Let's bring them all together and make a great story.
I really enjoyed the slow burn of romance between Wes and Britta and I reveled in all of Britta's successes.  This story isn't listed as part of a series but there is prior story featuring characters that we meet here and another story coming out featuring a friend of Britta's.
---
Favorite Scene:
I was so focused on observing the other people, the familiar voice saying "Good morning!" made me jump, much to Wes's amusement.
I clutched at my chest. "Where did you come from?"
"You weren't paying attention. Too busy checking out those guys?" Wes pointed to two men in their seventies wearing velour tracksuits and bucket hats power walking the perimeter of the park.
I swatted at him, the back of my hand making contact with his chiseled midsection. "Shut up. I wanted to learn the rules."
He feigned injury, clutching his stomach, and backed away. "Rules?"
"You know. How everything works. I don't want to look like a doofus." I was planning a before-and-after post for my first run, and I'd taken the before video earlier in the day, already nervous about what I was getting into.
He stretched while giving me a crooked smile. "You think I'd let you look like a doofus?"
I loved that smile, kind of silly and sexy at the same time. It was also evidence that he wasn't perfect, a reminder I sometimes needed.
"I'll show you the ropes," he said, patting my shoulder and scanning the park. The warmth of his hand lingered, even though he'd only given me a reassuring pat. "Ready?"
I nodded. I was up to running for nine minutes at a time on the treadmill, which I was proud of. Wes said running outside was different, and it might be easier for me, because I got so focused on the digital readout. We started off at a slow jog, and I sucked in the fresh air. It was different to move forward–to make progress. Wes set his watch for eleven minutes, and it felt doable.
"Don't forget to keep breathing," he reminded me. We weren't going fast, but I didn't want to jinx myself by using up any breath to respond.
Wes shot me a suggestive look when we passed the velour tracksuit pair. Despite my plan to not use breath for anything but running, I let out a bark of laughter at his playful expression.
My coach wore a long-sleeve shirt that hugged his body. It was bright blue, which looked great against his skin and showed his well-developed chest. Since we'd been meeting in person, I'd started writing less and less about FitMi and more about my personal experiences. Claire had, too, and no one seemed to mind. I figured I'd be writing about that whether or not my coaching was in person. Another glance at Wes, where I saw the hazy sunlight was making his skin appear even warmer, made me question if that was true.
Each time we passed someone, I tensed. The gym was a safe place–they knew us there. Out in the park, though, what would people think? Are they laughing at my slow pace or wondering what this hot guy is doing with me? I glanced from left to right, hating that insecurity trickled in the open, being vulnerable to criticism, that still distracted me.
"Try to look ahead instead of at other people," he instructed, interrupting my thoughts, as we neared minute ten.
"Thirty more seconds?' I huffed, pumping my arms and looking down at my watch.
"Let's go a little longer."
"What?" I panted, giving him an incredulous stare. "I can't."
"You can. You're overthinking it," he said, not at all winded from from our little jaunt. "Even with a hundred other runners, this is just you. Focus on how your feet hit the pavement." His voice lowered, like what he was telling me was a special secret. "Look straight ahead and focus. No one else matters."
"I don't think–" Despite his instruction, I glanced his way, and my words paused when I saw him.
"You trust me, right?" He motioned ahead. "I'll tell you when we can slow to a walk."
"You're going to"–I sucked in a quick breath–"kill me!"
"C'mon. You got this."
When we'd started out on this run, I'd been a compact race car with careful movements and precise German engineering.  After the interminable minutes of running by his side, I felt like a aged dump truck lumbering along the interstate. Sweat ran down my back, between my breasts, and in sheets across my forehead.
"Almost?" I huffed. I had no sense of how much time had passed, and it killed me to not glance at my watch. I tried to count the trees we passed, but it was no use. Had I run for another ten minutes, or had it only thirty seconds?
"Just a little farther. You feel like you can't, but you're strong. You can." Wes's playful voice was gone. He was in coaching mode, using his encouraging, take-charge tone, the one that made me follow his direction in the gym and that filled many fantasies when I was alone in bed. "One more minute, okay, Britta?"
"I hate you," I panted, willing my tired legs forward.
He pushed the sleeves of his shirt up, revealing his forearms. I wasn't too focused on the run to pay attention to the smattering of hair or how his tan skin showcased the outline of veins visible on the firm muscle. "Dig deep."
The trees in the distance felt like goalposts, and my shoes hit the pavement with heavy, desperate steps.
"Thirty more seconds, c'mon Britta. Let's finish strong." He sped up, and I groaned, trying to keep up. "Ten seconds." We weren't jogging anymore, we were running, the score in my head swelling to a dramatic crescendo.
When he said "time" and we slowed to a walk, I bent in half to press my hands to my thighs, gulping air. "How…long?"
He didn't answer, so I looking up, curious about his smug grin. "What? Twelve? Fifteen?"
"Twenty-one."
"Seriously?' I wheezed. "Really?"
He nodded, the smug grin giving way to a real smile, the one that revealed his dimple.
I ran for over twenty minutes. I couldn't believe it, and my exhaustion immediately morphed into feeling like I'd grown ten feet taller. "I used to get winded walking up three flights of stairs!" I wanted to post about it on Intagram and call my dad and email the high school gym teacher who gave me a D. Instead, I lunged at Wes, wrapping my arms tight around his neck. My limbs were extensions of this coiled energy.
It took me a second–a long second where I wished I could rewind time–but just as I was about to step back, his defined arms fell around me. His low, rumbling voice made the hairs on the back of my neck stand on end. "I knew you could do it." His lips were close to my ear. "I'm proud of you."
I pulled back, but Wes didn't let me go immediately. His hands inched down my back, and out eyes met. His hazel to my brown, and I silenced the silly idea that he was about to kiss me, but damn, it felt like that with his hands on me and his intense stare pushing the rest of the world aside.
"On your left|!" A cyclist flew past, and Wes jerked his hand away sidestepping the bike and then avoiding my gaze. "C'mon. We'll walk for five or six minutes and then go again."
I realized I'd hugged him while soaked with sweat. Still, my stomach fluttered with the memory of his whispered words in my ear, and I wasn't embarrassed, because he'd seen me sweaty more times than he'd seen me in makeup. He'd actually never seen me in makeup or dressed nicely. There was something a little freeing in that.
As we stared walking again, my body protested, but my mind did celebratory high kicks. "I don't actually hate you," I said as my breath returned. I hoped to break the tension I felt after that hug.
"I know." A crease had formed between his brows. He didn't meet my eyes this time but stared straight ahead, and awkwardness continued to creep up between us.
Finally, he shook his head slightly and held out his hand. "Give me your watch. Then you won't be tempted to focus on it." He tapped the face of my watch with is index finger. "Just try it."
I slid the band over my wrist and handed it to him, embarrassed that it as damp from exertion, but he dropped it in his pocket without comment. "Now, would it help to motivate you if we were running toward those old guys? We can circle back and see if they're single." He cracked a laugh and moved into a jog, pulling me along.
"You are such a jerk!" I called out. '"I take it back. I hate you again."
Related Posts